Paris Center Stories: Effie Gonis
Effie Gonis (GSAS'13) discusses her research process, her innovative research methods, and how writing her blog helped her dissertation.
June 17, 2019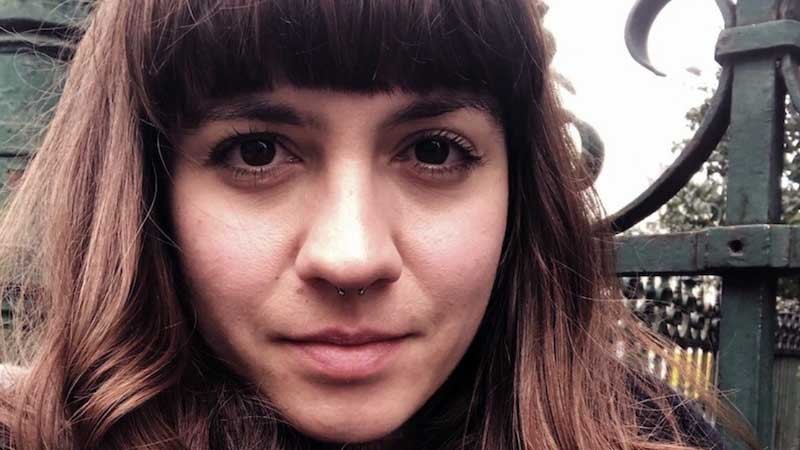 During March, Christine Valero, the Director of Studies for Columbia's MA in History and Literature programme, invited three of her previous MA students to return to Reid Hall to discuss their past and current research processes as PhD students. Caio Moraes Ferreira, who is undertaking his PhD with Columbia's Department of French, talked about his research into Voltaire's biography of Charles XII; John Finkelberg, of the University of Michigan's history department, discussed his research into the history of the shirt in nineteenth century France; and Effie Gonis, who is studying for a Doctor of Philosophy with Harvard University, talked about her research process which involves going to see lives shows around Paris and its suburbs.
Below is an interview with Effie on her research process, her innovative research methods, and how her blog, scenessurscene.com, helps her dissertation.
How did you find your research topic, and did you build it from your Masters?
Yes and no. I always knew I was going to do something on theatre because I have been doing theatre since I was really little. I was a double theatre and comparative literature major in college, with a minor focus on French. So that's how the theory part started coming in, and by the time I got into my Masters at Reid Hall, I was much more in the theory side than the performance side.I knew that, eventually, I wanted to do something with live performance, but I just didn't know what yet. So, when I was here my research was on Jean Genet. I worked on the theatricality of masochism, so it was about power dynamics and power plays. I used text but I also found archival footage, when I could, of recorded performances and photographs and used elements of live performance in my studies. So that's where the seeds of that were planted.
When I did my M2 at the Sorbonne, I did something similar, except with some Anglophone writers. When I got into my PhD program, I had applied with the intention of continuing what I had started with Jean Genet, and that was the plan for a few years.
I moved back here [Paris], and I started my research on Jean Genet. Nothing was really inspiring me. In October 2017 I was back in Boston for a conference and I was meeting with my advisor, Sylvaine Guyot. We decided that either I keep Genet and just try to make something out of it, or I leave it behind and go on a few other things I was thinking about, and that's what I ended up doing. That's how I ended up getting to my idea : I'm going to see a bunch of shows and I'm going to see what happens.
Was it difficult for you to let go of something you had been working on for so many years?
Actually, no! It felt like a relief, because I wasn't trying to find my niche. I think I'm still trying to figure out where what I'm doing fits in, but I have an idea of where I might fit in. With Genet, because he'd been worked on for so long, I was wondering if I was saying anything new or if I was trying to force it. So it felt good to let go of it.
Did you talk to your supervisor before you applied to your PhD?
No, because I was here! And I was in the middle of working on my M2 and in the middle of teaching at the high school I teach at now. See, I did all the wrong things and all the things you're not supposed to do as a PhD applicant. For my personal statement, I basically wrote it as though I were applying to a French programme, saying 'this is my project, this is what I want to do…' I went online and looked for supervisors. The first time I ever had contact with my supervisor was when she called me to tell me I got into the programme.
Did you work closely with your supervisor to develop your new thesis?
We came up with some ideas. I'm someone who works independently. I like getting feedback from my supervisors, but I like to be the one who can say, 'this is what I want to do.' And my supervisor said, 'okay, well, here's some ideas about how you can go about conducting this experiment, or research.' I mean, it almost is an experiment – I'm working on something that's happening now. I don't know what's going to happen. I also don't have problems cutting things out that I don't think are going to fit anymore.
Have you found a flow or a routine for your research process, or do you just do it whenever you feel ready to?
In terms of going to shows, since that's the bulk of my research, at the end of every month I plan out my theatre-going schedule for the next month. While I'm in the room watching the show is when I'll decide if I'm going to end up including the thing in my dissertation or not, or if I'm going to put it as a maybe.
I decide I like the show, I write a quick write-up on my blog, scenessurseine.com. That acts as a first draft that I can then reference, because sometimes it might be a while before I write a more cohesive, more theoretically oriented analysis of the show. In terms of going to the library and doing supplemental reading, I'm getting back into that right now because I was focused much more on writing longer critiques of things, but now the next step is to try and find the theoretical links. Sometimes I have to force myself, especially on my days off from teaching, to leave my house, and then I just go to the BnF.
When you write your dissertation will you reference your blog?
I don't know! Maybe I should reference my own blog that I wrote by myself! Maybe I should, yeah, why not. I'm going to see if the MLA has a guideline for that.
Have you begun writing your thesis, how is it going?
I think the first chapter I wrote was the trickiest and I was not happy with it, but people who read it have said they really like it, so I don't know. It's weird, because I'm a very critical person when it comes to my writing. What my advisor and I came up with before this next round of things that I'm doing was that I'm just going to see a bunch of shows and write critiques on the ones that I'm doing and then see what common threads come out of it. Those are the ones I'm going to develop more theoretically right now.
The tricky part about writing about the ones I feel like I have something to say about is to make sure that I don't put my own judgment into whether the show was good. So, I ask myself, 'why is this happening? What is going on?' And from there I think about the negotiation between the stage and the spectator and distance myself that way.
What difficulties have you encountered during your research?
The biggest one is the fact that everything I see, I can only see it once. That's actually why my blog has been so helpful for me because I get my thoughts down pretty much right away or at least after a couple of days. So I remember things more clearly and at least get down the basic details.
How do you write about the plays, how will you write about the shows in your thesis?
The first thing I start off with is a brief summary of the show. A brief summary of the stage design, a brief summary of what happens. And then I get into the rest of it. So once I give the background I go beat-by-beat, and the moments that I talk about go by the moment they happen in the show so there is a logical progression.
Do you think you should choose to research something you love? Because a lecturer once said that you shouldn't because then you'll get sick of it.
I think it can depend on the person. I'd say to choose to research something that you also love the broader subject of. Even if it is a specific book, you just have to know that you'll live with the thing for six years. You can think about it as being in a relationship with someone, you're not always going to like the person, but deep down you know that you're not going to break with them completely and toss them aside. I think that's what drives me to keep going and do it, even when there's moments when I doubt myself, because I chose something that I like and that matters to me, and if it matters to me it will probably matter to someone else.
Do you worry about being original, or having to say something new?
I'm just writing, it's honest, and it's what I'm trying to say. I have the easiest time writing when I've stopped getting into the mindset of, 'I've got to write the next big important thing.' This dissertation is not going to change the world, but what could build from it could maybe lead to something that could be helpful in the future.
But that puts pressure on yourself, when you think that way, and you end up being overwhelmed.
And that's when imposter syndrome kicks in.
So you experience it?
Oh yeah, as an academic, yes. As a woman in academia, oh yes. In the arts, yes. It's tricky sometimes when I talk to other PhD students. If I talk to someone who's doing performance studies, we get on much easier. But if I talk to someone in a more literary field who is going into archives and dealing with texts, it's harder.
Have you structured your PhD, or let your research structure it?
I think the structure outlined itself already, because I'm looking at four theatres. So it's kind of logical that I'll have one chapter on each of them. I want my dissertation to be an entertaining time, so when people say, 'no one wants to read dissertations,' I'll say they'll read this one because it will be fun!
Where do you see your PhD going, and do you have an idea of what you'd like to do with it, for example turn it into a book?
I've been wondering about that. I think to make it possible to turn it into a book I'd have to take it beyond the thing that I saw and talk about what it implies about space and what we conceive of space. Once I figure out the theoretical part of it and unite it, I think it'd be ready to publish into a book.
But I do like helping students and being in that advisor role. I like knowing what's going on and having my feelers out with what's happening.