Paris Center Stories: John Kamfonas, CC '09
Pianist John Kamfonas, CC '09, recently performed at the Paris Center with cellist Eric Edberg as part of the Columbia Sounds Concert Series. He shares his experience in Paris, his apprenticeship with Jean Fassina, and his thoughts on the lost art of classical piano improvisation.
April 12, 2018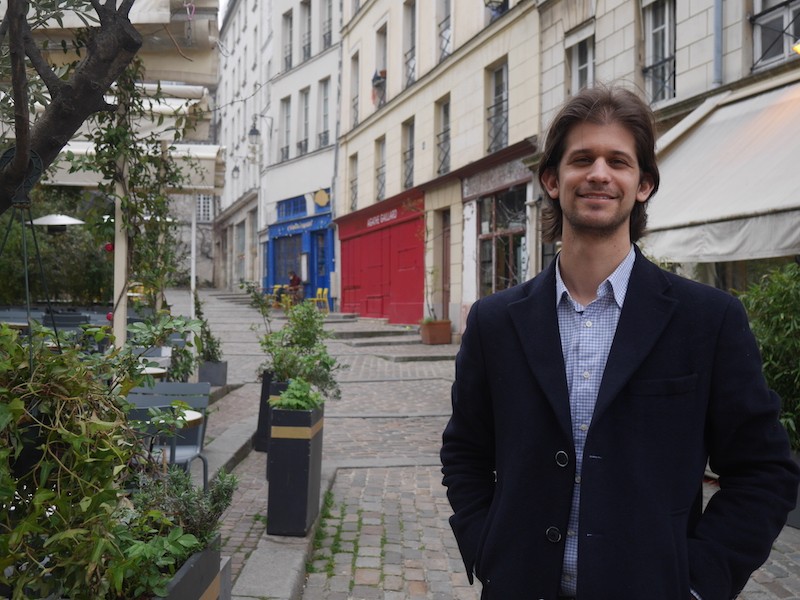 What is your connection to Columbia?
I graduated from Columbia College in 2009 with a major in Music. What really attracted me to the school was how wide open the curriculum was - I loved that the core encouraged a wide exploration of subjects outside of music and I had a chance to take courses in areas of science, philosophy, literature, and art -- even a Greek language course which brought me closer to the language and culture of my family's heritage.
Even though my focus would continue to be music, I'm always so grateful for the wide ranging education Columbia helped facilitate and the incredibly diverse people I came into contact with from all over the world. To this day, most of my closest friendships were made during my time at Columbia. It's also nice to have such a supportive alumni network around the world that keeps the sense of community alive among alumni, faculty, and current students.
What brought you to Paris?
Once I finished my undergraduate degree at Columbia, I continued on to do a masters at the Manhattan School of Music studying under Philip Kawin . Once I finished there in 2011, I decided to take a break from school and took the opportunity to pursue a number of projects, some of which had me looking beyond US borders. One for instance, was a performance residency in Bangalore, India in 2012 sponsored by the Bangalore School of Music. I had a chance to perform a series of concerts and teach music classes in local schools. At the same time, I was also interested in learning about Indian Classical Music which utilized improvisational techniques in ways that were completely absent in western classical music.  I was happy to have met and learned from some wonderful local musicians that challenged some of my preconceptions about music making.
In addition to that residency, I was also teaching and performing in the states, giving improvisation workshops at various colleges and performing on the east coast, including a concert at Merkin Hall. I then took part in a piano competition in Greece during the summer of 2012 which would become the reason I moved to Paris.
After the announcement of the results for one of the competition rounds, I was standing among the other pianists and various spectators when an older man approached me asking if I spoke French. Luckily, I had taken a few years of French in high school so I responded with a very timid "un peu". He then began talking about my performance, how much he liked my playing and my musicality; I suddenly realized I was speaking with one of the jury members, renowned French pianist and pedagogue Jean Fassina. This conversation continued and eventually led to an invitation to study with him over a period of months in Paris. As he explained, these weren't just lessons to expand my repertoire - Mr. Fassina, as he has done for generations of students, wanted to take me through a transformation of my approach to playing, reexamining the way I used my hands, my body, but also the way I listened, continuing to search out the infinite nuances of the piano's sound colors and using this expanded palette in my music making. This was a training he also underwent during his time in Poland just after the 2nd world war with his teacher Henryk Sztompka, the last student of celebrated Polish pianist, Ignacy Paderewski who, in turn, inherited this Polish pianistic tradition from his predecessor, Theodore Leschetizky. If we keep going, we can eventually trace a direct link back to the great founder of this pianistic tradition, Frederic Chopin himself.
To have the opportunity to forge even a small connection to this deeply poetic, pianistic tradition so fundamental to pianism was something I couldn't turn down, not to mention doing so in the cultural center of Europe where, coincidentally, Chopin developed this approach to playing that would leave its mark forever. So, again, I found myself jetting outside of the US for new discoveries.
These intensive studies became almost an apprenticeship with M. Fassina, as I would go to see him multiple times per week for rigorous classes. These studies would eventually lead me towards enrollment at the Ecole Normale de Musique de Paris, a diploma in 2017, and residency at the Fondation des Etats-Unis as a Harriet Hale Woolley scholar where I lived for three years performing over 30 concerts in the beautiful grand salon. I was happy to be able to found the concert series "Rendez-vous Musicaux" at the Fondation that since 2014 has presented resident musicians in collaboration with international guest musicians. The series continues to this day every other Sunday. 
After a total of 5 years here, Paris became a new home somewhere along the way.
Your bio says that you are "one of the few improvising classical pianists." When people think of classical music, they don't necessarily think of improvisation. Is improvisation a lost art in classical music? Why do you incorporate improvisation into your performances?
You are absolutely right in saying that now a days, when people think of classical music, they do not think of improvisation. Most classical musicians, like myself, are taught from the beginning to read sheet music and play what is written on the page - of course, this is important and necessary for performing the incredible repertoire available to us. However, improvisation is not at all a part of the assumed skill set for a classical pianist. But it wasn't always this way! Some of the biggest names in classical music, Beethoven, Mozart, Chopin, Liszt, Bach (the list goes on) were known to be prolific improvisers. Yes they would perform composed works that had been written down, but they would constantly interweave improvisations among these pieces either as connecting interludes or improvised introductions to pieces.
There are numerous testimonies that make reference to the improvisation capabilities of these musicians. Carl Czerny, who studied with Beethoven and taught Franz Liszt, wrote a treatise on improvisation called "The art of Preluding" in which he presents techniques for improvising in various contexts. A "Prelude" during the 17th, 18th, and 19th centuries was typically meant to be an improvised piece setting the stage before the performance of a more major work. So, clearly, improvisation was an integral part of a performing musician's activities in centuries past that fell by the wayside. During the 20th century, the roles of concert performer and composer became more separate; the improvisational mindset was left to the composer as a composition device while the performer took on mainly the role of interpreter of written works.
I'm happy to say that it does seem there are more and more non-jazz musicians these days experimenting and utilizing improvisational techniques in their musical projects. I've performed various contemporary works that employ the use of improvisation, most recently "Engrenages" for Saxophone quartet and improvised soloist by Alexandros Markeas, composer and professor at the CNSM.
My personal relationship to improvising arose initially as a natural expressive inclination that developed over time, integrating into my activities as a classical musician. As a child, I was slow to learn how to read notes, so instead I resorted to just making music up on the spot. This then became a systematic expressive tool for me to explore my instrument, try out new patterns, make variations of the pieces I was playing. And then when I started improvising in front of people, I realized that it was a way of showing in real time the process of musical creation -- while a composition is a piece that has been worked out, an improvisation is a working out of musical material that shows a process of real time composition. Once I started learning about the historical role of improvisation in classical music as I explained before, I realized that perhaps improvising on stage alongside other composed works wasn't so strange after all. .
The most important reason I improvise on stage is because I love doing it - it is a form of expression integral to me as an artist that that has an unpredictability I love to share with my audiences. It has also allowed me to push my collaborations with other musicians to new frontiers, such as my partnership with cellist Eric Edberg.
How long have you been performing with Eric Edberg? How did the partnership arise?
Eric and I met in 2011 when I was finishing my masters in New York. We both attended a conference sponsored by Manhattan School of Music's Center for Music Entrepreneurship and  ended up sitting next to each other. Upon introducing ourselves, we realized quickly that we were both quite passionate about improvisation, all the more exciting since we rarely met other classical musicians who improvised. We stayed in touch and that led to an invitation for me to come perform a concert as part of his summer music festival at DePauw University. Almost every summer since then, I've returned to play at this festival where we've been able to develop our collaboration and build programs that balance both improvisatory and composed elements. This year we went on tour for the first time giving 6 concerts in Indiana, Arizona, and Colorado in addition to the concert at Reid Hall in March.
How did you get involved with Columbia Sounds?
In 2016, I attended a piano concert at Reid Hall and when I walked in to the building, I had the wonderful surprise of seeing Professor Giuseppe Gerbino standing near the stage- he had been my professor almost 8 years back while I was still a student at Columbia and at the time I had no idea he was in Paris. We talked a bit afterwards and since he was teaching the music humanities classes that semester at Reid Hall, he invited me to come give a guest lecture / demonstration on the piano music of Debussy. Through this encounter with Giuseppe he suggested I do a concert since I was a Columbia alum in Paris. I then reached out to Susan Boynton with the idea to present the Cello and Piano program with Eric and she put us on the concert schedule for 2018. 
What are your favorite haunts in Paris? Places that inspire you?
It may seem a bit macabre, but I am immensely inspired by some of the grave sites in the cemeteries of Paris. It's one thing to learn about all these figures in a classroom, but to come stand at the place where Chopin was buried - or Saint Saens, Delacroix, Nijinsky, Nadia Boulanger, Edith Piaf, Oscar Wilde-- it is such an inspiring and humbling reminder that these artists we deify (for good reason) were very much real people that walked the same streets we do.
As far as my favorite "haunts", I'll say I have become quite fond of the corner coffee shop called La Cafeotheque since starting my residency at Cite des Arts which shares the same building as the coffee shop - It's a wonderful place on the riverfront to just sit, read a book, or study a score while sipping a GREAT cup of coffee. Even though Paris is one of the major cities of the world with millions of people visiting and living here, it feels intimate and peaceful thanks to small cafes like this one that allow for a measure of contemplation amidst our fast moving lives.
What are you listening to now
Hard to say one thing in particular!
I am now discovering extremely old recordings of pianists performing classic works by Brahms, Chopin, Clara Schumann and other romantic composers. With some of these recordings made at the turn of the century, the musicians playing had studied with either the composer or a student of the composer. It's fascinating to hear how refreshing these interpretations are, full of spirit and spontaneity. It's also the closest record we may have to how Chopin and these others composers actually played which makes for a fascinating learning tool as well.
As for other types of music, I've just discovered the music of jazz pianist, Omar Sosa -- both his solo work and his various collaborations. His introspective style and use of space is absolutely captivating.