Perspectives on World Cinema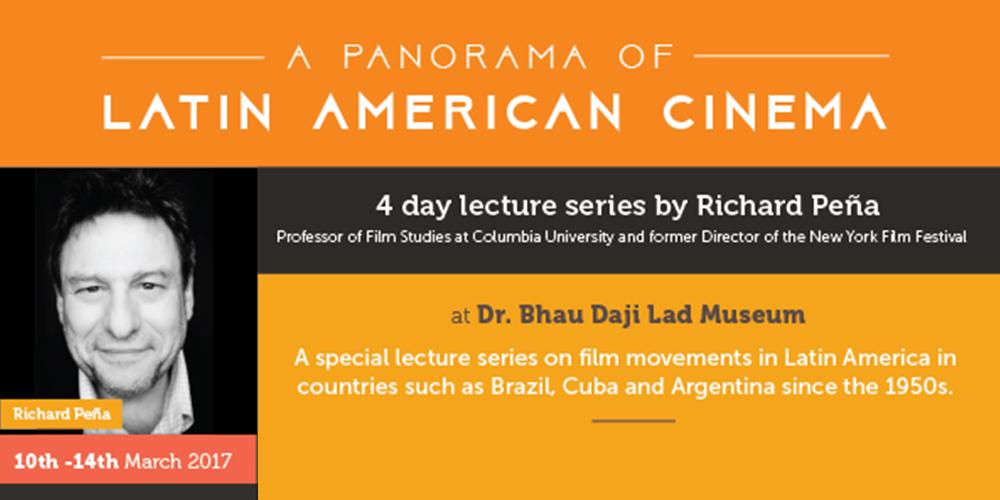 Social revolution and cinematic movements have been strange bedfellows in the history of Latin American countries since the 1950s. Richard Peña, Professor of Film Studies, Columbia University, and former Director of the New York Film Festival, offered a glimpse into Latin American cinema through the evolving histories of Brazil, Cuba, Mexico and Argentina through a four-day lecture series and film screenings from March 10- 14, 2017 held at the Dr. Bhau Daji Lad Museum in collaboration with Columbia Global Centers | Mumbai. 
Professor Peña traced the trajectories of the Latin American cinema industries through periods of neorealism, modernism, and postmodernism.  Using interesting vignettes, he demonstrated how a country such as Brazil developed its own national cinema by seeking to create an alternative to Hollywood, even as Cuba's national cinema perceived its key role to be a shaper of perspectives in a revolutionary society.
The Mexican film Los Olvidados was screened.  It is a masterpiece by Luis Buñuel who went beyond a neorealist depiction of poverty and injustice to present a powerful portrait of a group of street children growing up in Mexico City.  Other films screened included Earth Entranced, a Cinema Novo (new cinema) work from Brazil, Portrait of Theresa, a Cuban film raising pertinent questions about the role of women in the country's revolution, Rodrigo D: No Futuro, a film from Colombia about drug wars and La Cienaga from Argentina which marked the revival of Latin American cinema after a slump in the early nineties. 
The event was a part of the Center's efforts to serve as a hub of global knowledge exchange for the city and region.  There was extensive coverage of the program in leading media publications including, Livemint, Mumbai Mirror and Hindustan Times.
Professor Peña's visit to Mumbai was marked by multiple programs in the city. Columbia Global Centers | Mumbai organized a teach in at its new space in Nariman Point for around 25 students of cinema from leading colleges including Sophia, Wilson, and Xavier's.  Professor Peña screened three short films from the Columbia University Film Festival, 2016.  He guided the group to discover the fundamental aspects of film analysis, choices made by filmmakers with regards to editing, sound, camera movement, set design and lighting that affect the ways filmmakers express their vision of the world.  A discussion took place after every screening that guided the students to analytically understand the process of filmmaking.  Students thought that they could incorporate some of the techniques used in the films in their future projects as well. A student from Xavier's College, Ayushi Anand, shared that she learned about good visual storytelling and optimal use of time for shorts.  According to her, "Telling the entire story with the help of mise-en-scene rather than using dialogues was great."