President Bollinger's Exclusive Interview with People's Daily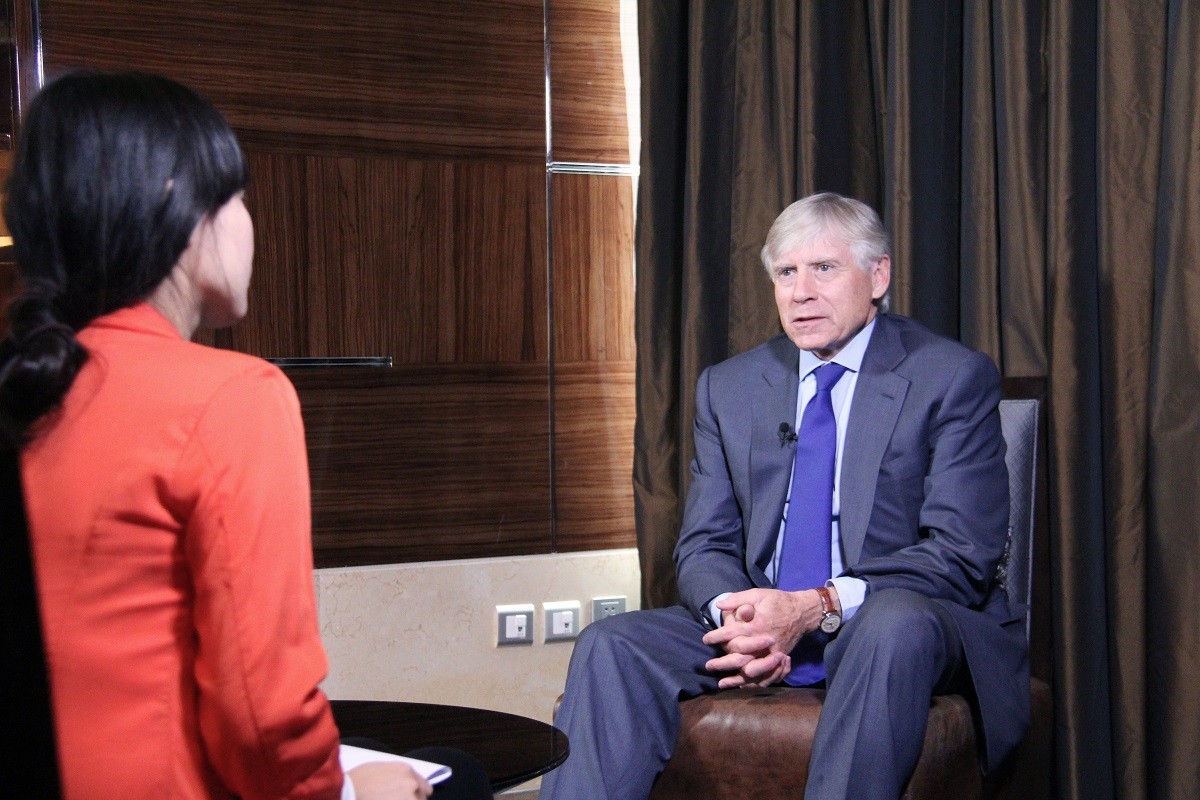 November 9th | Beijing.
President Lee C. Bollinger received an exclusive interview with People's Daily during his trip to Beijing. Below is the full interview transcript. 
Q: Over the years, you have been expanding the international scope of your university. Nowadays, the University operates at least 8 global centers. What role do these overseas centers play over the process of teaching and researching?
A: Columbia University is a very international university, and we have over 5000 students from China who come to study at the University. We have many faculties who are from all parts of the world and we study all parts of the world. And New York City is extremely diverse and international. With all of that, I think we've realized that the world is changing very quickly, and the growth of China is the prime example of that change. So we need to be out in the world more, doing scholarship and helping our students learn.
Q: Quite a few prestigious U.S universities have been globalizing themselves in a similar way, what makes Columbia's way of managing overseas special? Do you have any plan of setting up a campus in China in the future, just like NYU in Shanghai?
A: I felt that the best way to reach out was to and is to set up Global Centers, where our offices are led by very sophisticated people who understand the local and regional environment, understand globalization, and also understand the University. So that we can help our faculty to do better research and help our students to learn better.
Some other institutions are doing something different—they are setting up branch campuses, like you mentioned NYU in Shanghai. And there are some other examples around the world of the branch campuses. We decided not to do that. We very much want to be engaged with the world, and we think the best way to do that is to get our faculty and our students to interact with others, not to have a separate faculty and separate student body.
So there are different theories and different approaches. But I think we all feel that understanding China, understanding globalization, understanding the relationship of US and China are some of the most important things we can do as great universities over the next many decades.
Q: Now a lot of Chinese students are studying abroad. Could you talk about the general status of Chinese students on campus? What are the popular majors do they select?
A: We are thrilled with the students we have from China. They are unbelievably talented, and they are very excited and happy to be at Columbia. Certainly all the students from China that I talked to love Columbia, love being in New York City.
For majors, I think they take many different things. Columbia College and the Engineering School are very well-known for what we called the Core-Curriculum. In the first two years of every college student's experience, you take small classes that study Greek classics texts. It's a fabulous educational experience. After those two years, students then pick majors. Just like all other students, Chinese students pick variety majors, such as political science, languages, history, engineering, technology, business, etc. Of course, in the school of engineering and applied sciences, there are many students from china who are pursuing engineering, computer science and other technology.
So I will say that one of the best things we can do in today's world is to have more students from China and different parts of the world come to Columbia, and to have our students from the US come to China to study as well. I am very eager to try to help American students to understand China.
Q: What is the major cooperation between Columbia University and Chinese universities/research institutions?
A: This is something that's growing a lot. At Columbia, there are many faculty members who have research partnerships with Chinese universities' faculty. There are schools within Columbia that have relationships with counterparts in Chinese universities. We have programs, like Mandarin language programs in the summer that takes place in Peking and Tsinghua University. Those are really great, because they give students the context in which they study and learn, but also to experience the culture and environment to learn about the country.
Q: What plans do you have in the future?
A: For the future, one of the things we are trying to do is really quite unique and important. That is to help the university and academics generally work with outside partners on big problems, [like] climate change, issues of precision medicine, genomics and many other big things that we can work on both as professors and students, with governments, business community and civil society. That offers opportunities for collaborations with universities in China and elsewhere and Columbia to try to solve important human problems.
Q: You've been here in China 40 years ago. What do you think of the social and economic developments in China?
A: It's remarkable. My wife Jean and I came to China probably for the first time in the late 1970s, after Henry Kissinger and Richard Nixon had opened up a relationship with China. We were in Hong Kong then, and there were friendship stores in Guangzhou and elsewhere. My wife and I took a train from Hong Kong to Guangzhou and walked around Guangzhou. And then we came back in the 1980s. We were [also] here late 80s into the 90s, and I've been coming to China for many times. It's extraordinary what've happened in China, and the development of the country is astounding. Everybody I speak to feels very good about where the country is headed, and right now China is at a particularly optimistic moment. This is a great moment for China.
Q: What do you think of China's role in the global village now?
A: The role of China in the world is increasing and should increase. It is obviously a major power and will be more so. What we have to do, the responsibility we have as a great institution in the world, is we have to make sure the discussions, the understanding, and the issues are approached in a spirit of friendship, collaboration and partnership.
Columbia University is deeply dedicated to that. We all want a peaceful world. We all want a prospering world. Universities have played that role over many, many decades, and we want to continue doing that now.
Q: China's Ministry of Education is carrying out an ambitious 'double first-class' plan, aiming at higher global position of Chinese Universities. What is your impression of Chinese universities in the past 5 years?
A: Absolutely focusing on improving universities is the right way to build a society.
I think United States learned that in the 19th Century. There is a very famous act called the Morrill Act (Morrill Land-Grant Act) in the 1860s, which finance the whole variety of state universities across the United States. Those institutions are really important and they are outstanding now.
[Meanwhile, United States] has a mix of great private universities, of which Columbia, as you kindly say, is one of the very best.
That combination of public universities and private universities has been part of the strength of higher education in America.
Q: As the president of a widely recognized world-class university, do you have any suggestions for your Chinese colleagues?
A: It (America's experience) is also a source of strength in China. One of the things you have to understand about universities is that, they thrive and develop most if there is a spirit of pursuing knowledge freely and out of curiosity. It's an incredible benefit to the whole society if research can pursue knowledge freely. And then that knowledge becomes translated into products, goods and sense of life. That's really beneficial to the society.
Obviously educating each new generation is vital to a successful society. I am thrilled with the interactions that I see with young people here in China. So focusing on making your universities as good as they possibly can be and I'm sure they will be outstanding. Everything in China goes towards producing outstanding things. I am very optimistic and hopeful for your university system.
Q: As you also have paid great attention to media research, which kind of challenges do you think media will meet in the future?
A: I've spent my life thinking about freedom of speech and freedom of the press. My father owns a newspaper in a very small town in a western state of US. So I've been around the media, journalism and freedom of speech since I was a young child. I'm an expert on the First Amendment to the United States Constitution, teach classes and write on it. I think this is something that every society has to figure out. There are different approaches to freedom of speech and press.
The United States has really taken free speech and free press very far, so we value this enormously. The incredible openness has been a source of enormous creativity in the United States. But European countries don't go far as United States and other countries do less.
I think the role of press in society is to make sure people are informed, so that they can make rational decisions, along with the governments, in what to do.
This is something important for every country to work on. There are international norms and international law about this, it's very important to develop a global communications system. We are going to figure out how to have a global conversation with different approaches to freedom of speech and free press. I am very intent on working them on that.
Q: How do you think about the rise of new media? For example, new media of People's Daily is doing very good now; the (number of) downloads of People's Daily APP has pasted 2 billion. So do you have some suggestions for the media development?
A: The new media is transforming the landscape. Traditional media are finding it difficult to continue their business model as being challenged. Newer media is still trying to figure out what roles they are going to play in society. This is really a beginning of a new age, and we are just at the start. It's very exciting. When you talk about the viewership and readership you have, it's amazing.
Q: We just had our 19th CPC national congress and we have entered a new era of president Xi. What do you think about that? What kind of impression that you have about President Xi these years?
A: As an outsider I don't want to comment on your politics. I must say, I've now met with dozens of people since I visited here this time. And I am detecting a level of optimism about the country that is quite striking. There is a feeling that we are on to another stage. What may have been a distant dream in the past of really bringing prosperity to 1.4 billion people seem far into the future. Now it seems very much closer, may be within the lifetime of someone like you. This seems to be a very exciting moment.
I think the challenges for China are many, just as they are for any society. But for China, maintaining stability while also developing kind of openness to ideas and openness to the world, developing a system and endorsing it respect for the rule of law, are critical to economic, political and social success. All of these are great questions that we look forward to, observing as we see China develop.
The main thing is that we continue to understand each other, continue to work together, and that there are many problems in the world we can solve but only together. It's incredibly exciting to think of a world in which the benefits a mutually respectful relationship can bring.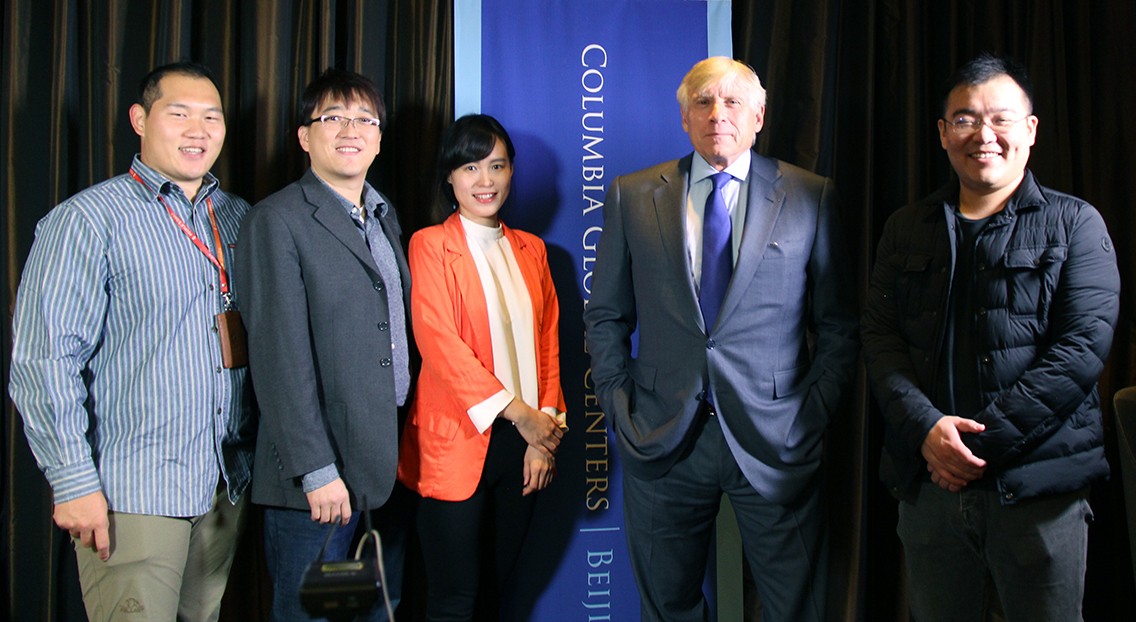 Please visit the following link to People's Daily article.