Prince-Bueno Medical Partnership Continues to Bear Fruit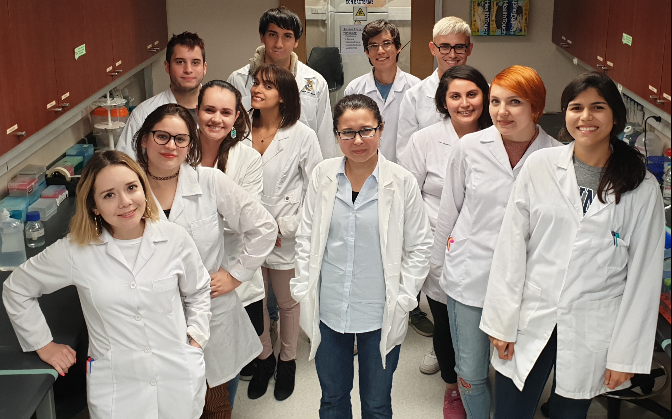 Since 2011, Alice Prince, Professor of Pediatrics at Columbia University's College of Physicians and Surgeons, and Susan Bueno, Associate Professor at the Department of Molecular Genetics and Microbiology of Universidad Católica's School of Biological Sciences have been working together on research projects related to respiratory infections.
As part of this collaboration between Prince, who is also head of the Prince Lab at the Columbia University Medical Center (CUMC), and Bueno, who in addition is head of Universidad Católica's Microbial Pathogenesis Laboratory, a study was performed regarding causes of chronic infections in lungs and airways.
The prestigious scientific journal Infection and Immunity  of the American Society for Microbiology recently published the study, titled "Interleukin-10 Produced by Myeloid-Derived Suppressor Cells Provides Protection to Carbapenem-Resistant Klebsiella pneumoniae Sequence Type 258 by Enhancing Its Clearance in the Airways".
The study was carried out in collaboration by both laboratories. In Chile, contributors from the Millennium Institute on Immunology and Immunotherapy included Hernán Peñaloza, Loreani Noguera, Omar Vallejos,  Yaneisi Vazquez, Francisco Salazar-Echegarai, Liliana González, Isidora Suazo, Catalina Pardo-Roa, Geraldyne Salazar, and Susan Bueno, as well as Raquel Castellanos from Universidad Andres Bello School of Medicine's Department of Morphology
In turn, contributors from the US included Danielle Ahn and Alice Prince from CUMC's Department of Pediatrics.
PARTICIPATION IN MICROBIOLOGY ANNUAL MEETING
Also as part of the partnership, Dr. Anne-Catrin Uhlemann, Associate Professor of Medicine, Division of Infectious Diseases at Columbia's College of Physicians and Surgeons, will attend the XLI Annual Meeting of the Microbiology Society of Chile, which will take place at the beginning of November.
During her visit to Chile – sponsored by the Global Center, Universidad Católica (UC) and the Millennium Institute in Immunology and Immunotherapy - Uhlemann will also participate in a seminar at UC's Faculty of Biological Sciences.
A PRODUCTIVE RELATIONSHIP
Throughout the Price-Bueno joint collaboration, the relationship established between the medical researchers in Chile and the US has strengthened and been highly productive. It has enriched both Dr. Bueno's and Dr. Prince's respective teams, resulting in the publication of at least five scientific articles in high-impact journals, numerous presentations at international conferences and at least one annual exchange visit to disseminate the results of the work of both teams.
The support from both universities – Universidad Católica and Columbia - has been critical for these achievements as well as funding agencies such as NIH in the US and CONICYT, the Millennium Scientific Initiative and CORFO in Chile.
In the picture: Members of the Microbial Pathogenesis Laboratory at the Faculty of Biological Sciences, Universidad Católica: Valentina Sebastián, PhD student; Isidora Suazo, PhD student, Liliana Gonzalez, PhD student; Yaneisi Vázquez, technical director; Eduardo Catalán, undergraduate student; Pedro Silva, Biochemist; Susan Bueno, Associate Professor and head of the Microbial Pathogenesis Laboratory at UC; Alejandro Piña, PhD student; Omar Vallejos, undergraduate student; Maria Jose Altamirano, DVM associate; Bárbara Schultz, PhD student; Loreani Noguera, biochemist.