Professor Wei SHANG launches his new book and discusses the essence of Chinese Classics with Professor Lihua YANG and Professor Chunying LI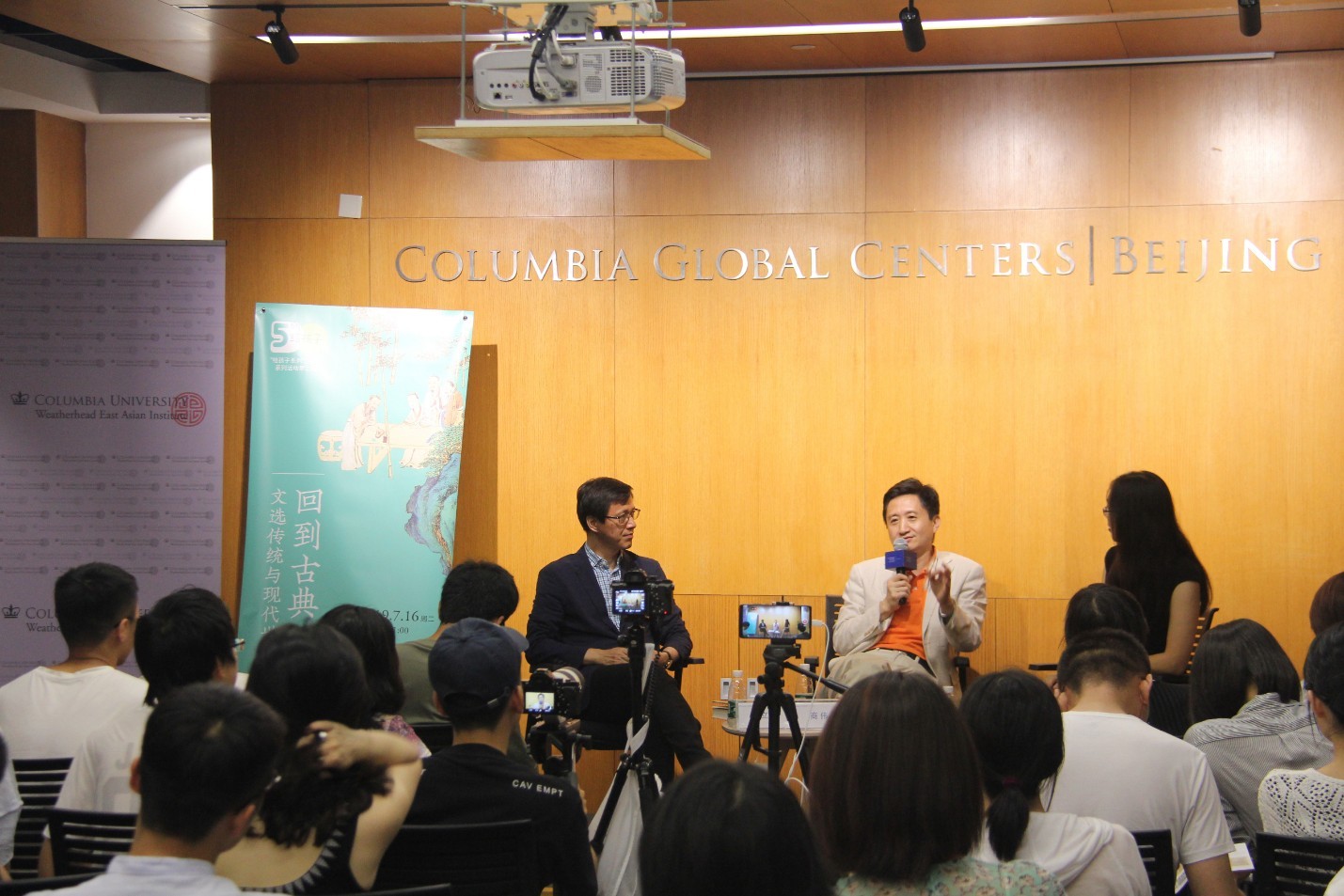 "Classics stand the test of the time," said Professor Wei SHANG, Du Family Professor of Chinese Culture at the Department of East Asian Languages and Cultures at Columbia University and faculty of the Weatherhead East Asian Institute. "Every time we review it, we can obtain something new and inspiring."
On July 16, Professor Shang launched his new book Gei Hai Zi De Gu Wen (Selected Chinese Classics for Children) at the Beijing Center, encouraging Chinese youth and children to explore the beauty and importance of Chinese classical literature. This event was co-organized by the Columbia Global Centers | Beijing, Moveable Type, and CITIC Press. It is part of the 2019 Columbia Beijing Summer East Asian Series, in celebration of the founding of the Weatherhead East Asian Institute 70 years ago. It is also the second event of the Gei Hai Zi Series Fifth Anniversary Series.
The Gei Hai Zi De Gu Wen collects 80 Chinese texts from Pre-qin dynasty to modern time, taking Professor Shang three years to complete the introduction and annotations for each piece. The book shows a great diversity in writing style of the Chinese ancient literature and includes masters' thinking on history, life, society, and arts. 
Nowadays, due to the rigid examination system in China, many students hold negative attitude toward Chinese classical texts, failing to find its significance to the modern society. But Professor Shang believes that to learn Chinese, one has to read ancient texts, through which we will be able to learn the true meaning of virtue, friendship, and love and the aesthetic appreciation of nature, arts, and the world.
The book sharing was followed by a panel discussion featuring Professor Shang, Professor Lihua YANG, Professor of Philosophy at Peking University, and Professor Chunying LI, Associate Professor at the International Confucian Academy of China University of Political Science and Law. The discussion further explored the importance of reading ancient literature in the modern context, as Professor Yang notices the aridity in people's minds in contrast with the plethora of information they take in. "The ancient texts offer readers a path to a thrilling spiritual world. But if your mind is dull, all these resources are powerless," Professor Yang added.
More than 130 people joined the event including many young children. The event also had more than 130,000 online views.