Raúl Zurita on Campus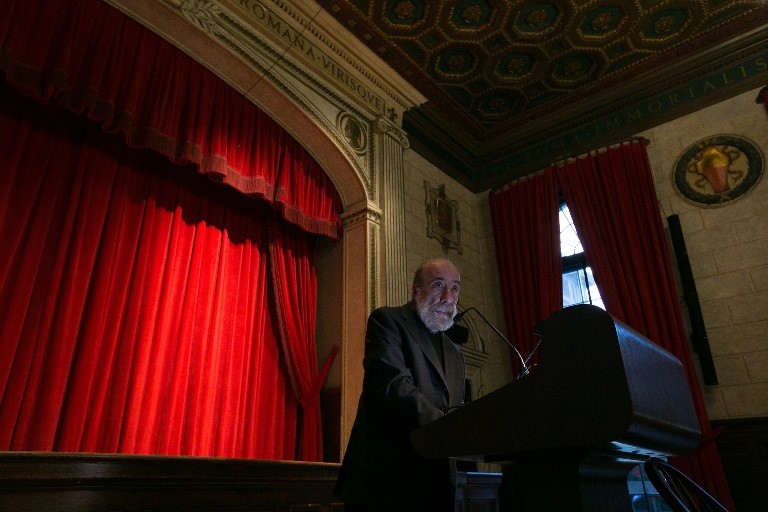 Chilean poet Raúl Zurita was invited to Columbia University in September to participate in a series of events marking the launching of the Sawyer Seminar on  "Global Language Justice" organized by the Institute for Comparative Literature and Society (ICLS) and financed by a two-year grant from the Andrew W. Mellon Foundation.  Under the title "Poetry as Pluriverse: Thinking Global Language Justice," the ICSL organized workshops and readings to discuss, among other topics, the social effects of English monolingualism, the relationship of language and technology, and the problem of translation across disciplinary divides.
Raúl Zurita is one of the most relevant and revered figures of the Latin American contemporary poetry. He was awarded the National Prize for Literature in 2000, the Pablo Neruda Prize in 1998 and a Guggenheim Foundation fellowship in 1984, in addition to many other distinctions and honors. He is known worldwide by his trilogy Purgatory-Anteparadise-The New Life. Verses from the second volume were displayed in the skies of New York by five aeroplanes in eight-kilometer high letters in 1982.
The inaugural event of the Sawyer Seminar on "Global Language Justice"  entailed a poetry reading at the Italian Academy for Advanced Studies in America, which featured Zurita and Mohammed Bennis, Bei Dao, Sharmistha Mohanty, Daouda Ndiaye, Nabaneeta Dev Sen, Anne Waldman, Orlando White, and Zhai Yongming. Other activities included a workshop on International Poetry, Translation, and Language Justice, moderated by Susan Bernofsky, one of the preeminent translators of German-language literature and the Director of the program Literary Translation at Columbia at the School of the Arts. Besides Zurita, the discussion also featured poets Sinan Antoon, Mohammed Bennis, Anna Deeny, Nabaneeta Dev Sen, Uche Nduka, Jennifer Hayashida, Tonya Foster, and Zhai Yongming. During the event, they spoke about their experiences of translating and being translated in different languages and cultures.
The two-day saga ended with another poetry reading at the Columbia's Poet House, where writers from several countries spoke about the life and death of languages. It featured the Zurita from Chile, Bei Dao from China, Nabaneeta Dev Sen from India, Daouda Ndiaye from Senegal, Anne Waldman from New Jersey, and Zhai Yongming from China.  You can hear the complete audio of this last event here.
The Sawyer Seminar on "Global Language Justice"  focuses on language justice as the humanistic equivalent of environmental justice and responds with a sense of urgency to the simultaneity of the rapid dwindling of linguistic diversity and endangered biodiversity. The two-year grant will enable ICLS to develop a cutting-edge program of research and pedagogical innovation at the interface of science, humanities, and big data. It will create a unique and lasting legacy around the pressing issue of language justice by incubating new graduate and undergraduate courses and developing new research directions for the humanities and social sciences.