Rediscovering the Films of Ida Lupino in the #Metoo Era
Many know Ida Lupino as one of the classic Hollywood movie stars to come out of the movie system of the 1930s and 40s, working at the same time as actresses such as Gene Tierny and Joan Fontaine. However, few are aware of her pioneering and groundbreaking work as a director and producer in the male-dominated world of the 1950's Hollywood studio system.
December 07, 2018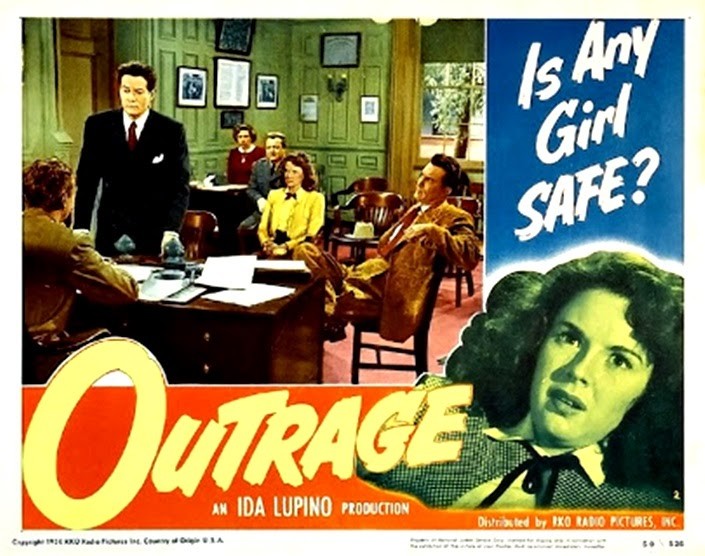 Directing and producing six feature films and many television series, including episodes of 'The Twilight Zone', Lupino was an uncompromising filmmaker working against not just the sexist prejudice of those around her, but also against the Hollywood censorship code. Lupino's perseverance in what is still today a male-dominated profession places her as an inspirational figure for women wanting to break into, and having already broken into, the filmmaking world. However, as the title of Richard Peña's talk, 'Hidden From History: Ida Lupino', suggests, despite Lupino's fame as an actress, her accomplishments as a filmmaker have been underappreciated.
It is Lupino's extraordinary sense of resistance against a patriarchal system that Richard Peña, a Professor of Film Studies at Columbia University and director of the New York Film Festival, emphasised in his talk at Reid Hall during November 2018. During his talk 'Hidden From History: Ida Lupino', Peña discussed the power of women in film during the 1950s, before screening Lupino's third film as director, 'Outrage' (1950).
To begin his talk, Peña provided a thoughtful discussion on women in positions of power. Drawing upon the #MeToo movement founded by Tarana Burke and the position of women in film today, Peña thoughtfully explored what it means to watch Lupino's films within the context we, as her viewers, are living in. Peña noted that Lupino's films draw on a range of complicated and distressing issues facing women in the 1940s-50s. In 1949's 'Not Wanted' (with the tagline 'Unwed Mother', which was Lupino's first choice for the film's title), Lupino explored a woman's unwanted and illegitimate pregnancy. In 'Never Fear', released the same year as 'Not Wanted', the filmmaker focused on another heavy but extremely relevant issue, the polio epidemic. And in 'Outrage', the film Peña screened at Reid Hall, Lupino depicts the traumatic effects of rape. Whilst the details of the issues Lupino's female characters face are often consequences of Lupino's time, the overriding themes – gaslighting, gender roles, and attempting to break out of the narrow confines of a patriarchal society – are still as relevant today as they were in the mid twentieth century.
In fact, in 'Outrage', the rape scene proves as the perfect example in which Lupino's films still speak to contemporary – and feminist – issues. Where most (male) directors today film graphic and uncensored rape scenes, Lupino's decision not to show her character's rape onscreen not only makes the moment itself all the more disturbing, since we are left to visualise in our minds what is happening, but it also emphasises Lupino's thoughtful technical filmmaking skills. Lupino was ahead of her time, and maybe even ours, too.
Peña provided the audience with contextual history surrounding commercial American cinema of the mid-to-late twentieth century and women's roles in this male dominated world. Observing the rigid and controlling structures of the Hollywood studio system, Peña said that it was actually women's cinema – particularly of the late 1960s and 70s – that counteracted the American commercial movie with the beginnings of ideas of alternative cinema. It is wrong to think or say that there were no women directors during this period, argued Peña. With directors including Maya Deren, Frances Marion, Dorothy Arzner, Matilde Landietta, and Edith Carlmar, the period boasts an array of talented filmmakers. However, Peña noted, due to women's cinema of the late 1960s and 70s coinciding with the modernist cinema movement, the importance of the period, and the women filmmakers who came out of this period, have, like Lupino, gone overlooked.
Whilst some film critics and theorists have asserted Lupino's films are not feminist – with some, for example Molly Haskell, going as far to say that they are sexist – Peña encouraged those in attendance to rethink not only our understanding of Lupino's films, but also the ways in which we frame women's cinema. Even if Lupino herself did not identify as a feminist, why should this take away from the significance of the filmmaker's oeuvre? We do not apply these rigid cultural, social, and political boundaries to male directors working within the same period, for example Hitchcock, after all.
To mark Lupino's centenary, many critics and film institutions are rediscovering Lupino's work with a less prejudiced eye. With the British Film Institute and New York's Film Forum re-releasing Lupino's films and holding events and retrospectives on the filmmaker, it is clear that the Lupino's films are starting to be not only acknowledged, but also appreciated as complicated explorations of female entrapment and freedom. By drawing attention to the technical skill and narrative complexity of Lupino's work, as well as to the context within which she was working, Peña's talk at Reid Hall in November provided viewers both familiar and new to Lupino with an ideal starting point to contemplate Lupino and her directorial work.