Rio Center Stories: Daniel Calarco, President of the International Youth Observatory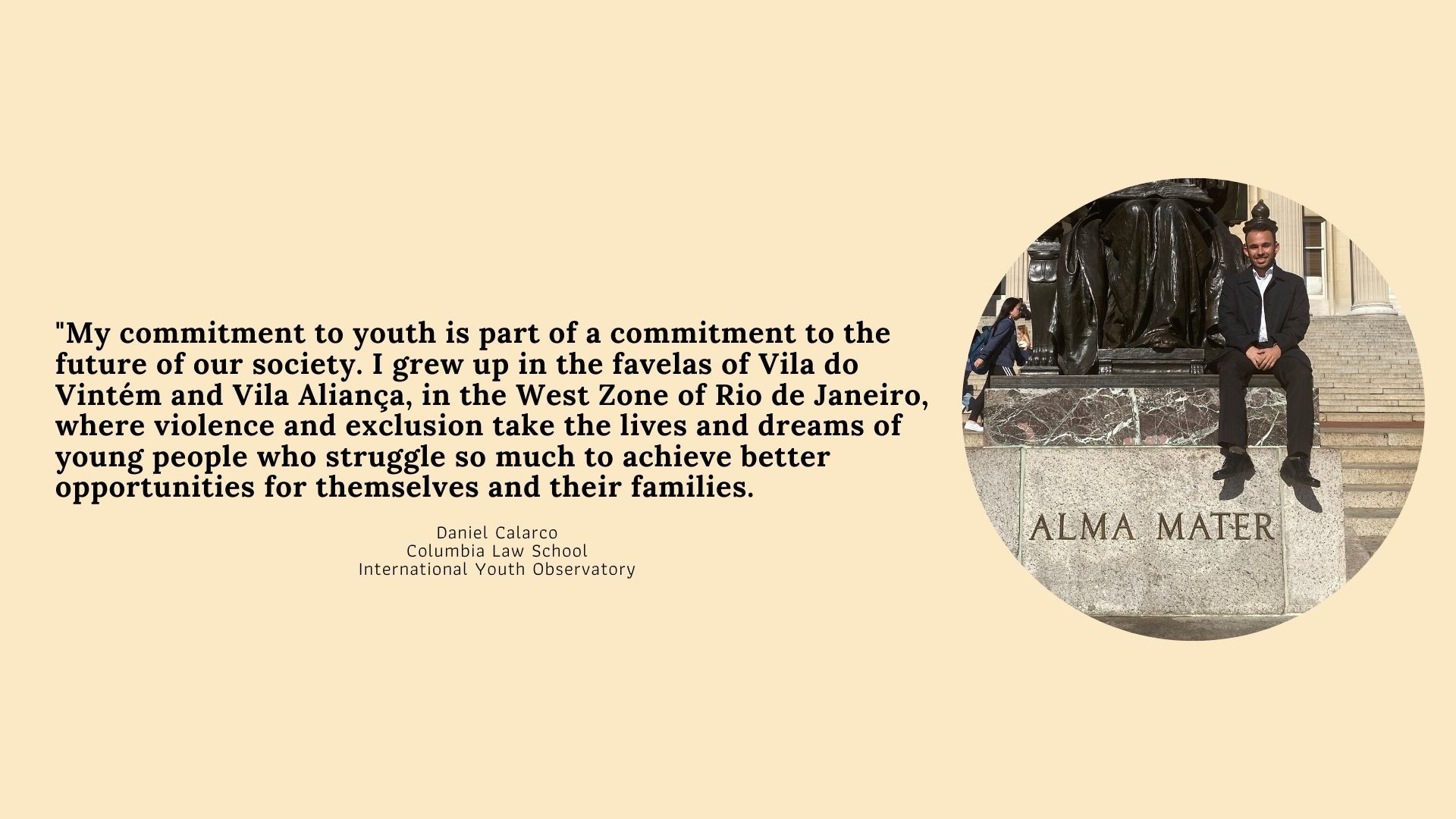 Daniel Calarco was born in the Minas Gerais countryside and raised in the low-income community of Vila Vintém, in the West Zone of Rio de Janeiro. He is directing the International Youth Observatory and spent several months recently studying at the Columbia Law School. He is currently involved in efforts to bring to Brazil (more specifically to the Vargas Foundation in Rio) two projects that he has been working on with Professor Kendall Thomas, the Nash Professor of Law and co-founder and director of the Center for the Study of Law and Culture at Columbia Law School.  These are the Digital Activism Module and the Theater of Change.  We had a chance to sit down with Daniel recently to talk about his work.
CGC Rio - What would you say is your great mission?
As President of the International Youth Observatory (IYO), I participate in the United Nations Major Group for Children and Youth.  I work in partnership with UN agencies to include young people from the Global South, mainly Brazilians, in the 2030 Agenda proposed by the United Nations General Assembly.
There are 17 Sustainable Development Goals that guide our work in building a more just, developed, and peaceful world. This transformation depends on the strength and leadership of the new generations.
My commitment to youth is part of a commitment to the future of our society. I grew up in the favelas of Vila do Vintém and Vila Aliança, in the West Zone of Rio de Janeiro, where violence and exclusion take the lives and dreams of young people who struggle so much to achieve better opportunities for themselves and their families.
Taking into account the youth in Brazil, we represent 51 million possibilities! Young people have a huge potential to think about and to implement social change. We are a technological generation, integrated and determined, but, unfortunatel,y due to social and economic vulnerability, we are not able to develop fully this potential.
I had the chance to transform my life trajectory through education. Through my work with the IYO, I dedicate myself to training young people in public policies, consultancy for public and private organizations, and in advocacy for the rights of youths.

CGC Rio - Why did you choose Columbia University?
Choosing Columbia is not a challenge, other than being approved. The University has formed great names in world politics, such as Barack Obama. The strong commitment to the international development of the institution and its strategic location in New York City, allowed me to have an excellent training, build bonds of friendship and work, and make the most of the opportunities that were offered to me.
CGC Rio - How has the time spent at Columbia contributed to your training and affected your mission?
Columbia Law School offers an environment of academic excellence. It is full of opportunities that transcend what goes on in the classrooms. It is normal for students and visitors to attend lectures and lunches with world leaders. The faculty is composed of renowned figures in the legal world, who encourage and challenge students. My classmates inspired me, often being excellent professionals in their countries. The networking that the University offers is extremely valuable for those looking for an international and impactful career.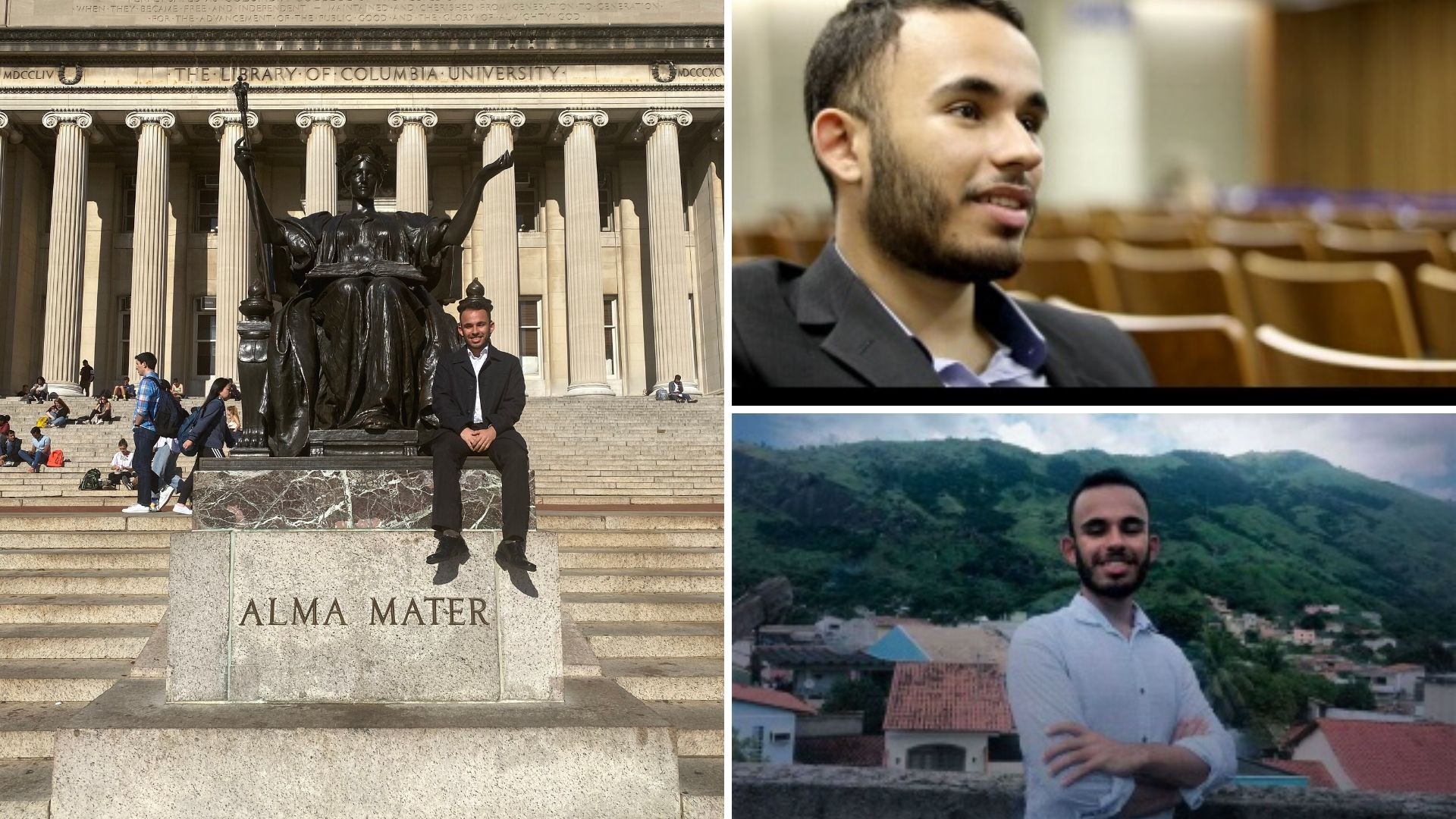 CGC Rio - What are your plans and hopes for Brazil?
Back in Brazil, I am coordinating social projects focused on the inclusion of young people from the favelas in order to bring a measure of peace and justice to Rio de Janeiro. The project is the result of a partnership between the Law School of the FGV in Rio, the International Youth Observatory, and Columbia University Law School.
We use law as a tool for social transformation, connecting community leaders and students to think together about public policies to fight youth vulnerability. Brazil is going through one of the  worst crises in our history. Our challenges are not restricted to economic growth. Every day we have to deal with a growth of inequality, the marginalization of social groups, and the abandonment of Brazil's international commitments to sustainable development.
Different groups need to have their opinions and experiences considered in the formulation of public policies. In order for us to overcome the crisis, those who face everyday problems need to be seen by decision makers as part of the solution and not the problem.
CGC Rio - Would you like to give a brief statement about CGC Rio and Columbia University?
I got to know the Columbia Global Centers Rio de Janeiro because of my approval for an exchange program at Columbia Law School. I grew up in the Vila do Vintém favela and the dream of studying abroad has always seemed impossible, but thanks to the support of people and institutions like the Columbia Global Center in Rio, this became possible.
I had many questions about the University and the opportunities it offers, and the Denter's director, Prof. Thomas Trebat and several members of his team welcomed me and helped me get to know more about the institution and gave me valuable tips for the exchange.
The best thing about my experience was the connections I was able to make with Columbia alumni in Brazil and specialists in the field of human rights at Columbia. This is extremely valuable to me and my career path.