Santiago Center Advisory Board Addresses COP25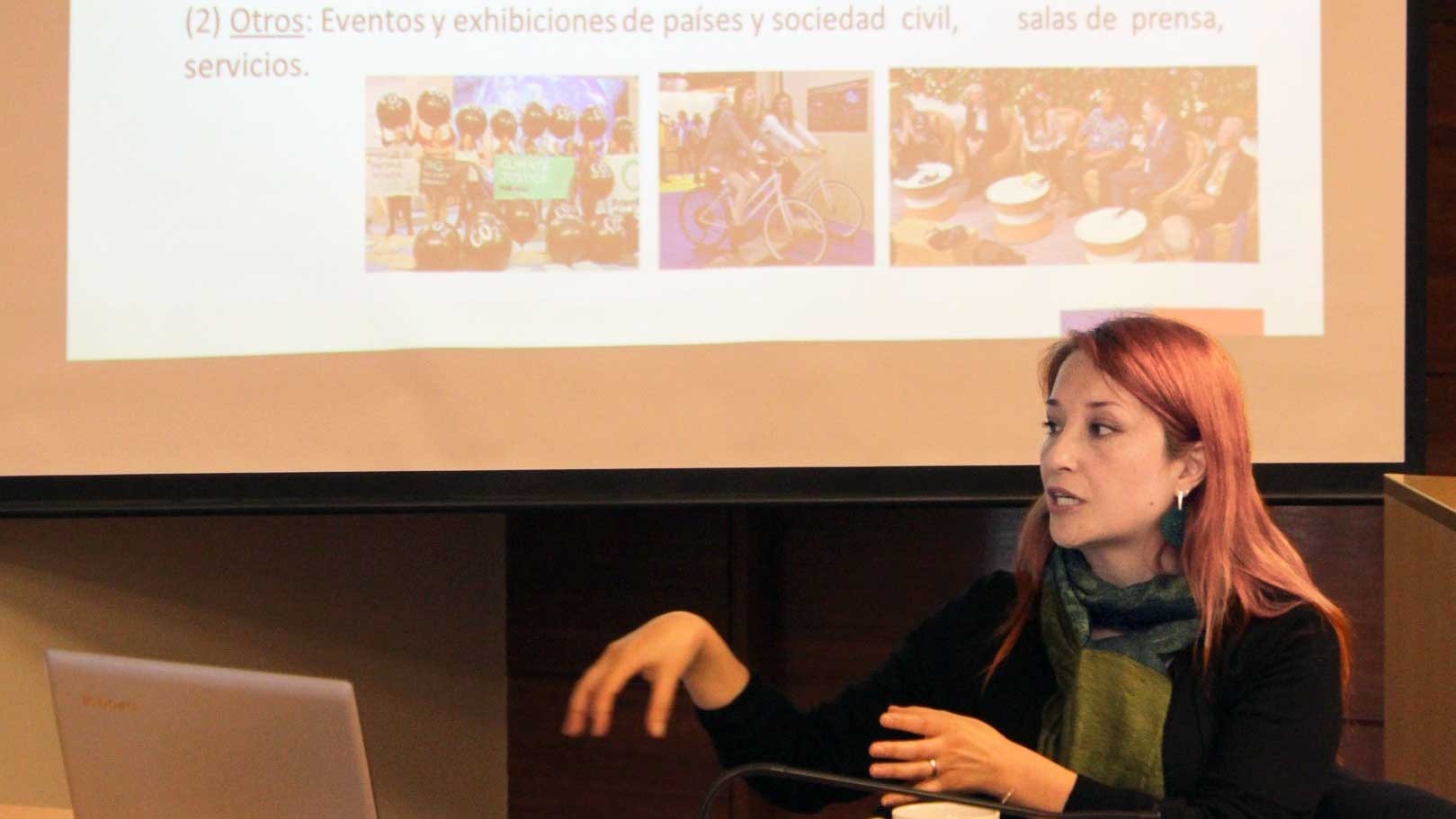 The Santiago Center's Advisory Board (AB) met at the beginning of July to discuss plans for the upcoming COP25 event, among other topics.  In the context of COP25, a group of seven Columbia faculty members, all experts on climate change, decarbonization and other related topics, have confirmed they will come to Santiago and participate in several activities organized by the Center.
AB member Jenny Mager, head of the Mitigation and Emission Inventories Department at Ministry of the Environment,  gave a presentation entitled "COP25, It's Time to Act," in which she explained what COP25 is, how it is organized and what its specific objectives are. The meeting will bring together high-level representatives from 197 countries from December 2-13 in Santiago. Its objective will be to establish criteria for compliance with the Paris Agreement and to implement stricter greenhouse gas emission reduction goals by the signatories. Mager discussed the climate crisis and how the objective of COP25 is to promote concrete actions in different areas, such as oceans, forests, water and renewable energies.
Also during the meeting, Columbia Global Centers (CGC) Santiago Director Karen Poniachik presented CGC's 2018 impact assessment metrics, including data on numbers and types of programs, visiting faculty, long-term projects, locations, audiences reached, number of local and international partners, and money spent. AB members recommended opening more events in areas outside of Santiago.
The CGC head then reviewed the new projects that had obtained funding through the President's Global Innovation Fund (PGIF):  1) "The Chilean Next Generation of Seasonal Climate Forecasts" led by climate scientists at the Earth Institute; 2) "Massive Entry of Renewable Energy in Chile: Operation, Storage and Intermittency", led by faculty members of Columbia's Engineering School and Universidad de Chile's Centro de Modelamiento Matemático; and 3) "Addressing Research Gaps on Sexual Minority Health in Chile Using the 2016-2017 National Health Survey", a joint venture between the Nursing Schools at Columbia and Universidad Católica.
The gathering was attended by nine members, including Peter Morse, Chief of Staff to the Vice Chairman of Banco de Chile, and the following Columbia alumni:
Georges De Bourguignon (MBA/MIA'17), Corporate Development Vice President at Quiñenco S.A.
Francisco Díaz (GSAPP'13), Professor of Architecture at Universidad Católica
Diego Flores (MPA'12), head of the Protected Areas Department at Ministry of the Environment
Andrea Insunza (JN'13), Professor of Journalism at Universidad Diego Portales
Jenny Mager (MPA'12), head of the Mitigation and Emission Inventories Department at Ministry of the Environment
Paula Pacheco(MPA'12), Social Policy Specialist at UNICEF Chile
Juan Somavía (MIA'98), Manager of External Affairs and Government Relations, Copper at Anglo American
Conrad Von Igel (MPA'07), Managing Director at Universidad Católica's Anacleto Angelini Innovation Center.
In preparation for COP25, the CGC is organizing the EY Conference on August 22 called "Heading for COP25: How to Address Climate Risk from the Board". This conference will address the role of the board in the process of measuring and disclosing climate change risks through the financial reporting methodology that is being adopted by the main companies at the global level.