Santiago Center Sponsors Course on Investigative Reporting for Two Chilean Journalists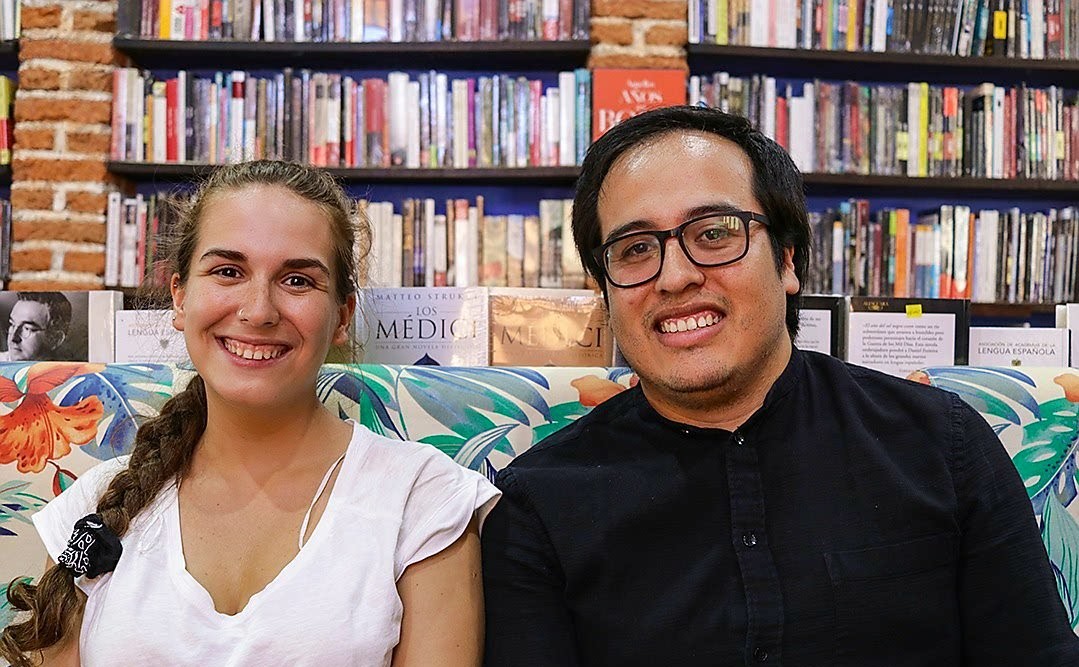 From March 11-22, two chilean journalists participated in the third version of the Investigative Journalism Course in Cartagena de Indias, Colombia, offered by Columbia Journalism School in association with Fundación Gabriel García Márquez para el Nuevo Periodismo Iberoamericano (FNPI).
Ignacia Velasco Ibáñez (26), who works at Robot LaBot, the first news chatbot in Chile, and Jonathan Flores Belmar (26), who reports at BioBioChile, a news radio and website based in Chile's southern city of Concepción; were awarded a scholarship by the Santiago Center to participate along with 15 other journalists from nine countries in Latin America.
During two weeks they learned investigative reporting techniques and methodologies from leading journalists in Latin America, where the students also fine-tuned their own investigations in progress.
The group of teachers was led by Ernest Sotomayor, Dean of Student Affairs & Director, Latin America Initiatives of the Columbia Journalism School, along with the distinguished journalists Francisca Skoknic, Director of Universidad Diego Portales' Journalism School; Hugo Alconada, investigations editor of the newspaper La Nación from Argentina; Rigoberto Carvajal, data expert at the International Consortium of Investigative Journalists (ICIJ) from Costa Rica; María Teresa Ronderos, an experienced journalist and editor of different media from Colombia; and Emilia Díaz-Struck, ICIJ's research editor and Latin American coordinator, from Venezuela.
Each teacher focused on different specialty areas during the course. Skoknic discussed the elements of investigative reporting and showed students how to build and sell strong investigations to editors. Hugo Alconada explained how to use journalism to uncover corruption and money laundering and also provided the students an overview on how to write an investigation book. Rigoberto Carvajal gave an introduction to data journalism and demonstrated how to build stories using data. María Teresa Ronderos analyzed journalism-related risks and how to minimize them by anticipating problems in the reporting process. Emilia Díaz Stuck reviewed how to carry out transnational investigations and the importance of collaborative journalism. She also encouraged the course participants to start their own transnational investigations.
In addition, on March 14 the participants had the opportunity to participate in "Journalism and permanent power," a dialogue at the headquarters of the Jorge Tadeo Lozano University.
The conversation revolved around journalistic coverage of corruption. Alconada, Skoknic and Sotomayor discussed how to employ investigative reporting to address the economic and social structures that instigate and sustain that corruption.
Both Chilean participants agreed the course was a great experience: "It was incredible. We had first-class teachers who passed on all their experience and, most importantly, in many cases revealed how they carried out their investigations," says Flores.
Ignacia Velasco adds: "It was a unique class. It helped me expand my knowledge in investigation techniques and tools and also allowed me to generate support networks with colleagues from all over Latin America."
"The scenario was perfect. In addition to the intense study program, in the afternoon we were able to tour a beautiful city full of history," notes Flores.
"I came back from Cartagena as a journalist with new ideas and highly motivated to break new stories and discoveries with the things that I learned," says Velasco.