MFA Candidate Treks Chile for Writing Inspiration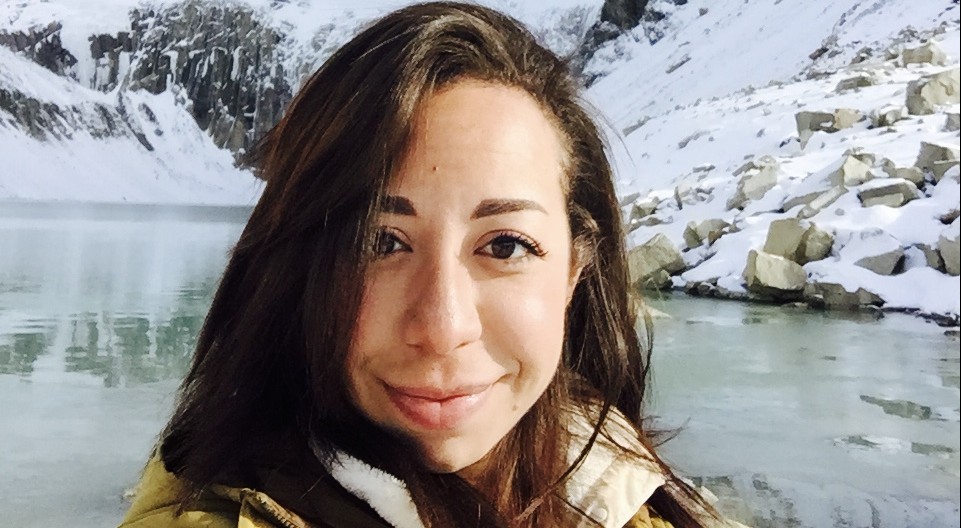 MFA candidate in the Fiction Program at Columbia University, Liza Stewart, spent 10 days in Chile as part of the literary translation workshop Word for Word.
Under the program, US students are paired with writers from different countries to translate their works. In Chile, since 2018 students from Universidad Diego Portales (UDP) and graduate students at Columbia's School of the Arts have been mutually translating each other's written texts; UDP students have also been organizing public readings of these works.
In Stewart's specific case, she exchanges writings with a local partner, poet Chris Atherton, to be translated into Spanish and English, respectively.  
"Part of why I wanted to do Spanish translations, is that when you live in the US, and your exposure to other literature is limited, you miss out on a lot. I don't normally read in Spanish but it was a nice opportunity to be able to approach language and literature but from a different lens," she says. "I've loved working with Chris and translating his poems. He is an excellent poet, and I'm not a poet so it's nice to work with a different form and in a different language."
"Through translating, I thought I would love to go to Chile and work with Chris and leverage his knowledge of the country," she says. "I ended up going to [the southern island of] Chiloé and setting up interviews with people there, to know more about the culture, history and biodiversity."
Stewart emphasizes that while she is a fiction writer, having traveled throughout South America, she became interested in the region's politics and people's stories. "So I started working on these short, non-fiction stories. Being a fiction writer, it's not my main project."
One of the things that called her attention was the dichotomy between the peacefulness found on the island of Chiloé, versus the social protests she encountered when arriving in Santiago. "We are programmed to search for patterns, and so I tried to understand how the pristine natural beauty and traditions of Chiloé fit with the fires and rage of Santiago," she writes in her Columbia report following her travels. "It seemed to me that the rural issues of the islands and the urban issues of Santiago are intimately related. They are about capitalism stripping people of their access to meaningful lives, the hope for a better future; about the substitution of western individualism and profits for the interdependence of communities."
"My work interviewing, researching, listening to anecdotes and accounts of the island, processing and taking notes for my nonfiction project, were among the most challenging, productive, and rewarding experiences I've had as a student, writer, and traveler," she adds. "I borrowed two rare Spanish texts from the Columbia Library, not available for purchase elsewhere, which I read on the trip, the authors Chilote academics intimately familiar with the history of the island. I'd like to translate them into English... I would also very much like to continue a translation partnership in Santiago. I hope to share my writing with the people who I met and who helped me navigate Chiloé."
Use this link to read Stewart's published vignette on her previous travels to southern Chile's national park Torres del Paine, "Shelter for Memory." Other projects she is working on include a near-future speculative fiction novel on American politics and a novel which explores one family's relationship to activism.
The idea behind Word for Word is to provide emerging writers with valuable experience and a global network, and to encourage the authors to engage with their own language in a new way.
In Chile, each year a number of UDP students are paired with the same amount of writers from Columbia. The writers coordinate via email, video and text and at the end of the period the Columbia writer can apply for funds to visit Chile, to meet the person with whom they have been working.
At Columbia, the Word for Word program is coordinated by Susan Bernofsky, a leading translator of the German language at the Master of Fine Arts Writing Program. In turn, Rodrigo Rojas, a Chilean poet, journalist and translator at the UDP's School of Creative Literature  heads the Word for Word program in Chile.
This global course was launched in 2011 and is currently conducted between Columbia students and their counterparts at five universities in Europe and Latin America: Deutsches Literaturinstitut Leipzig in Germany, Scuola Holden in Italy, Instituto Vera Cruz in Brazil, Université Paris 8 in France, and UDP.