Seminar on Waste-to-Energy Technologies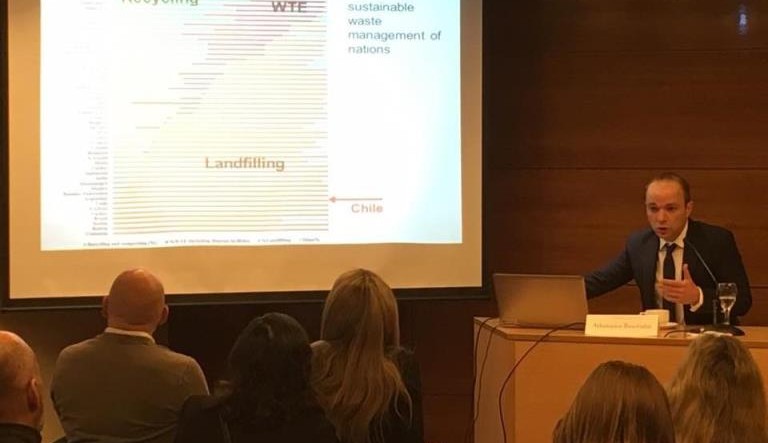 The rapid growth of waste materials generated by humanity and the ever-increasing scarcity of landfill space worldwide have resulted in a major environmental problem. Faced with this challenge, municipalities and companies are seeking alternative solutions to landfills. The only proven alternative for the management of the post-recycling waste, that means the waste with no value in the market or recovery potential, is thermal treatment for the recovery of energy (waste-to-energy or WTE).

On August 24, the Santiago Center organized a workshop to address the best available WTE technologies for the recovery of energy or fuels from municipal solid wastes and other industrial, agricultural, and forestry residues. It featured the participation of Athanasios Bourtsalas, adjunct assistant professor at Columbia University's Earth Engineering Center and manager of Waste to Energy Research and Technology (WTERT-US), as well as from Alex Godoy- Faúndez, Director of Universidad del Desarrollo's Sustainability Research Center and Strategic Resource Management (CiSGER) as well as research associate at Columbia´s Earth Engineering Center. The discussion was moderated by Gonzalo Rivas, President of Chile's National Council of Innovation For Development (CNID).
Bourtsalas described how China is replacing landfills with new and stricter technologies that have even been accepted by the European Union within the paradigm of circular economy, industrial ecology and the intergovernmental panel on climate change.
During his presentation, Godoy reported on Chile's figures on these matters and explained the current public policy framework, alluding to disinformation as the main challenge in the area of solid waste management. In this context, he described how Chile offers the opportunity to treat waste through a convergence of strategies and that there is potential in the co-treatment of non-recyclable and industrial waste that could allow the production of new generation fuels, such as Hydrogen, that could eventually be to be used in public transport through in dual combustion engines or directly as energy storage systems.
You can download the presentations in the following link:
Professor Bourtsalas's Presentation
Professor Godoy's Presentation
Guidebook for the application of waste to energy technologies in latin america and the caribbean