Sharing Science and Policy to Address Air Pollution: The Nairobi Air Pollution Roundtable
The session was an opportunity for key Africa's researchers, academia, and development partners to share existing science, policy, and health projects in the region, identify linkages, and explore future collaborations to combat air pollution in the region
September 03, 2019
The World Health Organization (WHO) describes air pollution as the 'Silent Killer,' however, in sub-Saharan Africa and elsewhere, there still lies a gap in air quality monitoring data and related research.  Columbia Global Centers | Nairobi, Prof. Dan Westervelt, Associate Research Scientist-Lamont-Doherty Earth Observatory - Columbia University in partnership with Kigali Collaborative Research Center (KCRC) spearheaded the discussion through 'The Nairobi Air-Pollution' Roundtable. The session was an opportunity for key Africa's researchers, academia, and development partners to share existing science, policy, and health projects in the region, identify linkages, and explore future collaborations to combat air pollution in the region. 
Dr. Murugi Ndirangu, Director of Columbia Global Centers | Nairobi in her opening remarks gave an introduction of Columbia Global Centers Network and Columbia University's collective motivation to advance global collaborative research to address current challenges such as climate change and indeed air pollution.
Prof. Dan Westervelt, in his introductory remarks, noted that air pollution, the world over is indeed a challenge. This is further compounded by the lack of real-time data, to support research and policy. 'What are the components we measuring in air pollution, who is conducting this research, how do we harmonize the data for data correlation and more importantly, how do we use this data to inform and influence policy'?  He remarked.  
Thereafter, Prof Westervelt highlighted Columbia University's effort in research activities in the U.S and region. They include in air quality monitoring, which includes: Calibration and performance evaluation of low-cost air pollution monitors-in New York. In the region, other research activities involve;  PM2.5 monitoring in Kinshasa, DR Congo, Air pollution and health in Ghana and the 'Clean Air Toolbox' program, that includes eight departments at  Columbia University and currently in implementation in  Accra, Ghana; Kinshasa, DRC, and  Kolkata India.
As part of the interactive session, participants shared past and current science and policy projects about air pollution in the region. The presentations and subsequent discussion allowed the members identify the collaborative, ongoing interventions in the region as well as highlight the successes and lessons learned.
The Presentations:
On satellite data verification, methodology, Dr.  Andriannah Mbandi, Stockholm Environment Institute (SEI) presented on 'Data Fusion Methodology and shared the highlights of the United Nations Environment Programme (UNEP)/GEMS Air program,  that seeks to determine whether data fusion is a viable approach for filling the data gap in Africa. The preliminary results are indeed promising as results may indicate, combined with surface measurements, satellite data fusion can support near-real-time monitoring of air quality in  Africa
On innovative pilots on data collection, methodology and citizen participation, William Apondo from the Stockholm Environment Institute (SEI) presented on a 2015 pilot project-'Citizen Science and Participation,' which recruits residents of informal settlements, to collect and monitor air monitoring data using that low-cost particle gadget.  Through the citizen approach, preliminary results indicate that well-engaged communities are indeed a building block not only for research purposes but as shareholders in the application of the findings and policy implementation thereafter.
Similarly, James Chege of Code for Africa presented and highlighted on how important decentralized data, influences citizens to action. The SENSORS Africa project involves the deployment of low-cost air quality sensors in various public institutions in Kenya, Uganda, Nigeria, South Africa, and Tanzania, to real-time, open-source data environmental data. As part of the project, the data collected has been used to develop investigative, and human interest stories sensitize communities on air quality and pollution. 
In regards to country-specific collaborative interventions, from Kenya Ezekiel Waiguru of the University of Nairobi, highlighted on the collaborative research efforts using low-cost sensors, Chemical Transport Modelling (CTM) and satellites to monitor air quality.   Similarly, Prof. Vincent Midadi, Department of Chemistry, University of Nairobi, presented on various collaborative research interventions that have conducted studies on the actual composition of hazardous chemicals in particulate matter in the region. They include pesticide research in environmental matrices, air research on expounded chemical agents, inorganic, atmospheric deposition, and more recently, a mercury passive sampling study.
Deo Okure- Air Quality Scientist at Makerere University in Uganda, highlighted the building and deploying a network of low-cost air quality monitors in Uganda, the -AirQo experience Project.  The ongoing project employs use low-cost tools and methods for static high-resolution air quality monitoring for both static and mobile data collection. In regards to innovation, the project is piloting the use of motorcycles and buses, with strategically mounted monitors to collect mobile real-time data. The data is there co-referenced with static monitors where available.
In his presentation on his work in Kinshasa, Prof. Westervelt highlighted his collaborative pilot research project with the U.S. State Department in Kinshasa to document, analyze and documents air quality data is largely the first of its kind. The two-year project to date has gathered both indoor and outdoor air quality data. Though the sample size is small, preliminary comparison with satellite data, the data samples indicate the derived PM2.5 in Kinshasa agrees well with ground-based data.
In his presentation in regards to the challenges of the prohibitive cost of equipment, R. Subramanian, of the  Kigali Collaborative Research Center (KCRC) highlighted varies research highlights conducted in the U.S. and Rwanda centered on air quality monitoring harmonization on the data parameters, calibration of sensors and emerging new technology. To highlight the nexus of data, policy, and reduction of air pollution, Subramanian highlighted data that indicates the intersection of data, research to inform policy and action: Improved air quality when Rwanda's instituted a 'no car policy, on selected Sunday's by closing-off some streets in the town area. The data collected, indicated improved air quality.  
In the last two presentations, Dr. Geoffrey Macharia of Kenyatta University and Dr. Paul Njogu of Jomo Kenyatta University of Agriculture and Technology (JKUAT)  highlighted academia's role of knowledge exchange, equipping and securing the next crop of scientists, policymakers, environmental-based journalists and other officials this ecosystem.  
Looking ahead, Prof. Westervelt is set to develop baseline findings on the region's collaborative efforts and highlight the knowledge gaps identified and possible future collaboration in knowledge exchange and capacity building for the region.  
Subsequently, in creating linkages for future collaborations, Prof. Dan Westervelt highlighted the prospective next phase, a funding proposal for the next step of Clean Air Toolbox program has been developed. Among others, the proposal was submitted to the MacArthur Foundation: '$100 million grant to fund a single proposal that promises real and measurable progress in solving a critical problem of our time' campaign. The planned cities under the proposed 'Clean Air Toolbox" Project are  Nairobi, Kenya; Kampala, Uganda; Dakar, Sengal; Lomé, Togo; Dar es Salaam, Tanzania and, Addis Ababa, Ethiopia.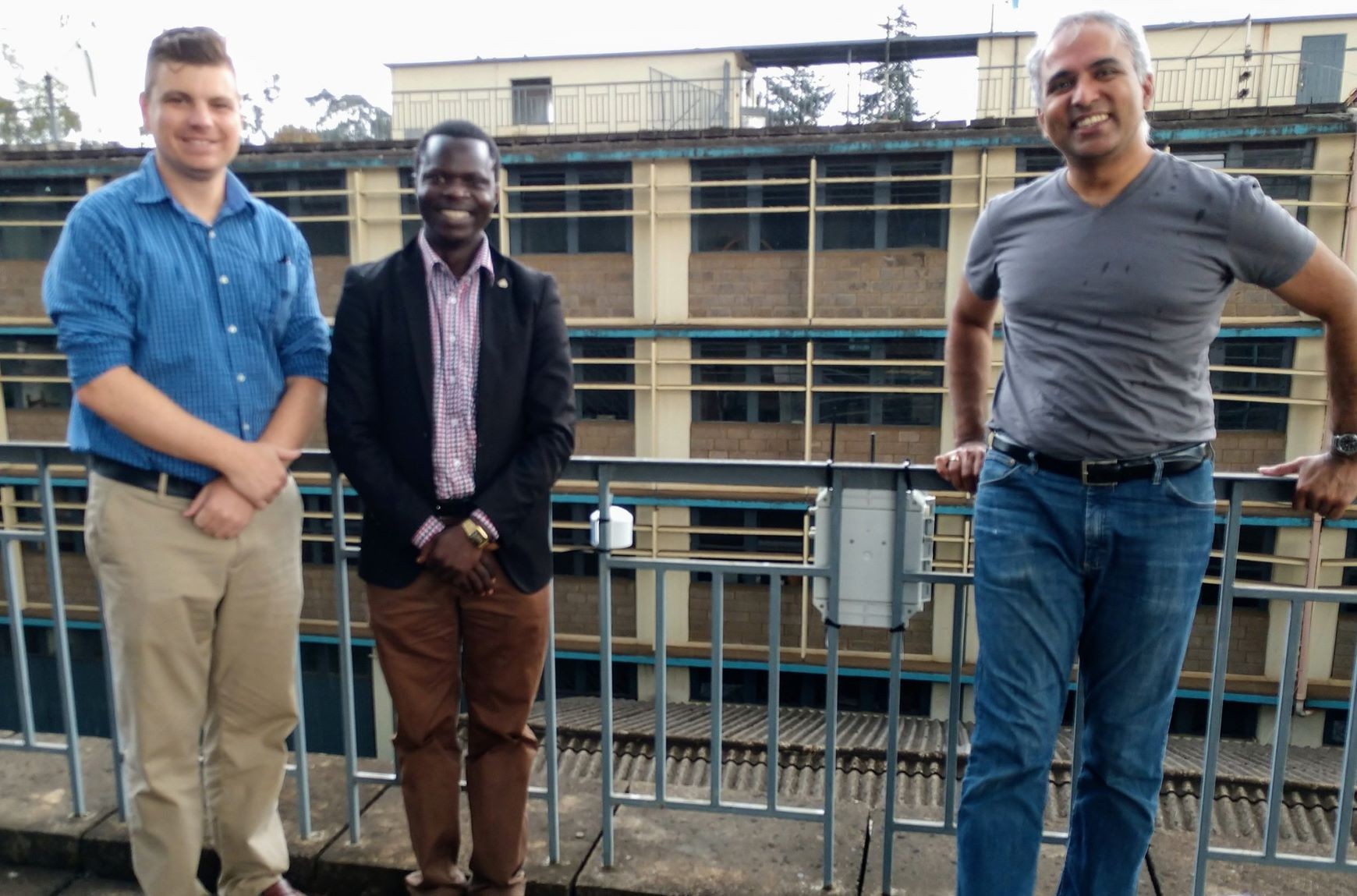 Prof. Westervelt in collaboration with the Nairobi Center and R. Subramanian of the Kigali Collaborative Research Center (KCRC) thereafter deployed a RAMP and a PurpleAir monitor at the University of Nairobi's Department of Chemistry, through the support of Prof. Vincent Madadi and his graduate student Enoch Osuru. The monitors will complement the collection of air quality monitoring data for the surrounding area.