Social Entrepreneurship Workshop for High School Students 2021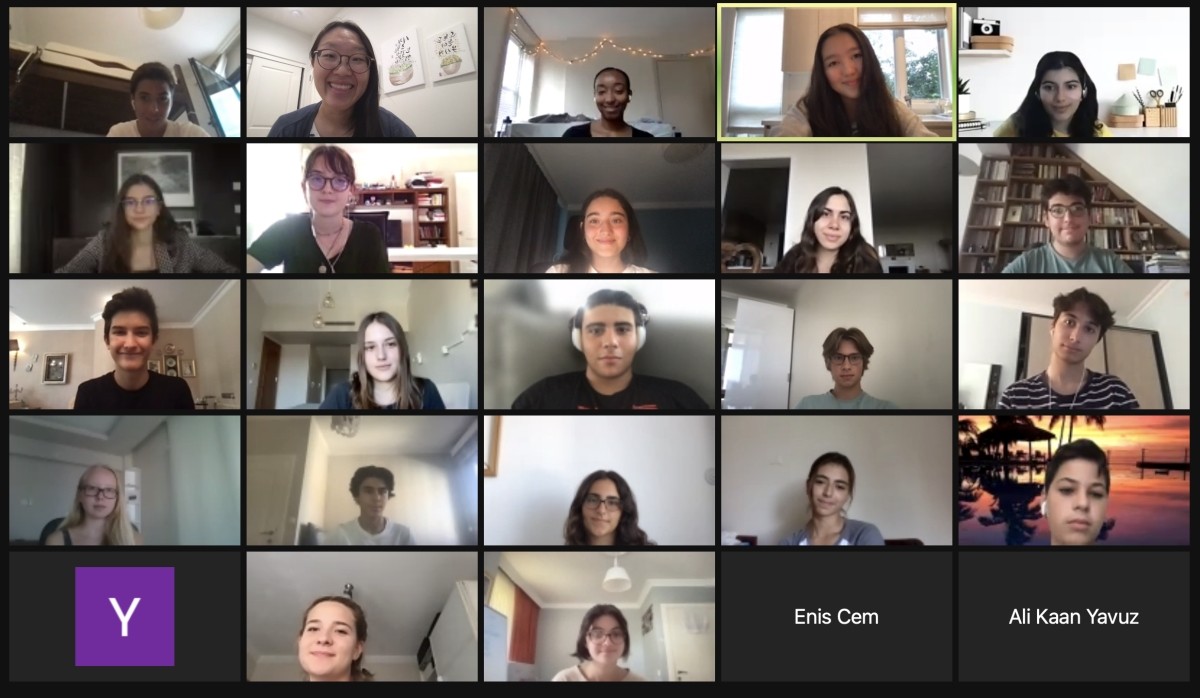 Building Blocks, the enterprise founded by Irene Koo '20CC and Justice Betty 'GS18, held its yearly social entrepreneurship workshop for high school students last week, in collaboration with Columbia University and CGC | Istanbul. Led by an energetic and friendly team of Columbia students, Madeline, Hanna, Delilah, and Maya, the workshop provided students with an invaluable insight into the world of entrepreneurship. CGC | Istanbul's goal of extending Columbia's reach to the region is embodied in the workshop, which not only promoted inter-cultural cooperation but also created a dialogue on issues of importance. Every day, the session ended with a reflection, consolidating what students learned and where they would go from there. A firm favorite part of the week was the Shark Tank activity, with students praising it as a definite highlight.
It speaks to the quality of the Building Blocks x Columbia University curriculum that after only five days, students were able to develop detailed and insightful pitches. For some, Monday was their first contact with social entrepreneurship, and by Friday, five great pitches in the categories of human rights, education, environment, psychosocial issues, and health were made. Their pitches were as follows:
Leyla, Fatih, Ates, Ariana, and Melis, creators of the company 'Boldier' want to raise awareness in Turkey for LGBTQ+ groups, as Turkish television has little coverage of the group. Their goal is to counter ignorance, their motto being "Freedom lies in being bold."
'PearEd' is an educational platform designed by Can, Doga, Asya and Haluk. A peer-to-peer education platform, PearEd would seek to breach the gap between public and private school learning, to counter a lack of college counseling in high schools, and to aid with college debt. By matching students to teachers and students to colleges, the customized application's educational goals are set high. Including the subsets of TeachEd, UniEd, and ActEd, the application would comprise teams for academic help, college counseling, and extracurriculars.
'Evergreen Cases', created by Yaz, Berkin, and Kemal, aims to create cases that benefit the environment, in response to the waste problem. The cases would not only be made from materials litter-picked by volunteers but also be fully recyclable.  
'Second Chance', the platform created by Ilkim, Elif, and Sam, was created in response to rising suicide rates and mental health issues. The platform would provide affordable counseling, chatrooms where struggling people can talk to someone who has experienced similar issues, and a 24/7 suicide hotline owing to the fact that Turkey has no official government suicide hotline.
In the category of health, students Ali Kaan, Enis, Lal K., Lal N., and Ray devised 'Clean StrawTM', a water filtering straw to aid people who do not have access to clean water using the process of reverse osmosis. One of every two straws would be donated to a place with no access to clean water. 
The panelists gave each project serious consideration in their feedback. As though the projects were due to come to fruition, Pamir Yanik, project manager at the food waste fighting enterprise Fazla Gıda, picked apart the practicality of the ventures, focusing on the financial aspects and their revenue creations. Cihan Koral, the co-founder of the non-governmental organization Hasat, emphasized the importance of raising these issues in today's world and encouraged the students to focus on the systemic backgrounds of the issues they focused on, asking them how we can help create a world in which solutions to these problems do not need to be found.
Both panelists praised every single project as interesting, fresh, and considerate. "You're the ones who are going to make it real," Pamir Yanık said, explaining how impressed he was with their social enterprises.
Below are some reflections from students who participated in the workshop:
"Columbia Global Centers | Istanbul Social Entrepreneurship Workshop brought me many new perspectives. First of all, I would like to express my gratitude to the instructors who support us every single day, listen to our ideas patiently and give improving feedback. Meeting new people from many different places with many different ideas and working for a common purpose for days has improved me a lot. We had the chance to discuss universal problems freely and comfortably, to produce solutions as a group, and to receive comments on our solutions. Thanks to the incredible atmosphere in the meetings, we were able to discuss the ideas we put forward and learn about our shortcomings. I think our greatest teachers in life are the mistakes we make and thanks to the inspiring reviews in this workshop, we were able to ground our ideas in our group, realize our mistakes and work together for the better. In the end, I think we did a very good job. It was an experience I will never forget."
-  Melis Güdüm, TAKEV High School, 12th grade
"This workshop was everything I needed. Learning how I can be a part of the change from inspiring and enthusiastic instructors who are also students. Not only did I learn about creating my own startup, but I also had so much fun - acting and thinking like an entrepreneur. I'm so glad that I was able to be a part of this amazing adventure."
- Elif Dilara İnkaya, TED Ankara College Foundation Private High School, 10th grade
"First of all, I would like to thank Columbia Global Centers and Building Blocks a lot for making me have an unforgettable experience! The best reasons that will never make me forget this activity were meeting new friends and learning many helpful things about a topic that I've never thought of before! Additionally, I realized that the things I learned about social entrepreneurship will be useful for me in my professional life! In brief, this workshop was one of the best activities that I've ever had and I would love to recommend these to all of my friends who are interested in social entrepreneurship! I'm looking forward to seeing you again soon!"
-  Kemal Tuna Bilici, Hisar School, 10th grade