Undergraduate Engineering Students in Chile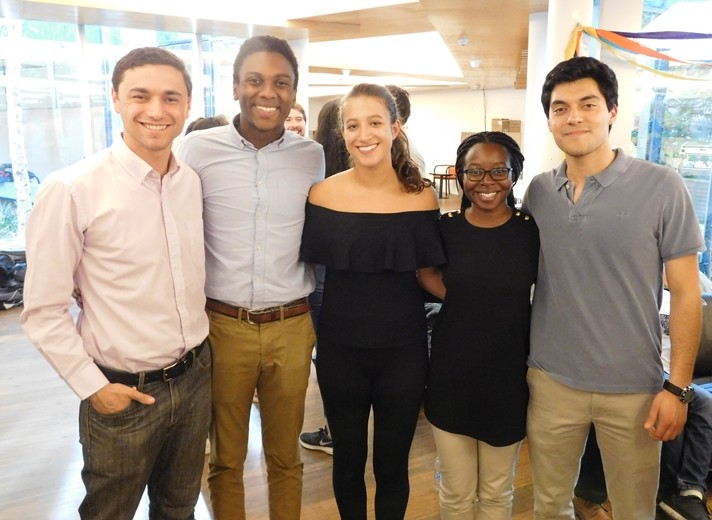 Three undergraduate Columbia Engineering students --Temitope Akinade, Sofía Barbosa, and Lance Avery Murphy—participated in an "International Seminar for Engineering Leaders" (ISEL), held in Santiago in late September. This major gathering, which was jointly organized by the students and faculty of Universidad Católica's School of Engineering, with the support of the Chilean Economic Development Agency's 2030 program (CORFO 2030), brought together students from thirteen different universities throughout the world to discuss what each of them are doing in the areas of research, innovation, entrepreneurship, and leadership.
The three Columbia students that attended this event are completing their B.S. on Biomedical Engineering at the Fu Foundation School of Engineering and Applied Sciences (SEAS). Temitope is an undergraduate researcher at the Columbia Biomaterials & Interface Tissue Engineering Lab, while Sofia and Lance work as researcher at the Cellular Engineering Lab.
Other universities represented at ISEL 2017, besides Columbia, Singapore University of Technology and Design, National University of Singapore, Texas Austin, Texas A&M, UCLA, University of British Columbia, Edinburgh, Notre Dame, Dalhousie, Saskatchewan, Calgary y Universite de Laval.
The ISEL project was born out of from the enthusiasm of Chilean students to create work and collaboration networks with many of the top universities worldwide. The project had three main objectives: Get to know other engineering schools' representation, research and entrepreneurship initiatives; create and strengthen instances for collaboration and communication between students, faculty members, and staff from all universities involved; and promote cooperation among participating institutions for future research projects.
During the one-week program, students participated in several activities, including seminars, speed-networking and roundtable discussions. Students spoke about their experiences in different areas of od scholarly research and met with leaders in the different fields on Engineering as well as with Universidad Católica's authorities and diplomats from all the countries represented in the gathering.