Virtual Internship Stories: Matthew Capuano Rizzo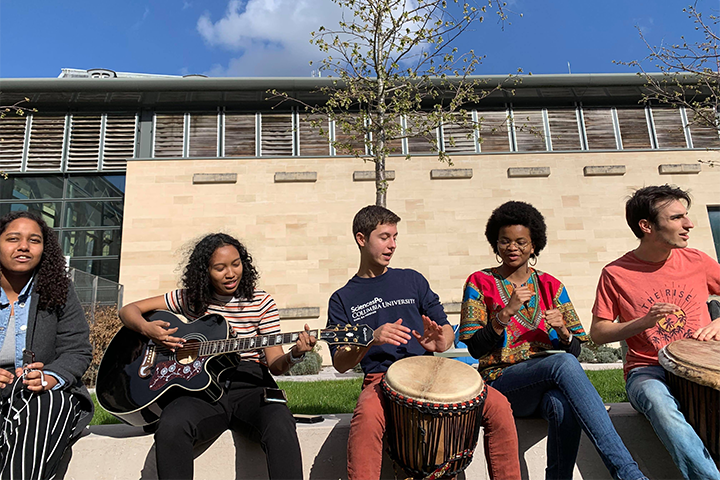 Name: Matthew Capuano Rizzo
School: General Studies '23
Major: Europe-Africa Program at Sciences Po
Center: Nairobi
Internship: Fundraising Intern at the African Conservancy Foundation
Tell us a bit about yourself.
I apologize for the background noise I'm in a grocery store where I work. My name is Matthew Capuano Rizzo and I'm a student in the Dual BA Program between Sciences Po and Columbia University. I'm from Vienna, Virginia. France is issuing visas today-It's really exciting for us in the Dual Ba because we've been panicking about it. I just got a text that my visa is coming so I will be going back to France next week.
Tell us a bit about your internships. What are some of your responsibilities?
This summer I interned with the African Conservancy Foundation, which is a Kenyan-led conservation organization in Kenya on the Maasai Mara, which is right on the border with Tanzania. It's a partnership between individual landowners-most of them are Maasai farmers-and how it works is instead of fencing off a bunch of land and saying you can't go there; it's for the wildlife, it's a partnership with the landowners. They lease a portion of their land and then they receive monthly payments from organizations like ACF and Game Watchers Safari, which is their tourism operator. Then, they have a vested interest in protecting the wildlife. These Maasai farmers, they use these payments to pay for their children's school fees or to get more livestock or to expand or improve their agricultural activities, so it's more like helping people on the ground and improving their day to day life. It's all Kenyan-led and I'm learning Swahili because I'm in the Europe Africa program in Sciences Po. I've only taken it for a year and so I'm not amazing at it but we've been writing emails back and forth in Swahili. They needed money to continue their operations because there's no more tourism coming to Kenya. At first I started a go fund me and called a bunch of friends and family to raise money for ACF and we were able to raise $1,215, which I was really proud of because originally my goal was $100 because I thought it would be $50 from me and $50 from my mom and that would be it. Now I'm working on grant applications. I just submitted one for the Michelin Foundation, a French tire company, and that was cool because I wrote it in French.
How has your experience been so far?
I think the virtual internships are great especially if they're unpaid because if it's an unpaid thing and you have to go in-person, that's a lot of time. And for someone like me who's going to be in a lot of student debt from doing this program, if it's unpaid I would need to work as well.
How have you dealt with the transition to virtual internships?
As a family we're really close so we've been watching movies together and playing games. Also, I cook a lot. I'm vegan so I make vegan food for my family-last night we had tofu tacos that I made. I've been reading a lot. I try to read books that expand my perspective on things. I just read a book on Palestinian history and now I'm reading The Handmaid's Tale.
Do you have any book recommendations?
It's called Crossing Boundaries: A Traveler's Guide to World Peace. And it's written by this guy named Aziz Abu Sarah. He's a Palestinian writer and activist but he started this tour company called Mejdi tours where the whole idea is to give both perspectives of history—so you have a Palestinian tour guide and an Israeli tour guide. The whole idea is to start conversations so I think that would be a good one-it's 200 pages—for anyone who's into international history or traveling. And it really changed my perspective on things. I think that's a good recommendation.