Water Access in Mumbai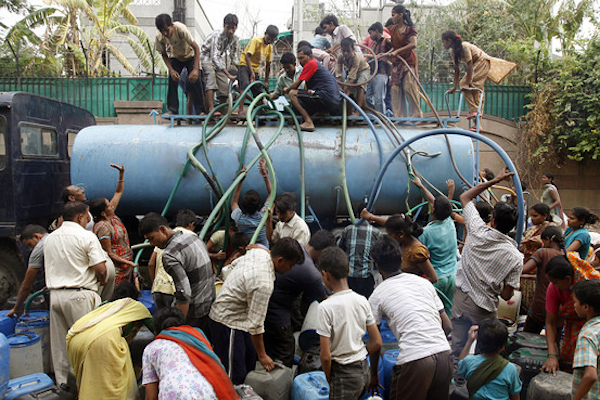 Even as India has policies aimed at universal access to safe water for drinking and sanitation, adequate infrastructure is lacking, and achieving economies of scale in supply and delivery remains a challenge. To understand the issue of water stress in urban India in terms of supply, distribution, and governance, Columbia Global Centers | Mumbai organized a panel discussion on October 29, 2020 entitled Tapped Out: Water Scarcity and Governance in Mumbai. 
The panel began with a presentation by Nikhar Gaikwad, Assistant Professor of  Political Science at Columbia University, who drew from his research project in Mumbai that is supported by Columbia University's President's Global Innovation Fund. Professor Gaikwad noted that governments around the world, including in India, frequently struggle to provide basic public services such as water to their citizens. He pointed out that citizens who do not get water through sources formalized by the state have to buy low-quality, illegal, and often overly expensive water. This also symbolizes inequity and a weak bond between the citizens and the state. His research addresses how citizens can have formal access to water supply and overcome bureaucratic and political constraints. Professor Gaikwad showed that while bureaucratic assistance has a powerful effect in helping move citizens up on the formalization ladder, it is 'brokers' who play a vital role in the last-mile delivery of functional municipal water. 
Nikhil Anand, Associate Professor of Anthropology at the University of Pennsylvania, argued that it is not the deficiency of water but the problem of leakage and inefficient distribution that ails Mumbai. The discourse of scarcity is an instrumental one, according to him, leading to over-investment in infrastructure, such as erecting hinterland dams that are focused on disproportionately supplying Mumbai over rural areas. He brought in the perspective of migrant populations, who often come from neighboring hinterland areas that suffer from lack of water security resulting in insufficient sustenance from agriculture. This leads to distress migration to cities, where migrants once again become victims of informal and inequitable water access. Professor Anand recommends that it could be a different and less problematic case if we regard the idea that water is not deficit but abundant, both above and below ground, and that it needs to be efficiently and equitably distributed. 
Inequitable access and the importance of political patronage was also the focus of  the presentation by Dr. Qudsiya Contractor, Junior Fellow, Max Weber Centre for Advanced Social and Cultural Studies in Germany. Drawing from her work with informal settlements inhabited by Muslim communities, she showed that in these habitats, challenges of a legitimate municipal connection were exacerbated by the lack of adequate political representation. Even when water became an agenda for local level elections and was recognized as an essential public service, political patronage was necessary, and had some benefit when the party candidate was of the same religion, but still remained a challenge given the marginal position of minority officials in the overall national scenario.  
Abhay A. Mahajan, Deputy Secretary and Project Director of the Water Supply and Sanitation Department of the Government of Maharashtra, also corroborated the view that water in Mumbai is not deficient. While conceding that some pockets in and around the city have a water deficit, he highlighted government efforts related to groundwater recharge and rainwater harvesting, as well as those related to providing drinking water and sanitation that aim to enhance per capita water access in underrepresented communities. 
The discussion opened the possibility of more government engagement with academia and with relevant research being done on the subject of urban water governance.