Student Spotlight: Leah Cahill Denison, '22 GSAS
Meet master's student Leah Cahill Denison and learn more about the dual degree program in Modern & Contemporary Art: Critical & Curatorial Studies.
May 13, 2022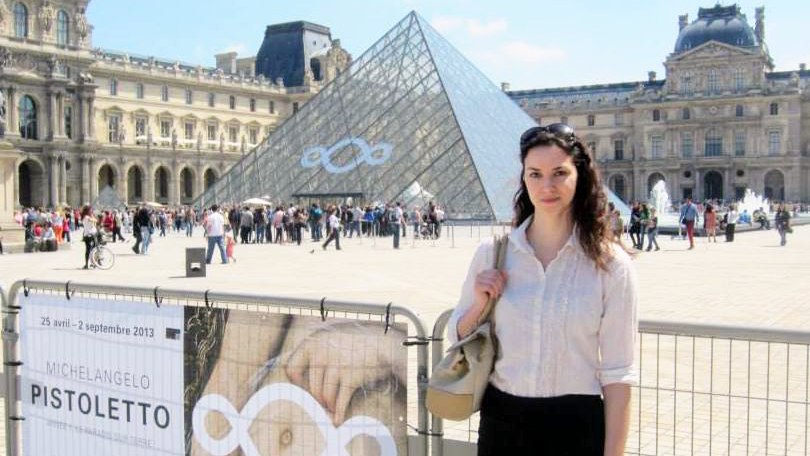 What program brought you to Paris? What attracted you to it?
When I was first thinking about applying to graduate school for art history, I came across the dual degree opportunity at Columbia and knew then that it was one of my top choices. There are two MA programs within the Art History & Archaeology Department at Columbia, both of which are very small and both of which offer the chance to apply to this special dual degree program with the Université Paris 1 Panthéon-Sorbonne. I am in the Modern & Contemporary Art: Critical & Curatorial Studies program. I had also studied abroad in Paris as an undergraduate and have always wanted to return. I took a fifth course my first semester at Columbia so that I could take French and stayed up late at night after finishing my homework to study for the DELF B2, because it is something I knew I really wanted (all of my classes here are in French).
Not only is Paris amazing and a great place to study art history, but being able to experience the French university system and way of thinking was something I really wanted to pursue. I have always held great respect for French culture and, as someone with some French heritage, it has always been of interest to me. Furthermore, having two master's degrees will hopefully open up pathways to work internationally and be able to interact with Francophone professionals within the field.
Tell us about your research project.
My master's thesis, "Mycologic: Iris van Herpen & the Mycelial Moment," focuses on the work of Dutch fashion designer Iris van Herpen and her recent collection, Roots of Rebirth (Spring/Summer 2021). This collection is inspired by the mycorrhizal network, which speaks to her oeuvre's symbiotic collaborations with other artists and scientists. The paper explores how this theme is a symptom of the larger cultural phenomenon of a recurrent fascination with the mushroom - ecologically, materially, pop-culturally and artistically - and how this signals a shift in the medium of fashion and the way in which art and science interact in the contemporary art scene.
Favorite discoveries in Paris?
My favorite thing to do here is to just walk around the city for hours with friends, just wandering around and discovering new little streets I have never been down and admiring this beautiful city. The Musée des Arts Décoratifs and the Musée de la Chasse et de la Nature are also amazing.
What has been the most interesting and/or challenging experience here?
There are so many little things that you would never guess would give you trouble like opening a bank account, getting a library card or even just getting your student ID. Everything has its own unique process here that is different from what I am used to. I think the hardest, but also the best, part is just being immersed in a completely different world with different customs. You have to adopt the European attitude of being more relaxed and going with the flow, but you also have to be able to stand up for yourself and be your own advocate when things aren't working out or find a French friend to help you.
You just have to stay positive and be grateful for all the wild stories you get out of it and realize how lucky you are just to be here in this amazing place. It is important to find the humor in these situations and be able to adapt to a culture which differs from your own.
Do you have any advice for students who may be considering coming to Paris or applying to your program?
The structure and requirements for writing papers here is different, they don't give you a syllabus, a book list or directions for assignments. Even the way you make friends and interact with people on the street here is different, everything just makes you feel out of your element. The best thing you can do is to not be afraid to ask your French classmates for help - they are generally very kind and always willing to help out us confused Columbians. I have made a lot of friends here by just being honest and turning to the person next to me in class, introducing myself and asking for clarification. Lastly, no amount of studying will make you fluent, so you really have to immerse yourself once here and be patient. Bon courage !