Welcome to Columbia Global Centers | Amman
AMMAN COVID-19 Update:

We take seriously the health and well-being of our global community. For directives on how to stem the spread of the virus, click here. For the latest on our events, click here.
Image Carousel with 10 slides
A carousel is a rotating set of images. Use the previous and next buttons to change the displayed slide
Welcome to Columbia Global Centers | Amman
A hub for programs and educational initiatives...
With opportunities to expand research and scholarship...
for both faculty and students.
Columbia Global Centers promote and facilitate the collaborative and impactful engagement of the University's faculty, students, and alumni with the world to enhance understanding, address global challenges, and advance knowledge and its exchange.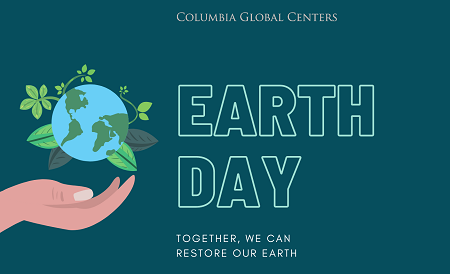 To celebrate Earth Day, we are highlighting environmental-related initiatives that have an impact in Jordan and beyond. In line with this year's theme, "Restore Our Earth", we aim to showcase and raise awareness on the work environmental leaders and activists are doing to help further climate action. View their stories.
ABOUT THE COLUMBIA GLOBAL CENTERS
Columbia Global Centers | Amman was established in March 2009 as a hub for programs and educational initiatives throughout the Middle East. The Amman Center is part of an expanding network of Columbia Global Centers, now in nine cities around the world. The Global Centers are intellectual and physical infrastructures for Columbia University that facilitate knowledge exchange and skill development and provide faculty and students with opportunities to expand their research and scholarship. The Centers serve as conduits for local, regional, and global knowledge, expertise, and networks.
The Columbia Global Centers, as envisioned by President Lee C. Bollinger, were founded with the objective of connecting the local with the global, to create opportunities for shared learning and to deepen the nature of global dialogue. Learn more about our history
Join our mailing list to receive newsletters, updates, and invitations to upcoming events.
This Scholarship supports displaced students from anywhere in the world who are unable to complete their higher education. These students will receive full tuition, housing, and living assistance while pursuing undergraduate or graduate degrees across all 18 Columbia schools and affiliates, reflecting Columbia's full institutional commitment to addressing this global crisis. As the first-ever Columbia-wide scholarship, and the world's first scholarship of its kind, this program will commit up to $6 million annually in support, per cohort, for up to 30 students each year, every year.