Education, Research, Fellowship and Public Programming are offered through the Amman Center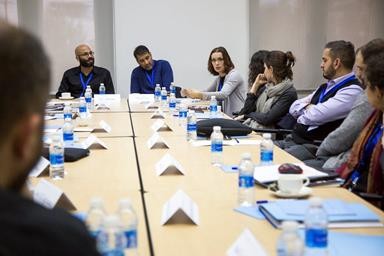 The Amman Center continues to organize programs and research activities in the areas of public health, education, arts and culture, entrepreneurship, geopolitics, refugees, and architecture, and provides scholarly perspectives that help inform a more nuanced understanding of current events in the region.
Many of the Amman Center's programs pair Columbia University students and faculty with practitioners throughout the Middle East, working in a variety of sectors, to develop hands-on projects that promote study and expand the range of academic experiences.
Education:  Programs in Arabic language studies, architecture, environmental sustainability, and democracy and constitutional engineering are offered for students through the Amman Center, along with an internship program that offers undergraduates high-quality internship experiences in Amman. Many of these courses take place over the summer months, when students are able to travel throughout the country and learn about the different economic, cultural, environmental and political issues that are faced.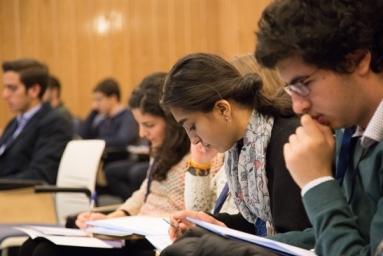 The Center also invests in training offerings that address current gaps in the region itself to advance the capacity of practitioners in local, regional, and international institutions.
Research: With faculty from a wide range schools at Columbia, the Amman Center helps to organize and host various summits, conferences, and meetings that address issues relating to refugees, public health, architecture, and geopolitics among others. The Center facilitates research opportunities for Columbia faculty and students on globally relevant, interdisciplinary topics and promotes global conversations about the most pressing and complex issues facing the region. 
By bringing experts from various fields together, the Center's mission to provide a physical and intellectual infrastructure where scholars and practitioners can work together, across disciplines, to tackle issues of mutual interest or concern is met.
Fellowship: In partnership with the Andrew W. Mellon Foundation, Columbia Global Centers | Amman runs the Mellon Fellowship Program to support emerging displaced scholars working in the humanities and humanistic social sciences. The goal of the program is to create opportunities for scholars to reintegrate into academia and resume their academic pursuits.
Public Engagement: At the Amman Center, regular public talks are hosted for members of the local community to engage with faculty from Columbia as well as scholars from around the world to learn more about a wide range of topics, from current affairs, to history, to the arts. Podcasts of past talks are available on the website page here. Research summits and conferences are also sometimes open for the public and media to attend to further advance the exchange of knowledge between Columbia and the region.