The New Frontier in Earth Science Program (NFES) provides participants with an intensive, "hands-on" course focusing on the key issues in climate change, how scientists conduct climate studies, how the public interprets scientific results, and how the international community responds to climate and environmental threats.
Overview
Global environmental threats have become part of our everyday life. It is essential that we have a clear understanding of the functioning of Earth's natural systems and how humans are influencing them. This college introductory course in Earth Science provides fundamental knowledge on Earth climate system and Environmental Sciences, which focuses on two topics: climate change and sea level rise, as well as environmental pollutions and restorations. The course also introduces the newest scientific advancements associated with various covered topics, emphasizing key scientific methodologies such as experimental, observational and modeling approaches. The course consists of lectures, case studies, in-class discussion, and independent research.
This interdisciplinary course seeks to develop students' knowledge to better understand the connections between human activities and climate change, the impact of economic developments on the environment, as well as society's efforts on restoring the planet earth and the local living environment. Students will be given an opportunity to conduct independent research and produce research papers at the end of the course.
NFES is a global initiative whose mission is to enhance earth science and ecosystem knowledge in China through education and mentorship. Our programs educate and train young aspiring earth scientist candidates to become the protectors of the earth and contributors with fundamental knowledge in Earth's climate system and Environmental Sciences.
Instructor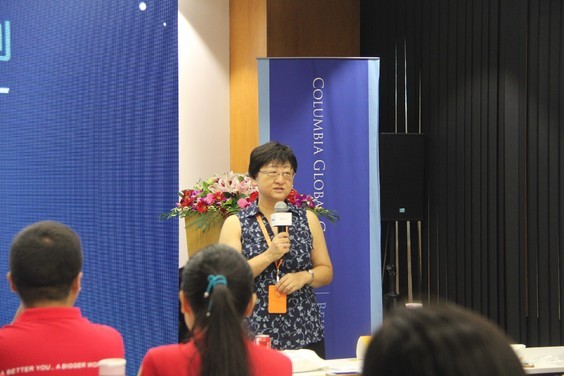 Xiaojun Yuan, Ph.D.
Lamont Research Professor
Lamont-Doherty Earth Observatory of Columbia University
Professor Xiaojun Yuan has engaged in studies of variability of the Antarctic atmosphere-ocean-sea ice system and its role in global climate since 1995. Her research has progressed from the identification of polar-global linkages, expanded to an ENSO-Antarctic Dipole teleconnection mechanism study, and finally resulted in an Antarctic sea ice forecast. At the same time, she has utilized space-born scatterometer observations and developed a series of studies focused on air-sea interactions on synoptic time scales, ranging from cyclone-sea ice interaction, high wind evaluations to satellite enhanced cyclone statistics in the Southern Ocean. With the accumulation of knowledge regarding climate variability in the atmosphere, sea ice and at the air-sea interface, an understanding of the ocean's role in the mid-high latitudes climate system becomes increasingly important. However, this task is much more challenging because of sparse observations in the Southern Ocean. In recent years, she has developed a few oceanic field programs to advance our knowledge of how the polar ocean plays out in the climate system.
For more information, please click here.
Target Students
High school or junior high school students (age 15 and 19) who are interested in earth science
Date
July 9 - July 18, 2019 (ten days of teaching)
Location
303, Sea World Culture & Arts Center, Shenzhen(深圳海上世界文化艺术中心303)
Application Requirements
NFES application form
Phone interview might be required for admission
How to Apply
To apply for the program, please click here to download the application form. Please send your application form to beijing.cgc@columbia.edu after you complete;

Recommendation letter is preferred. Please also send your recommendation letter to the email address we provide;

The application deadline is June 22, 2019; however, application will be closed once we recruit enough students;

If you have any questions, please contact us via beijing.cgc@columbia.edu.
"Two weeks in New Frontiers in Earth Science triggered my interests in environmental issues and prepared my self for college life. I couldn't be more excited that I've got admitted to UC Berkeley with a major in Environmental Science. "
                                                                                                                                               -- Yuzhi GUO, Student, 2018, admitted by UC Berkeley
"Professor Yuan is a great teacher with patience and passion, I will not forget the days I spent writing paper and essays. They really made me feel more mentally prepared for college. Now I have been admitted by some universities and my final choice is UCSD."

                                                                                                      -- Yining ZHANG, Student, 2018, admitted by University of California San Diego
"It's been great and wonderful experience learning from you and with you. Before I attended this course, climate change seemed so far away and shamefully, I even suspected the truth of global warming. But once diving into this class, I realized that I'd always been taking everything for granted. And that Hockey Stick Curves of CO2 emission in recent years really shocked me. It's like you know there is a monster outside your house but you just choose to ignore it because you never come out to the street. It's not until one day you open the door and step out that you could see this monster in flesh. And this 12-day course is the door, leading me to the 'inconvenient truth'. "
                                                                                                                                                                  -- Yaru HOU, Student, 2018
"This course builds connection between knowledge and life. It helps students realize that global warming is closely related to us. Through the guidance and instruction of Professor Yuan, students can understand that knowledge is the summary of life and is used to solve real life problems. This course is indeed a valuable opportunity for students to learn with top students all over the country."
                                                                                                                                                                   -- Zhiyu GUO, Parent, 2018