Hommage à Danielle Haase-Dubosc
par Antoine Compagnon, Blanche W. Knopf Professor of French and Comparative Literature, Columbia University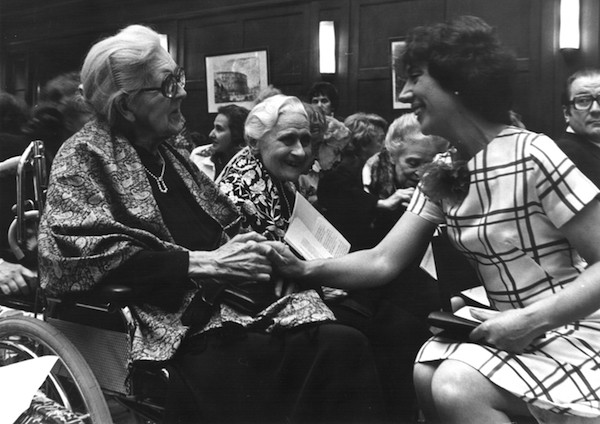 J'ai fait la connaissance de Danielle lors de la première année au cours de laquelle j'ai enseigné à Reid Hall. C'était en 1978-1979 pour Bennington College, dont le nouveau programme de Junior Year Abroad fut abrité rue de Chevreuse. Je me rappelle l'année parce que deux étudiantes étaient iraniennes, que leurs familles résidaient à Téhéran, et que nous nous inquiétâmes avec elles du retour de Khomeiny et de la révolution islamique.
À cette époque, j'ai donné plusieurs cours à Reid Hall, mais c'est véritablement lorsque j'ai rejoint pour Columbia en 1985 que notre collaboration a commencé, faite de rendez-vous nombreux lors des visites de Danielle deux fois l'an à New York. Il y avait d'abord les réunions autour de Frank Woolf, Dean of General Studies, sur les programmes des cours à Paris. Ensuite, les réunions du Sterling Currier Fund, auprès de la terrible Mrs. Tsien, gardienne des volontés de la donatrice, Miss Edith Sterling Currier. Avec Danielle, nous avons toujours fait alliance, afin de financer, rue de Chevreuse et à Morningside Heights, les colloques, symposiums, journées d'études auxquels nous tenions et qui enrichirent la vie intellectuelle des deux côtés de l'Atlantique des années durant ; nous travaillions en bonne intelligence avec Ted de Bary, récemment décédé, longtemps président du comité, et Robert Paxton, qui, me semble-t-il, lui succéda dans ce rôle ; nous déjeunions souvent sur Broadway, Danielle et moi, afin de nous entendre sur les projets à défendre. Il y avait encore les réunions du Board de Reid Hall Inc., avec les commissaires aux comptes et l'éternelle incertitude sur les taux de change pesant sur les budgets, cette fois autour de Jonathan Cole, longtemps Provost, et allié fidèle de Danielle.
Je voudrais mentionner deux belles entreprises que j'ai menées auprès de Danielle et qui nous ont beaucoup mobilisé au cours des années. D'une part le MA in French Cultural Studies, qui fut lancé au début des années 1990. Non sans mal d'ailleurs, en raison de l'opposition initiale du Sénat, qui repoussa d'abord le projet, choqué que l'on songeât à décerner un diplôme de Columbia à des étudiants qui n'auraient pas respiré l'air de Morningside Heights. Cette résistance nous donne la mesure du temps et des changements que l'université a traversé, devenue aujourd'hui bien plus internationale et ouverte qu'il y a trente ans, prolongée dans ses Global Centers, dont celui de Reid Hall.
L'autre initiative majeure à laquelle nous collaborâmes, conçue avec Jonathan Cole qui y tenait particulièrement, fut l'Institute for Scholars at Reid Hall, institut d'études avancées qui connut son heure de gloire. Son palmarès fut brillant, mais le programme fut interrompu après quelques années d'existence. Peut-être était-il prématuré. En tout cas il était tellement juste qu'il est aujourd'hui relancé sous un nouveau nom et qu'un Institute for Ideas and Imagination in Paris démarrera ici l'an prochain.
Tout cela témoigne de l'immense contribution de Danielle à Reid Hall et à Columbia. Non seulement elle a fait vivre cette maison durant plusieurs décennies, fidèlement à sa tradition d'accueil des étudiants sous-gradués pour une year abroad, mais elle n'a cessé d'imaginer des projets originaux pour développer, enrichir, relancer la palette des programmes offerts dans ces murs. Il faudrait encore évoquer ses travaux académiques, auxquels Danielle n'a jamais renoncé malgré de lourdes responsabilités, mais c'est avant tout aux qualités de l'administratrice hors pair que je voulais rendre hommage aujourd'hui. Plus qu'une collègue, Danielle était une amie de près de quarante ans.