Leadership in a Challenging Century | Summer 2018
The Leadership in a Challenging Century is a program based on the Executive Master of Public Administration (EMPA) and the Global Executive Master in Public Administration (Global EMPA) offered by Columbia's School of International and Public Affairs (SIPA). These programs were designed for the experienced and ambitious professional, who is looking for a top-quality and practical program, but cannot take the time off to pursue full-time study.
This program offers eligible executives from Brazil and other countries the opportunity to attend sessions led by Columbia University faculty as well as practitioners, during the Summer, at Columbia University in NYC.
Students who successfully complete the session will receive a Certificate of Participation issued by SIPA.
Click here to download the brochure
OBJECTIVES AND AUDIENCE
The objective of this program is to offer experienced Brazilian public sector managers different tools to be used in solving problems and improving results, within an ethical model. Based on successful examples from around the world of public projects in urban areas, health and education, the sessions will help executives explore new ways of working together across traditional boundaries to solve complex urban problems.
Through engaging lectures delivered by Columbia University faculty and practitioners, dynamic discussions with colleagues, and hands-on workshops, participants will experience different ways of effectively managing in the public sector based  upon best global practices.
The program is designed for public managers from different areas of government and private sector professionals interested in the topics to be presented.
It will be primarily of benefit to managers with at least 3-5 years of managerial experience in government or the private sector. Managers with an interest in global affairs and fluent in English language will benefit particularly.
PROGRAM STRUCTURE
Website with access to the Picker Center Case Collection | Audiovisual cases in public sector innovation and management.
In-person sessions on the Columbia Campus in Manhattan
Sessions with Columbia faculty and practitioners
Classes and supplemental material in English
Academic sessions + site visits
July 23 – August 02, 2018
Total of two weeks or nine days of classes and site visits in New York City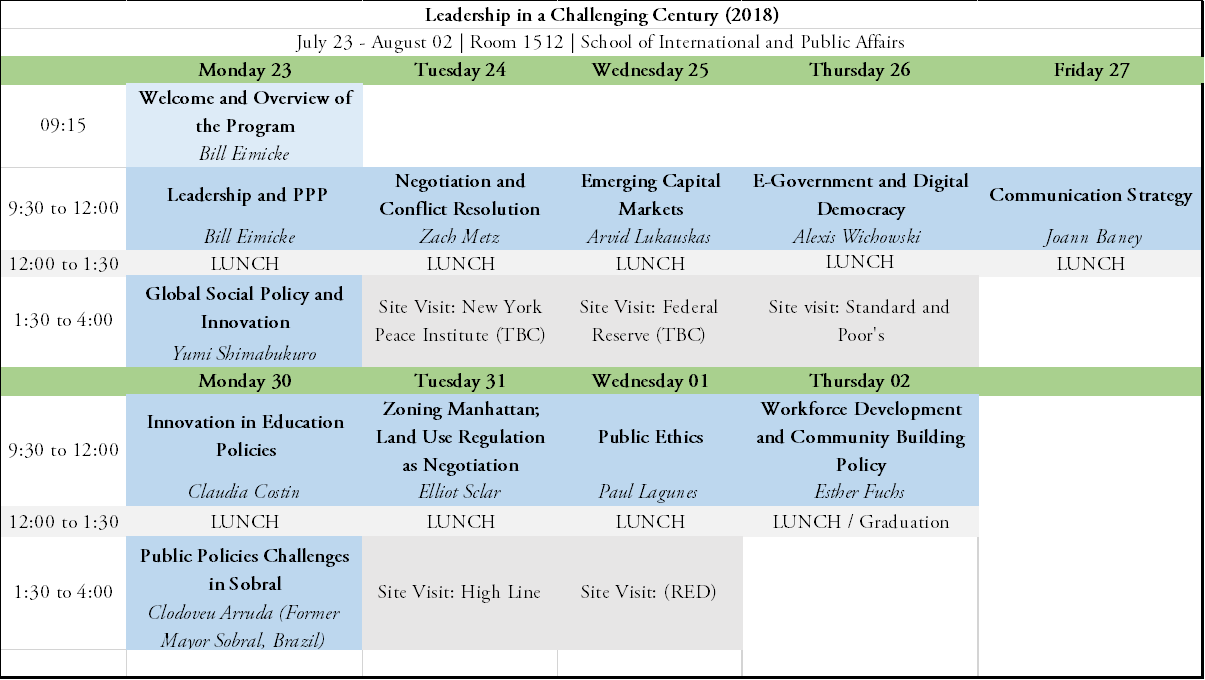 *please click on the image to see the program schedule
Certificate of Participation
(Issued by the School of International and Public Affairs, Columbia University)
Application fee: R$300,00
Tuition: US$6,350
FEATURED PROFESSORS
CLODOVEU "VEVEU" ARRUDA is Professor of the State University of Vale do Acaraú (CE, Brazil) since 1984. Between 1997 and 2017, served as the Secretary of Culture and Mobilization of Sobral, the Vice Mayor and the Mayor of Sobral (Ceará, Brazil). Strategic areas highlighted as Mayor: education, housing, health, and social development. Currently,  Research Scholar at the Institute for Latin American Studies, Columbia University in the City of New York, Lemann Center.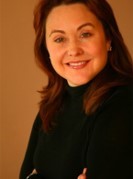 JOANN BANEY teaches in the Executive MPA program at SIPA, and has taught courses in the Executive MBA program at Columbia's Graduate School of Business and in the University's Speech Department.  She is faculty director of the FDNY Officers Management Institute and is on the faculty of the NYPD's Police Management Institute, both part of Columbia's Executive Education programs.  She teaches in a variety of other executive programs including the King Khalid Foundation in Riyadh, Saudi Arabia.   Through SIPA, she has taught groups of executives visiting from China, Northern Ireland and Saudi Arabia. She has taught at Dartmouth's Tuck School, NYU's Stern School and UNC's Graduate Business School.
CLAUDIA COSTIN is the Director of CEIPE- Center for Excellence and Innovation of Education Policies, a think-and-do- tank within Getulio Vargas Foundation, a leading private University in Brazil where she is a professor. She was in the recent past a visiting professor at the Harvard Graduate School of Education and Senior Director for Global Education in the World Bank. Before joining the World Bank, Claudia Costin was Secretary of Education of the municipality of Rio de Janeiro. Under her stewardship, learning results rose by 22 percent in the city. She also implemented a strong Early Childhood program, working seamlessly across sectors with the Health and Social Protection secretariats. Claudia has been vice-president of the Victor Civita Foundation, dedicated to raising the quality of public education in Brazil. Believing in the transformational power of education, she helped create the civil society movement Todos pela Educação, also serving on its technical committee. Convinced that teacher motivation is critical for real learning, Claudia communicates with thousands of teachers using social media. Her former positions include Secretary of Culture, Sao Paulo State and Federal Minister for Public Administration and State Reform. Claudia has held academic positions at the Catholic University of São Paulo, Getulio Vargas Foundation, INSPER Institute of Education and Research, and École Nationale d'Administration Publique in Québec.
WILLIAM B. EIMICKE is the founding director of the Picker Center for Executive Education of Columbia University's School of International and Public Affairs. The Picker Center runs the School's Executive MPA program, university partnerships, and non degree professional training programs. Eimicke teaches courses in public management, applied policy analysis, and management innovation. He also teaches at Peking University, the National University of Singapore and the Universidad Externado de Colombia.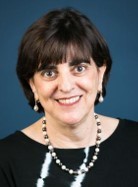 ESTER FUCHS is Professor of International and Public Affairs and Political Science and is the Director of the Urban and Social Policy Program at SIPA. She served as Special Advisor to the Mayor for Governance and Strategic Planning under New York City Mayor Michael R. Bloomberg from 2001 to 2005. Focus areas: Urban policy, urban politics, governance and management of global cities, urban fiscal policy, urban sustainability, American government and policy, social policy, American parties and elections, New York City politics, sustainable economic development policy, workforce development and community building policy, education and after school policy, democratic theory and practice, federalism, ethnicity, race and gender.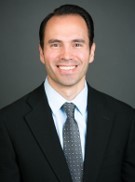 PAUL LAGUNES is an Assistant Professor at Columbia University's School of International and Public Affairs. His research focuses on corruption, especially as it affects subnational governments in the Americas. Two basic questions motivate Lagunes's research: First, how does corruption actually work in practice? Second, what tools are available for limiting corruption's harmful effects? By relying on randomized control trials, Lagunes offers insights on corruption's regressive impact on society, the factors maintaining a corrupt status quo, and the conditions under which anti-corruption monitoring is most effective. Focus areas: Corruption, urban governance, Latin American politics and policy.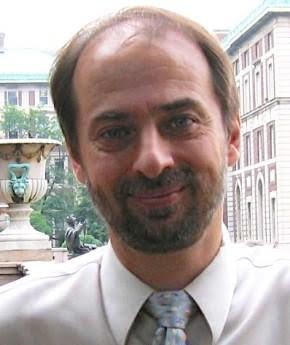 Arvid Lukauskas is the executive director of the Picker Center for Executive Education and the MPA in Economic Policy Management (MPA-EPM) program at the School of International and Public Affairs, Columbia University.  He also directs SIPA's summer program offered in collaboration with the School of Continuing Education. Lukauskas teaches and conducts research on international and comparative political economy, with a focus on the political economy of finance and trade policy.  His books are the Handbook of Trade Policy for Development, edited with R. Stern and G. Zanini (Oxford University Press, 2013); The Political Economy of the East Asian Crisis and its Aftermath, edited with F. Rivera-Batíz (Edward Elgar 2001); and Regulating Finance: The Political Economy of Spanish Financial Policy from Franco to Democracy (University of Michigan 1997).  His articles have appeared in various scholarly journals, including Comparative Politics, Comparative Political Studies, International Studies Quarterly, Japanese Journal of Political Science and Review of International Political Economy.  He is currently working on a book-length project examining the links between economic and social development in East Asia. Through the Picker Center, Lukauskas has helped develop or direct a number of major executive training programs in Brazil, Chile, China, Egypt, Republic of Georgia, Hong Kong, Malaysia, Mexico, Singapore, and Thailand as well as for UNDP and the World Bank.  He was the principal investigator for a four-year USAID grant, in conjunction with the East-West Management Institute, to develop educational capacity in the Republic of Georgia.  He has served as a consultant to UNDP and the World Bank Institute. Lukauskas received a BA from University of Wisconsin, Madison, an MPA from University of Oklahoma, and his PhD from University of Pennsylvania.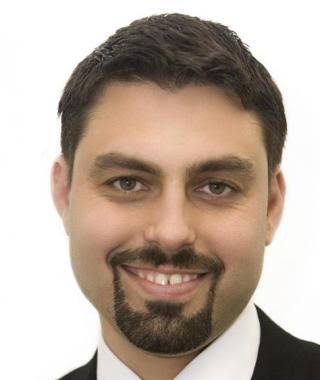 ZACHARY METZ is a partner and the Director of Peace Building practice at Consensus, a consulting firm specializing in negotiation, conflict resolution and peace building. The firm works with private and public sector clients, NGOs, international organizations and governments. He has worked in the field of conflict resolution and peace building for fifteen years.  His areas of expertise include training and large-group facilitation, conflict assessment, conflict-sensitive development, restorative justice and program design and evaluation. Prior to joining Consensus, Metz was the Director of Education & Training for Columbia University's Center for International Conflict Resolution (CICR).  At CICR, he was responsible for envisioning, designing, and implementing the education elements of CICR's international and domestic programs.  He served as the senior trainer and facilitator for CICR's interventions in Iraq, Lebanon, East Timor, Burma, Northern Ireland and elsewhere. Metz has provided expertise to the United Nations Development Programme, UN Department of Economic & Social Affairs, International Organization for Migration, Search for Common Ground, and a wide range of international political and civil society organizations. Metz began his career with a focus in domestic conflict resolution, working as a mediator, trainer, and program director with the Northwest Institute for Restorative Justice and the Dispute Resolution Center. He mediated hundreds of disputes in the private sector, in communities and within families, and directed mediation programs for inmates inside a maximum security prison and juvenile detention facility. He teaches the graduate course Applied International Peace Building at SIPA. He has also taught at Universidad Externado De Colombia, Sabanci University, the United States Military Academy at West Point and Lebanese American University. He completed his undergraduate degree in political science at Earlham College.  He received a Master of International Affairs degree from Columbia University.  He earned an MA in Sociology from the New School for Social Research, where he is currently completing his PhD studies with a focus on intractable identity-based conflicts.

ELLIOTT SCLAR is the Director of CSUD and Professor of Urban Planning and International Affairs at Columbia University. He holds senior appointments in the Graduate School of Architecture, Planning, and Preservation and the School of International and Public Affairs and is an active participant in the work of the Earth Institute at Columbia University (EI). In recent years Sclar has been a leading figure in a scholarly movement to reconnect the work of population health experts and urban planners in creating healthier cities.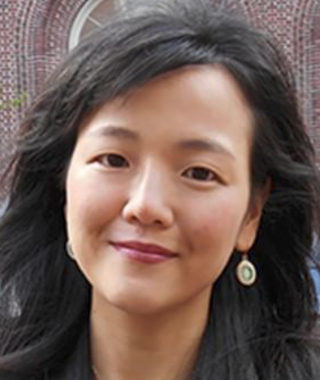 YUMIKO SHIMABUKURO's core research and teaching interests lie in the areas of political economy, comparative politics, and social welfare policy with a regional expertise in Northeast Asia. She currently teaches graduate-level courses for the MPA in Economic Policy Management (MPA-EPM) program, the Executive Masters in Public Administration (EMPA) program, and the Urban and Social Policy concentration program at SIPA. She received an MA in International Economics from Columbia University, a PhD in Political Economy from the Department of Political Science at MIT, and a Post-Doctoral Fellowship from Harvard University. She served in various capacities in investment banking and the non-profit sector working on issues ranging from financial product innovation to sustainable development practices. She is currently completing a book manuscript entitled Building an Inegalitarian Welfare State: The Impact of Dualistic Coordinated Capitalism & Elite-Made Democracy in Japan that analyzes how the country's pursuit of a modern capitalist democracy over the course of a century generated conditions inimical to the development of a safety net. It amends the Varieties of Capitalism approach and implements the new research agenda developed by "the historical turn in democratization studies" to explain the institutional co-evolution of markets, politics, and the welfare states in Japan and beyond. Her second book project, Beneath Economic Success: Critical Cases of the Brewing Social Crisis in East Asia, offers a set of six innovative, multidimensional case studies that examine the wide-range of social problems currently plaguing East Asia in the areas of housing, social security, healthcare, fertility, child welfare, and labor markets. It explores the causes and consequences of these problems as well as the public, private and non-profit sector responses to them in China, Japan, South Korea, Taiwan, Singapore, and Hong Kong. Her article-length papers address the issues of industrial relations, the social policy preferences of business and organized labor, and the redistributive politics of disadvantaged groups. She is currently undertaking a research project that examines how economic development strategies, patterns of land reform, and the nature of special interest politics impact government housing policies and their distributional consequences in East Asia. Shimabukuro's research has been funded by the Social Science Research Council, the Weatherhead Center for International Affairs at Harvard University, the Association of Asian Studies, and the Center for International Studies at MIT, among others. She teaches six courses, including Political Economy Seminar, International Political Economy, Managing Socio-Economic Risk, Social Investment and Economic Growth in East Asia, and Comparative Social Welfare Policy. She is the recipient of the Harvard Teaching Excellence Award and the Columbia University Outstanding Teaching Award.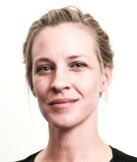 ALEXIS WICHOWSKI is an adjunct associate professor in Columbia University's School of International and Public Affairs, teaching in the Technology, Media, and Communications (TMaC) specialization. She is also Press Secretary and Senior Advisor at New York City's newly created Department of Veterans' Services, providing support to the City's half million veterans and their families. She has previously served New York City as a Disaster Relief Field Responder, before and during 9/11. Previous government work includes Program Officer for the US Department of State's Office of eDiplomacy, Diplomatic Innovation Division under then-Secretary of State Hillary Clinton, and, most recently, Director of Media Analysis & Strategy at the Permanent Mission of the United States to the United Nations.
COURSES OUTLINE
Prof. William Eimicke, School of International and Public Affairs
Leadership can make the difference between success or failure of organization, whether it is in the public, private or social sector. Leadership is also comprised of skills that can be learned and perfected. Professor Eimicke has led large public sector organizations in the United States, advised leaders from all three sectors in the United States, Asia, Latin America and the Middle East, and taught leadership at Columbia University and many other universities around the world for nearly three decades. In this session, Professor Eimicke will discuss effective leadership techniques, how leaders can improve organizational performance, and cutting edge techniques for leaders in an era of global competition, including Public-Private Partnerships and Performance Management.
Prof. Zach Metz, School of International and Public Affairs
In public service, the ability to negotiate and resolve conflict skillfully is fundamental to success. While pursuing substantive goals such as deliverables, timelines, and budgets is critical, strong negotiators also understand the importance of cultivating long-term relationships with counterparts. People often feel pressured to choose between two objectives that seem mutually exclusive: either reach substantive goals or nurture the relationship capital. This presentation will help professionals address this dilemma when negotiating or addressing conflict with key counterparts.
Prof. Paul Lagunes, School of International and Public Affairs
Private wealth seeks to influence public power. Affluent actors often rely on lobbying and policy arguments, but they can also turn to irregular means in order to advance their interests. Bribery is only the most obvious manifestation of corruption; implicit quid pro quo deals are also possible without suitcases filled with cash. These are deals that have the potential of undermining generally valued goals, including efficiency, safety, development, distributive justice, and the rule of law. Public institutions must be willing and able to push back against excessive pressure from wealthy private actors. With this goal in mind, my course will encourage students to reflect on corruption as a harmful practice that merits opposition. I also expect students will learn to treat corruption, mainly, as an institutional problem with no single, easy solution. Solutions, however, do exist. Students will study strategies available for promoting integrity in public administration and will find that there is room for hope: good governance is possible.
Professor Joann Baney, School of International and Public Affairs
We'll learn the critical elements of good communication strategy:  conducting a good audience analysis, identifying specific communication objectives, and considering strategies for making key messages memorable.  We'll talk about some of the challenges speakers face when responding to difficult circumstances and discuss good practices to follow when answering tough questions.
Prof. Elliott Sclar, Earth Institute
Manhattan land use has been regulated for over 100 years through the City's Zoning Resolution. Yet this zoning is done without a formal land use plan. Instead the zoning resolution is continually revised an attempt to balance the equity and environmental interests of the public sector with the supply and demand pressures of the private real estate market. The morning lecture will explore the history and current operation of this century old regulatory institution. Various projects will be used to illustrate the process. In the afternoon we will visit some of the major new developments around Manhattan built in conformance with this zoning and explore the impacts first hand.
Prof. Yumi Shimabukuro, School of International and Public Affairs
This session explores some of the recent developments in the areas of social policy across the globe. It pays particular attention to the persistence of poverty amidst affluence, neoliberal reforms, and innovative social welfare solutions.
Professor Alexis Wichowski, School of International and Public Affairs
Governments can use technology wonderfully, or terribly. Diplomatic tweets can make history, or embarrass their countries. Technology in government can be a tool, or a promise; part of the infrastructure -- like plumbing -- or the star in the room. This discussion will focus on how governments can navigate technology, viewing it not just as a set of tools, but as a force: for national security, international stability, citizen empowerment, civil service reform, and in pursuit of building governments that better serve their people.
Clodoveu Arruda (Former Mayor of Sobral – Ceará, Brazil)
The city of Sobral in the state of  Ceará is located in the Brazilian semi-arid region, in one of the poorest regions of the country, marked by inequalities and low level of economic and social development. The political culture of privilege, with physiology, patrimonialism, paternalism, and the absence of consistent public policies was the cause and effect of poverty, ignorance, hopelessness, and acceptance of these realities as normal and insurmountable. During his tenure as mayor of Sobral, he  focused on results and the ongoing process of building democracy in the local territory, as a way to broaden the municipal economic base, contribute to the reduction of inequalities and promote people's quality of life. We will discuss some examples of policies implemented and their results. We will also emphasize the challenges in Public Policies and the construction of a new citizen culture, because of our firm belief that citizens are the protagonists of their prosperity and happiness and that local power plays an essential role in breaking the cycle of poverty.
Prof. Arvid Lukauskas, School of International and Public Affairs
This session explores the current global economic environment and conditions in emerging markets.  It details the difficulties facing the world economy since the US financial crisis and great recession, including low chronic demand, slow but improving growth among developed countries, increasing capital flows, and rising trade tensions, and how these trends are likely to impact emerging markets.  In addition, we examine recent developments in capital markets in emerging markets, including the emergence of robust debt markets in local currency and the development of regional capital markets in East Asia.
APPLICATION AND ENROLLMENT
Application fee: R$300,00
Tuition: US$6,350
- Accommodation and  flights not included.
- In order to secure a place in the program, admitted students must  respect the deadlines indicated in the application and enrollment process. Students with account balances will not be able to attend the program and the amounts paid will not be reimbursed.
1. Applicants based in Brazil: Money Transfer
Payments will be made in Reais. Please, contact the Global Center Rio to check the correct amount and the bank account information before you make any payments ([email protected]).
You must send us the deposit receipt.
Admission decision will be announced on May 21.
In order to secure a place in the program, admitted students must pay an application fee of R$300,00 (three hundred Reais) and the initial deposit of US$ 3,175 (1st payment) to the Rio Global Center by the deadline stated in the acceptance message. Both payments are non-refundable. If places are available, spots will then open up for waitlisted applicants. The Rio Global Center will contact waitlisted applicants and guide them through the enrollment process. Under no circumstances can the application fee be waived. Students who fail to submit any payment by the deadlines forfeit their place in the entering class.
The program is subjected to a minimum number of 20 enrolled students. If the program does not reach the enrollment number, all approved candidates will be reimbursed for all payments made. Payments are made in Brazilian Reais, according to the exchange rate of the date of payment. The reimbursement will also be in Reais.
CALENDAR AND DEADLINES
March 15: Applications open
May 15: Applications deadline
Application fee R$300,00 (non-refundable)
Decisions are made on a rolling basis
May 21: Admission Decision Released (admitted applicants + waitlisted applicants)
If admitted applicants opt not to enroll, then spots will be offered to waitlisted applicants
May 25: Deadline to confirm participation / withdraw
June 1: (1st payment) Deadline to pay initial deposit
Tuition (1st installment) US$3,175 (non-refundable)
July 1: (2nd payment) Deadline to pay balance
Tuition (2nd installment) US$3,175 (non-refundable)
July 23: Program begins in New York