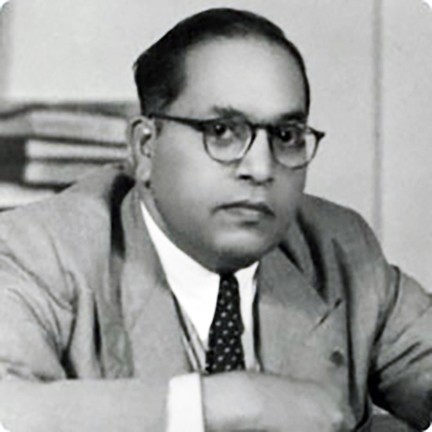 Bhimrao Ramji Ambedkar, a lifelong champion of social justice and civil rights for the "untouchable" Dalit caste, received his PhD in Economics from Columbia University in 1927 and an honorary degree in 1952.
Ambedkar was the first highly educated, politically prominent member of the Hindu "untouchable" caste. He is best remembered today for leading colonial India's only autonomous struggle for Dalit rights and social recognition; for his extensive writings that reprised caste as a form of inequality and historical injustice; and for his role as Chairman of the Drafting Committee of the Indian Constitution, which allowed him to leave a profound and enduring mark on Indian trajectories of democratic justice and affirmative action policy.
As a student at Columbia, Dr. B.R. Ambedkar studied with some of the greatest figures of interwar American liberalism, such as John Dewey and Edward Seligman, and the American historians James Shotwell and James Harvey Robinson. John Dewey, an American philosopher and educational reformer, was Dr. Ambedkar's intellectual mentor at Columbia University. Under his guidance, Ambedkar formulated the blueprints of his ideas for social justice and equality.  
"The best friends I have had in my life," he told the New York Times in 1930, "were some of my classmates at Columbia and my great professors."
Like his near contemporary, W.E.B. Du Bois, Ambedkar was an insurgent thinker whose writings consistently engaged European and American history and political thought. This allowed him to explore the universality of political concepts, as well as to expose the dark histories of Euro-America with regard to its histories of injustice and dehumanization. It is this doubled character of Ambedkar's thought-its deep globality, as well as its persistent concern with the specific distress of untouchability that distinguishes him from other anticolonial thinkers of his generation.
In 1936, Ambedkar wrote the Annihilation of Caste for a 1936 meeting of a group of liberal Hindu caste-reformers. However, the group withdrew their invitation after seeing the draft of his speech. As a result, Ambedkar published the work himself, and it became an instant classic. The Columbia Center for New Media Teaching and Learning offers an annotated version of the work at their Annihilation of Caste website. Columbia's celebration of its 250th anniversary in 2004 included a profile of Ambedkar on its website.
Ambedkar's mark on Indian trajectories of democratic justice based on the ideas of liberty, equality, and fraternity could be heard during US President Barack Obama's address to the Parliament of India in 2010. President Obama invoked Ambedkar's contribution to the Indian constitution and Indian society, saying "We believe that no matter who you are or where you come from, every person can fulfill their God-given potential. Just as a Dalit like Dr. Ambedkar could lift himself up and pen the words of the constitution that protects the rights of all Indians. We believe that no matter where you live – whether a village in Punjab or the by lanes of Chandni Chowk, an old section of Kolkata or a new high-rise in Bangalore – every person deserves the same chance to live in security and dignity, to get an education, to find work, and to give their children a better future."
For a timeline of Ambedkar's life, see this historical site created by Columbia Professor Emerita Frances W. Pritchett. See also the Columbia University Department of History website.