The Fourth No-Boundaries International Art Exhibition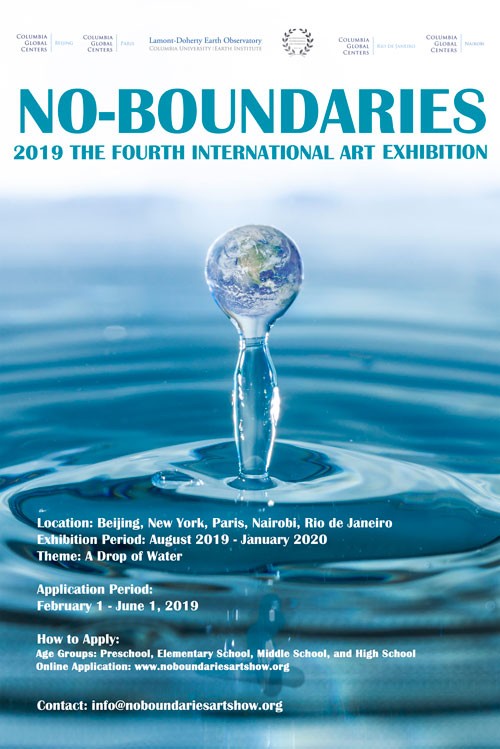 No-Boundaries Committee, in partnership with Columbia Global Centers, has launched the fourth annual 2019 No-Boundaries International Art Exhibitions to foster global awareness and social responsibility in young citizens around the world. The partners invite children and teenagers between kindergarten and high school from all over the world to submit artwork that will be publicly exhibited in international traveling exhibitions in the coming year.
The 2019 No-Boundaries theme is "A Drop of Water", which encourages exploration of the relationship between human beings and water through art. The selected artworks will be shown in galleries open to the public in the host cities of Beijing, Paris, Nairobi, New York and Rio de Janeiro. The exhibitions will begin in August 2019 at the Lamont-Doherty Earth Observatory of Columbia University and the United Nations Headquarters in New York, and then travel to other regional hubs through January 2020.
This year, 500 pieces of original artworks will be displayed in the international traveling exhibitions. Each city will exhibit selected artwork of children locally and from the other sites, and display a digital representation of the submitted artworks that depict No-Boundaries' goals and theme. The exhibitions will be accompanied by a series of public lectures and art activities with leading scholars and experts in children's education. These public events are designed to help raise young citizens' understanding of environmental protection, enhance their sense of global awareness, and encourage them to express their ideas through art and actions.
"The No-Boundaries exhibitions exemplify Columbia University's educational mission by showcasing the artistic talent of young people from many cultures who are actively engaged with issues that affect all peoples regardless of their locale," said Safwan Masri, executive vice president in charge of the Columbia Global Centers, "This presents a unique opportunity to leverage the power of the arts as a lingua franca that connects human beings across geographical, linguistic, and cultural borders."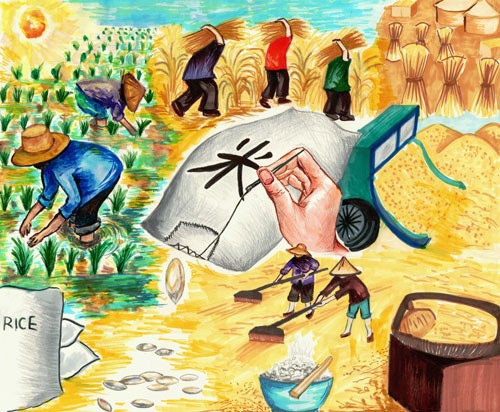 The No-Boundaries International Art Exhibition is not a competition. It is an international art and educational platform aiming to cultivate socially responsible and caring global citizens who will be able to impact the future with nuanced perspectives through visual arts education. No-Boundaries is cordially inviting the participants to sign a 'Save Water Agreement' upon submission of their art and hopes that the power of art will inspire nations to appreciate, care for, and protect water.
The Fourth No-Boundaries International Art Exhibition will be accepting submissions between February 1, 2019 and June 1, 2019. For information about the online submission guidelines and dates of exhibition, visit: http://www.noboundariesartshow.org/en.
About No-Boundaries
No-Boundaries is a nonprofit organization based in New York City. It aims to promote the future generation's global awareness and social responsibility through art education as well as cultivate them to become socially responsible global citizens. Since its establishment in 2016, three annual international art exhibitions have been held in China, the United States, France, Brazil and Kenya through the platform of Columbia Global Centers and The United Nation. More than 10,000 children from 15 countries participated the annual international exhibition in the past three years.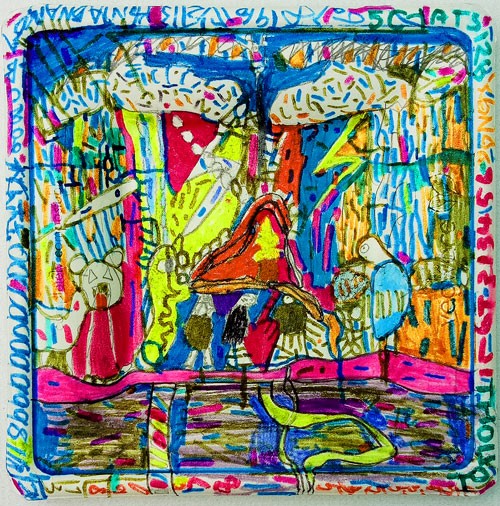 About Columbia Global Centers
The Columbia Global Centers network creates opportunities in research, scholarship, teaching, and service; engages across borders and across disciplines; and expands Columbia's mission as a global University. The Centers facilitate the collaborative engagement of University faculty, students, and alumni with the world, to enhance understanding, address global challenges, and advance knowledge. Centers are located in Amman, Beijing, Mumbai, Nairobi, New York, Paris, Rio de Janeiro, Santiago, and Tunis. See more information at: https://globalcenters.columbia.edu.