Program Structure
Program Structure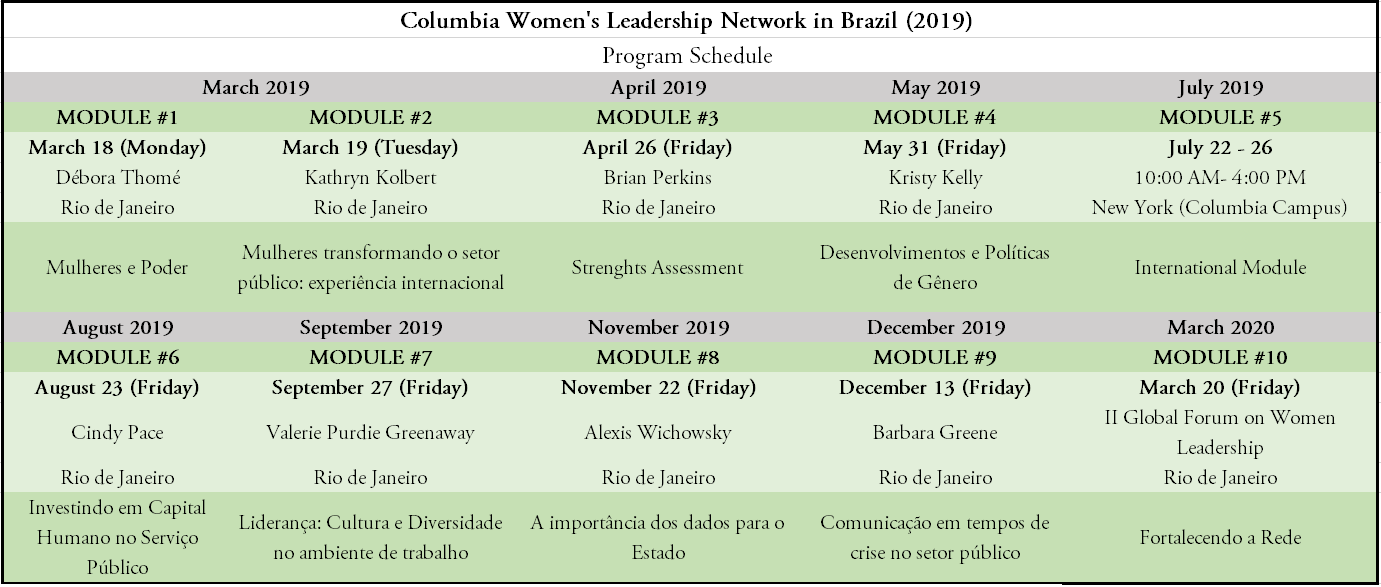 The final projects of the Columbia Women's Leadership Network in Brazil will all be published by the Rio Global Center. The three best projects will be presented at the IV Annual Seminar on Innovation in Public Management in November.
The project should be done in groups of 2 or 3 participants.
The document must be written in Portuguese.
The projects should seek to achieve two objectives:
1. The project should be based on the themes developed during the program and may use examples of best practices (formulation and implementation of public policies) to propose instruments that improve the performance of a sector / department / function in the public management.
2. The project should include practical proposals and cross-sectoral initiatives to ensure that gender perspectives and attention to the gender equality agenda are at the heart of the proposed activities.
Course evaluation will be based on the following formula:
1. Class Participation – 50%
Attendance and individual participation, as well as engagement in the group project will be evaluated.
2. Final Group Project – 50%
The evaluation of the project will be based on:
a. Merit and relevance of the project;
b. Innovative approach to the subject;
c. How the ideas are presented; the structure of the text and the consistency of the proposed solution.
Grading system
Attendance is not an option--it is a requirement.
Punctuality, alertness, and participation in class discussions and exercises will be taken into consideration.
Absences will need to be communicated with at least 1 week in advance. For each absence after 2, the final grade may be lowered by one letter. Any student who misses 3 or more modules is subject to failure, unless justified as excused absences.
Following the approval of the academic committee, participants who successfully complete the requirements will receive a formal certificate of completion issued by the Columbia Global Centers | Rio de Janeiro. The minimum requirement to receive the certificate of completion of the course is an average of B, or 80%.
Modules
Women and Power
March 18 (Monday), 2019 – 09:00 AM – 05:00 PM  | Rio de Janeiro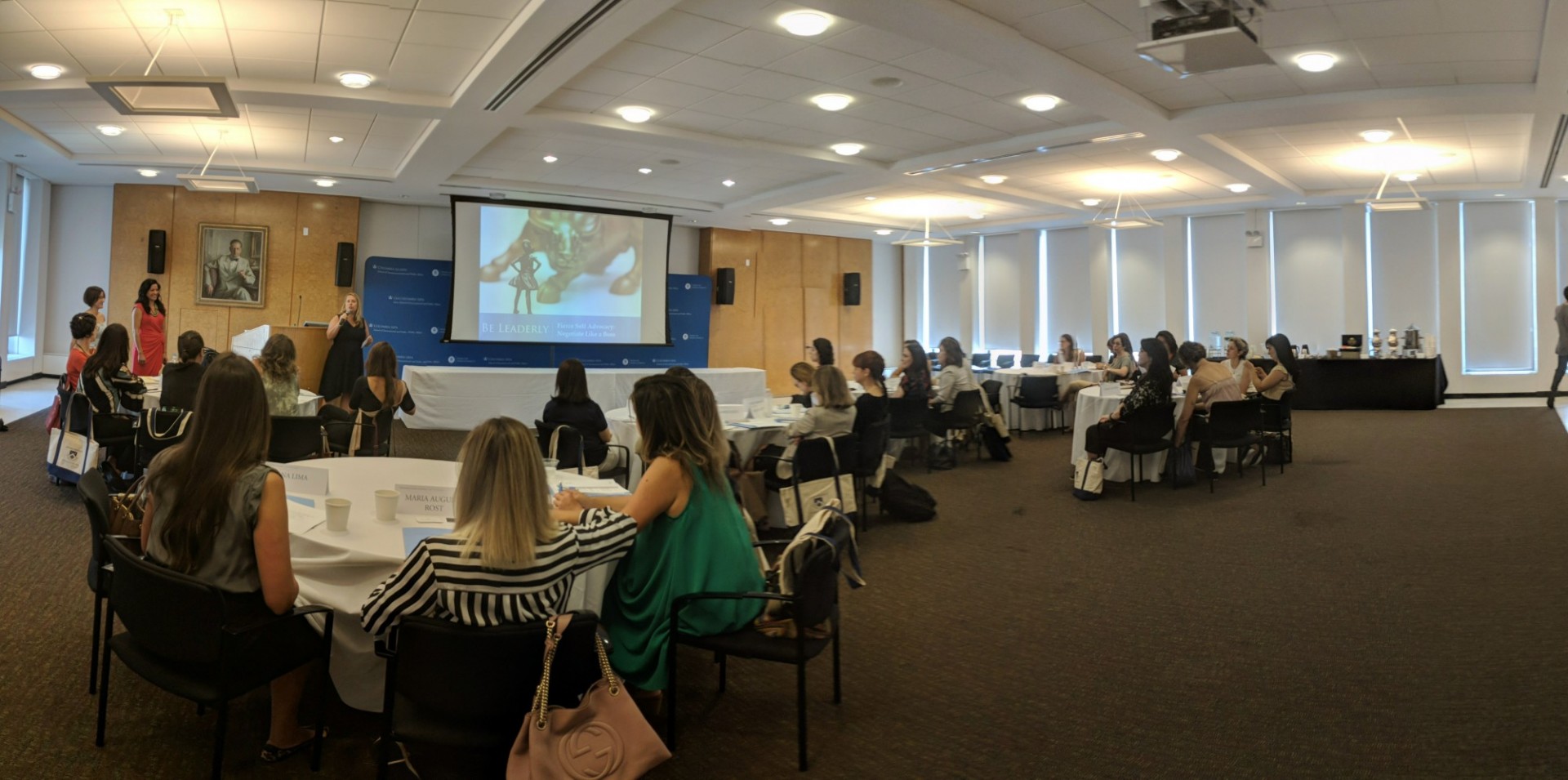 Women transforming the public sector: an international experience
March 19 (Tuesday), 2019 – 09:00 – 05:00 | Rio de Janeiro
Strenghts Assessment
April 26 (Friday), 2019 – 9:00 AM – 5:00 PM | Rio de Janeiro
Development and Gender Policy
May 31 (Friday), 2019 – 9:00 AM – 5:00 PM | Rio de Janeiro
International Module
July 22 – 26, 2019 - 10:00 AM - 4:00 PM | New York, Columbia Campus
Human Capital Management in the Public Sector
August 23 (Friday), 2019 - 9:00 AM – 5:00 PM | Rio de Janeiro
Negotiation and Conflict Resolution
September 27 (Friday), 2019 - 9:00 AM – 5:00 PM | Rio de Janeiro
Technology's Impact on the State
November 22 (Friday), 2019 – 9:00 AM – 5:00 PM | Rio de Janeiro
Communication in Public Affairs – Media Trainning
December 13 (Friday), 2019 - 9:00 AM – 5:00 PM | Rio de Janeiro
II Global Forum on Women's Leadership: Commencement Ceremony (2018 cohort), welcome to the new cohort
March 20 (Friday), 2020 - 9:00 AM – 5:00 PM | Rio de Janeiro