Columbia student, Ronak Elias, is a recipient of the Columbia University Scholarship for Displaced Students, and is enrolled at our School of General Studies, double majoring in computer science and psychology.
"Amidst all the chaos and uncertainty of my life in Iraq," she said, "this scholarship was the only light I could see at the end of my tunnel." When we asked about her choice of majors, she added, "I chose computer science for my inner child, and psychology to make sense of the nonsense the humans do."
Each scholarship student has an inspiring story of courage and triumph over adversity in fleeing war, poverty, persecution or the many other issues that force families and individuals to flee their homes. We think you will agree that Ronak's story is extraordinary.
"I am so proud of the Displaced Student Scholarship program at Columbia," said Wafaa El-Sadr, executive vice president for Columbia Global. "It is a precious gem, offering a path for remarkable young people who have suffered so much to find a safe haven and a bright future."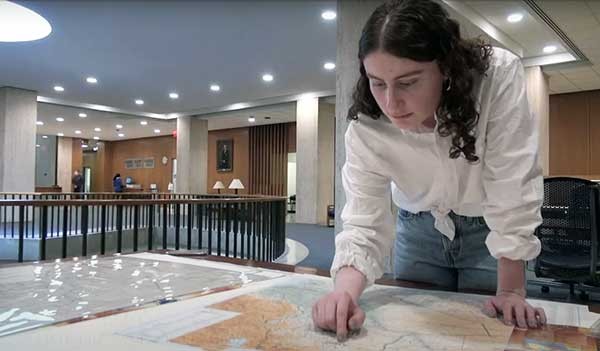 Lisa Rosen-Metsch, Dean, Columbia School of General Studies agreed, adding, "Ronak's perseverance in the face of terror and her unyielding commitment to her education exemplify the determination and resilience of GS students. We are so proud to have her as a member of our community and of all she has accomplished and will continue to accomplish at Columbia."
Background
In August 2014, the Islamic State of Iraq and Syria (ISIS) invaded the territory of the Ezidis, a Kurmanji-speaking ethno-religious minority in Iraq. The Ezidis, who have a distinct religion and culture, were seen as heretics by ISIS, and therefore, ISIS fighters subjected them to extreme violence. Reports indicate that thousands of Ezidi men were executed, and many women and girls were abducted and sold into sexual slavery. It is estimated that around 6,800 Ezidi women and children were abducted by ISIS during the attack, and many of them were raped, abused, and forced into marriages with ISIS fighters.
ISIS also targeted Ezidi religious sites, destroying temples, and killing religious leaders. The attack on the Ezidis is considered to be one of the worst cases of genocide and ethnic cleansing in recent times. The UN described the attacks as a "crime against humanity" and called for international action to protect the Ezidis. The long-term effects of the ISIS attack on the Ezidi community have been devastating. Thousands of Ezidis were displaced, and many lost their homes, businesses, and livelihoods. The community's religious and cultural identity has also been severely affected, with many Ezidis forced to convert to Islam or face further persecution.
As of September 2021, it is estimated that around 3,000 Ezidi women and children remain missing, with many believed to still be held captive by ISIS fighters or sold into slavery. The Ezidi community continues to call for justice and support from the international community to help them recover from the trauma of the attack and rebuild their lives. 
Ronak was able to escape. Please watch her story.
Click here to watch more video profiles of displaced student scholarship recipients
For more information about the Columbia University Scholarship for Displaced Students, go here: https://globalcenters.columbia.edu/CUSDS.
Columbia Global is committed to bridging the world between academic research and pressing global issues, harnessing Columbia expertise and the university's global footprint to work collaboratively across disciplines and borders in order to tackle issues like forced migration.
This video contains original footage of Ezidi life, shot by photographer Gwendolen Cates. You can read more about her work here: https://www.gwendolencates.com/#1.