Mini-Curso de Columbia em Parceria com IPEA: Políticas Públicas e Desigualdade em Países em Desenvolvimento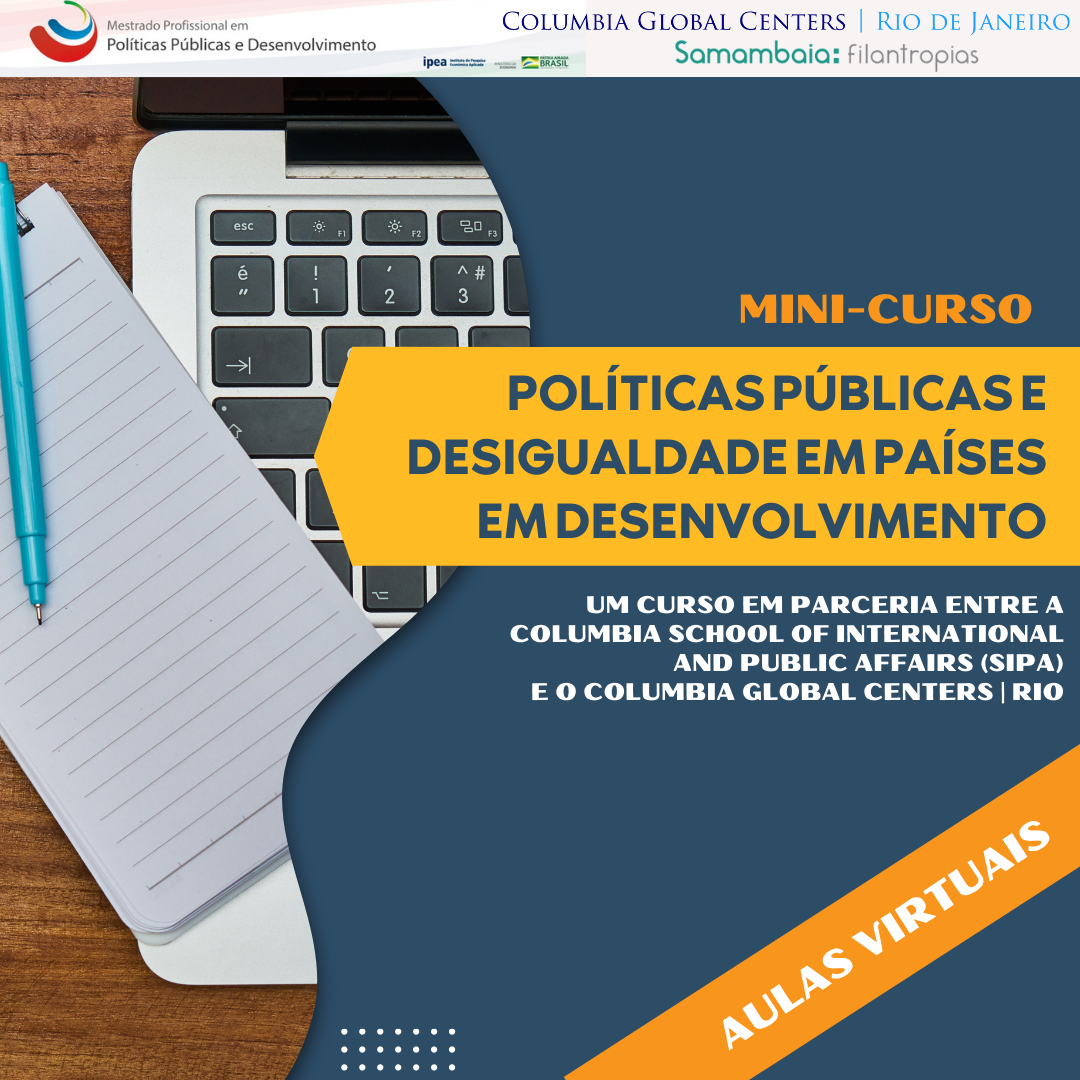 Informações Sobre o Curso
O Columbia Global Centers no Rio de Janeiro tem o orgulho de anunciar o lançamento de um novo curso condensado sendo ofertado pela primeira vez no Brasil e na língua portuguesa. O curso faz parte de uma parceria entre o Columbia Global Centers | Rio de Janeiro e a Columbia School of International and Public Affairs (SIPA) em Nova York.  O curso é o primeiro fruto da parceria entre o Columbia Global Center no Rio de Janeiro e o Programa de Mestrado Profissional em Políticas Públicas e Desenvolvimento do IPEA. 
Instrutor: Professor Marcelo Medeiros, Professor Visitante de Assuntos Internacionais, Columbia-SIPA.
Data do curso: 21 de março a 11 de abril de 2022.
O que é: Um curso condensado derivado diretamente de um curso sendo ministrado pelo Professor Marcelo Medeiros para alunos de pós-graduação de Columbia-SIPA. O curso condensado trata quatro temas importantes no debate sobre políticas públicas e desigualdade: saúde pública, políticas de trabalho, informalidade e política fiscal.
Para quem: destinado a pesquisadores e gestores de alto nível, professores universitários e profissionais com experiência relevante em áreas relacionadas a políticas de desenvolvimento. Pessoas trabalhando no setor privado e em todos os níveis e esferas do setor público são bem-vindas. Razoável experiência profissional ou título de doutorado são desejáveis, mas não necessários.
Como: curso orientado à solução de problemas e proposição de políticas. Se espera que os participantes sejam capazes de identificar problemas relevantes, propor soluções plausíveis para esses problemas e discutir outras soluções propostas. Formato de seminários, onde assuntos serão discutidos em grupo, sem aulas expositivas. Discussões em português.
Material: literatura produzida nos últimos dez anos; a expectativa é de uso de 6 a 12  horas semanais para leitura e trabalho. Material em inglês.
INFORMAÇÕES IMPORTANTES:
📍Taxa de inscrição: R$100 (cem reais)
📍Data limite para envio de comprovante de pagamento da taxa de inscrição e formulário: 13 de fevereiro
🛑ATENÇÃO:  Devido ao sucesso e ao grande número de interessados, precisaremos encerrar as inscrições no dia 3 de fevereiro.
📍A taxa cobrada é de inscrição para o processo seletivo. Em caso de retorno negativo, a taxa não será reembolsada.
📍Dados bancários:
Razão Social: Associação Columbia Global Center/Brasil
CNPJ: 15.730.628/0001-10
Nome do Banco: Citibank
Número do Banco: 745
Agência: 0003
Conta Corrente: 30823358-1
📍Envie o comprovante de pagamento para [email protected]
📍CLIQUE AQUI PARA PREENCHER O FORMULÁRIO.
Observação: Haverá uma avaliação cuidadosa e os selecionados serão notificados.
---
Sobre a logística do curso:
Formato: Virtual: Ao vivo online
Número de vagas: Limite de 20 participantes
Datas: Quatro Segundas-feiras seguidas, de 19:10 às 21:00 Hora de Brasília, de 21 de março a 11 de abril de 2022.
Custo: Matrícula gratuita.  Taxa de inscrição: R$100
Certificado: Certificado de conclusão de curso emitido pelo Columbia Global Center | Rio de Janeiro. 
Baixe aqui o PDF com todas as informações sobre o mini-curso.
---
General Information
Meeting Dates
Mondays, 7:10 pm to 9:00 pm, Brasilia Time
Location
TBA Via Zoom, link to be announced
Prerequisites
The course has no prerequisites. Students of all areas are welcome. Reasonable professional experience, or a PhD diploma, are desirable
Office hours
Friday, 6:10pm-7:30pm Brasilia Time, or on a different date by appointment. Via Zoom. Please send an e-mail in advance to schedule a meeting.
Assignments and Grading
             Attendance: 100% attendance required
            Extra Readings: Students must choose one session from 1 to 3 and read the entire readings for that session (Both required and recommended literature).
            Required readings: 100% of the required readings are expected in this course.
            Final exam: What: a short paper that will address the contents of the course, length around 5 pages, double-spaced; Where: take-home exam, if sent by e-mail; return by April 5, by 5:00pm Brasilia Time, late submissions will not be accepted. Distribution will occur two weeks before the deadline.
Readings and other materials
Please find the readings for each class below, week by week. A package with the readings for the course is available to download.There is also a file with the references to be imported into a bibliography manager, such as Zotero, Mendeley, EndNote (in RIS-UTF-8. It can be generated in another format upon request).
There is a large supplementary literature in this field, particularly in the broader area of development studies; if you need additional literature, please contact the instructors so we can find research that fits your specific needs. Some of the papers have detailed methodology sections. In this course our main interest is on the results of these studies, not on the techniques used.
Sessions
The schedule of course meetings is below. The University calendar is subject to adjustments in face of Covid-19. The readings for each class are under the title of each session.
Session 1 March 21: The future of public health
Required readings
PAHO. (2017). Health in the Americas 2017: Regional outlook and country profiles. Pan American Health Organization. https://iris.paho.org/handle/10665.2/34321
Pages 11 to 33.
Frieden, T. R. (2015). The Future of Public Health. New England Journal of Medicine, 373(18), 1748–1754. https://doi.org/10.1056/NEJMsa1511248
Dupas, P. (2011). Health Behavior in Developing Countries. Annual Review of Economics, 3(1), 425–449. https://doi.org/10.1146/annurev-economics-111809-125029
Recommended readings
Defo, B. K. (2014). Demographic, epidemiological, and health transitions: Are they relevant to population health patterns in Africa? Global Health Action, 7(s6), 22443. https://doi.org/10.3402/gha.v7.22443
Emanuel, E. J. (2020). Which Country Has the World's Best Health Care? (Illustrated edition). PublicAffairs. Chapter 12
Session 2 March 28: Active labor market policies
Required readings
Crépon, B., & Van Den Berg, G. J. (2016). Active labor market policies. Annual Review of Economics, 8, 521–546.
McKenzie, D. (2017). How Effective Are Active Labor Market Policies in Developing Countries? A Critical Review of Recent Evidence. The World Bank Research Observer, 32(2), 127–154. https://doi.org/10.1093/wbro/lkx001
Gindling, T. H. (2018). Does increasing the minimum wage reduce poverty in developing countries? IZA World of Labor. https://doi.org/10.15185/izawol.30
Recommended readings
World Bank. (2016). World development report 2013: Jobs. https://openknowledge.worldbank.org/handle/10986/11843
Chapter 8 p. 251-280
Rodrik, D., & Sabel, C. (2020). Building a good jobs economy. https://research.hks.harvard.edu/publications/getFile.aspx?Id=3861
Session 3 April 4: Informality and self-employment
Required readings
UNDP. (2016). Human development report 2015: Work for human development.
Chapter 6, p.151-181
Fields, G. S. (2019). Self-employment and poverty in developing countries. IZA World of Labor. https://doi.org/10.15185/izawol.60
Ulyssea, G. (2020). Informality: Causes and Consequences for Development. Annual Review of Economics, 12(1), 525–546. https://doi.org/10.1146/annurev-economics-082119-121914
Recommended readings
La Porta, R., & Shleifer, A. (2014). Informality and Development. Journal of Economic Perspectives, 28(3), 109–126. https://doi.org/10.1257/jep.28.3.109
Session 4 April 11: Public spending, fiscal policy, and the political economy of social policies
Required readings
Lloyd-Sherlock, P. (2009). Social Policy and Inequality in Latin America: A Review of Recent Trends. Social Policy & Administration, 43(4), 347–363. https://doi.org/10.1111/j.1467-9515.2009.00667.x
Mares, I., & Carnes, M. E. (2009). Social Policy in Developing Countries. Annual Review of Political Science, 12(1), 93–113. https://doi.org/10.1146/annurev.polisci.12.071207.093504
Lin, K., & Wong, C.-K. (2013). Social policy and social order in East Asia: An evolutionary view. Asia Pacific Journal of Social Work and Development, 23, 270–284. https://doi.org/10.1080/02185385.2013.778785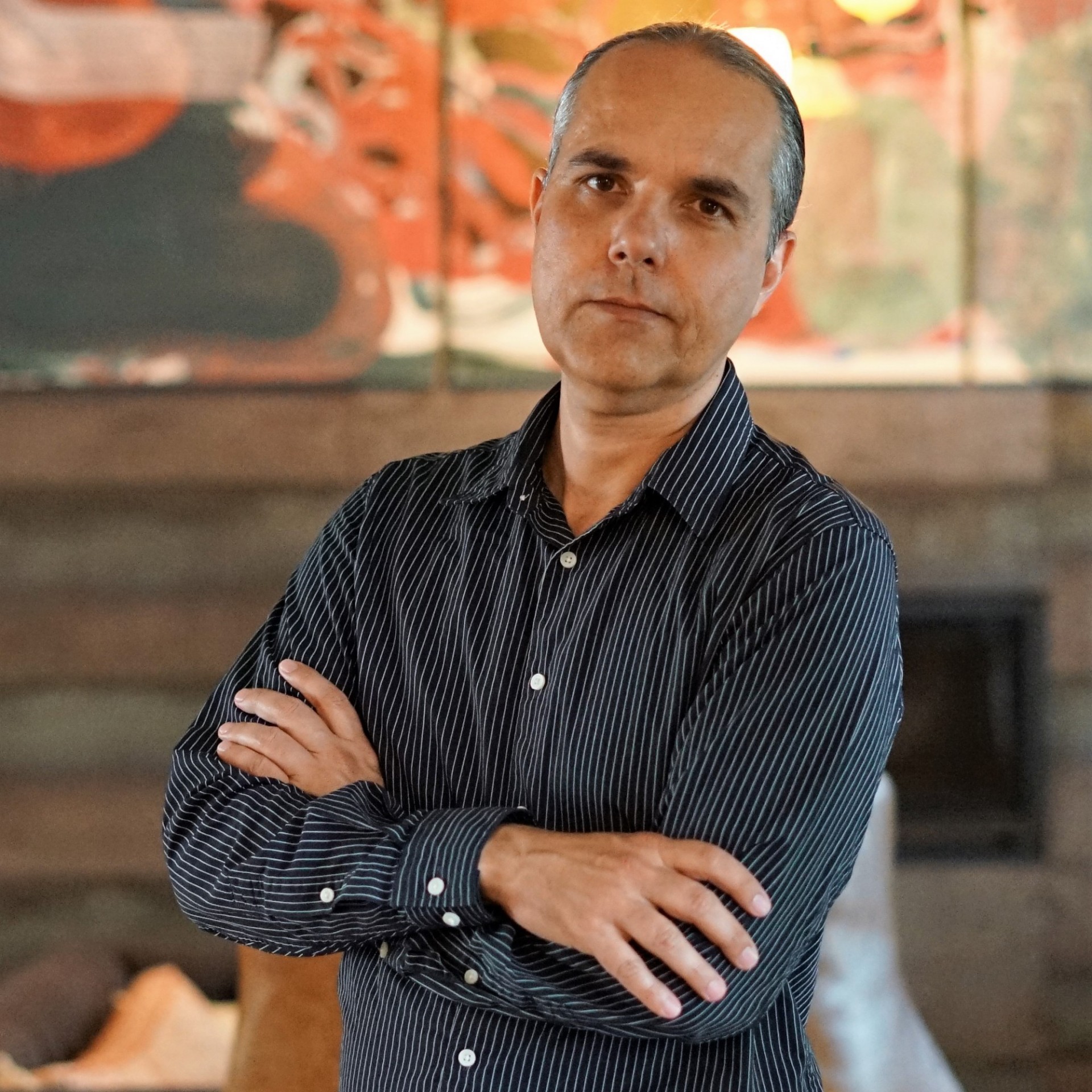 Sobre o Professor Marcelo Medeiros:
Marcelo Medeiros estuda a desigualdade social. Com formação em Economia e Sociologia, é atualmente professor visitante na Columbia University. Foi pesquisador do Ipea, professor da Universidade de Brasília e lecionou uma vez por ano na UNSAM - Buenos Aires. Marcelo também foi pesquisador do Centro Internacional de Pobreza - PNUD, atuou como especialista em políticas do Tribunal de Contas da União (TCU) e assessor do Conselho Nacional de Ciência (CNPq). Ele foi visitante na Princeton University, na Yale Law School - New Haven, University of California, Berkeley, Sophia University - Tóquio, CNRS - Cermes3 - Paris, no Institute for Human Development - Delhi, Indira Ghandi Institute - Mumbai e CSC - Cambridge Universidade. Ganhou o Prêmio Fred L. Soper da Organização Mundial da Saúde para o melhor estudo em saúde pública, 2012, o Prêmio Tesouro Nacional para estudos em Economia do Setor Público 2012 (3º lugar), o prêmio Anpocs para a melhor dissertação de doutorado brasileira em Social Ciências 2003, uma medalha do Senado para estudos em desenvolvimento em 2000 e um prêmio de melhor estudo por alunos de graduação no Eneco 1993. É autor, coautor e editor de vários livros, capítulos de livros e artigos revisados por pares nas áreas de desigualdade social e mobilidade, demografia, saúde, educação, pobreza, teoria do desenvolvimento e deficiência e proteção social. É membro da Sociedade Brasileira para o Avanço da Ciência.