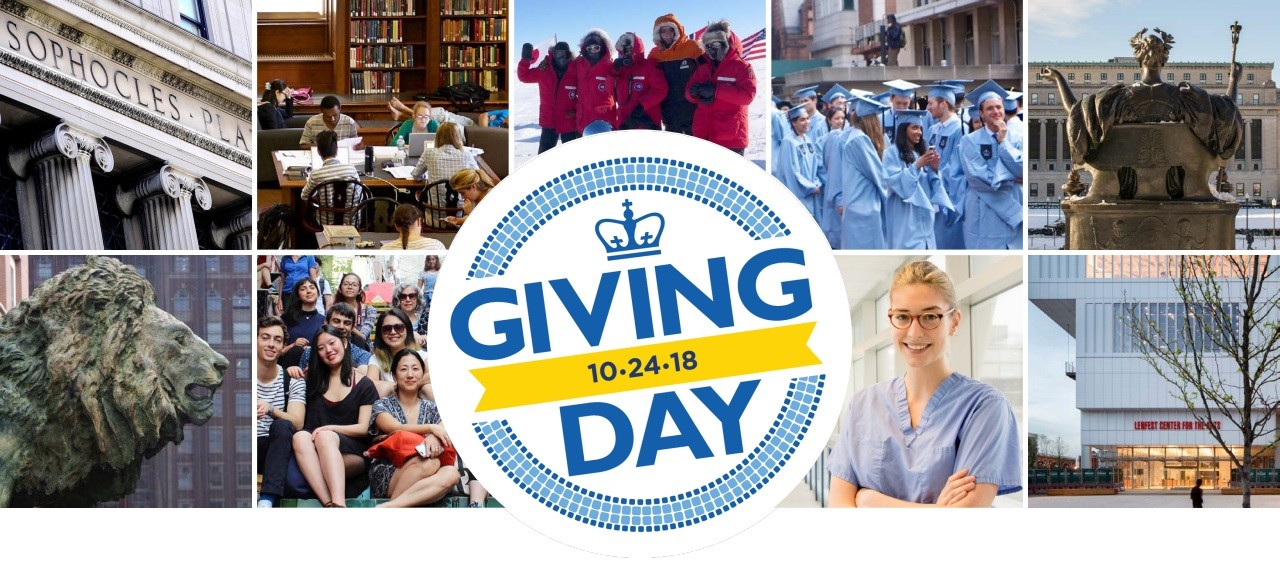 Columbia Giving Day 2018
"Changing lives that change the world."
Our Giving Day program is making its return in 2018. With a spectacular result in 2017, we are now committed to making an even bigger impact on the lives of the students, their projects and all the people they can help. 

The Giving Day consists of a 24-hour effort to enhance awareness and support of Columbia University annual funds. So, by making a gift on October 24, you're leveraging the challenge funds to make your gift go further, changing the lives of Columbia students and faculty. Together we can build the future, change the lives of millions of people. Giving your support to Columbia makes a difference both immediately and long-term. By making a donation you can: 

- Provide the increased financial aid needed by a first-gen student whose parents are at risk of deportation (Just Societies).

- Pay for the lab supplies needed to sequence the genome of a Stage 4 cancer patient (Precision Medicine).
- Fund the drone that can prevent famine by identifying crop blight from the air before farmers can spot it (Climate Response).

- Amongst many other initiatives.
By supporting these people and projects now, Giving Day donors are part of the broader impact the recipients will make in the future…changing the world. Amplify your impact through challenge funds, and commit to creating a more equitable world for us all. Because of your support of the schools, programs, and causes that you care most about, Columbia leads the way in expanding access to educational opportunities, conducting groundbreaking research, and building partnerships—locally and globally—that can address world issues from climate change to social justice. We are stronger together, so together we stand. 

"Stand, Columbia!"
ABOUT THE DAY
"On Wednesday, October 24, Columbians from around the world will stand together to support students, faculty, research, and ideas that will change the world."