11 Years After the Arab Spring: Political Crisis in Tunisia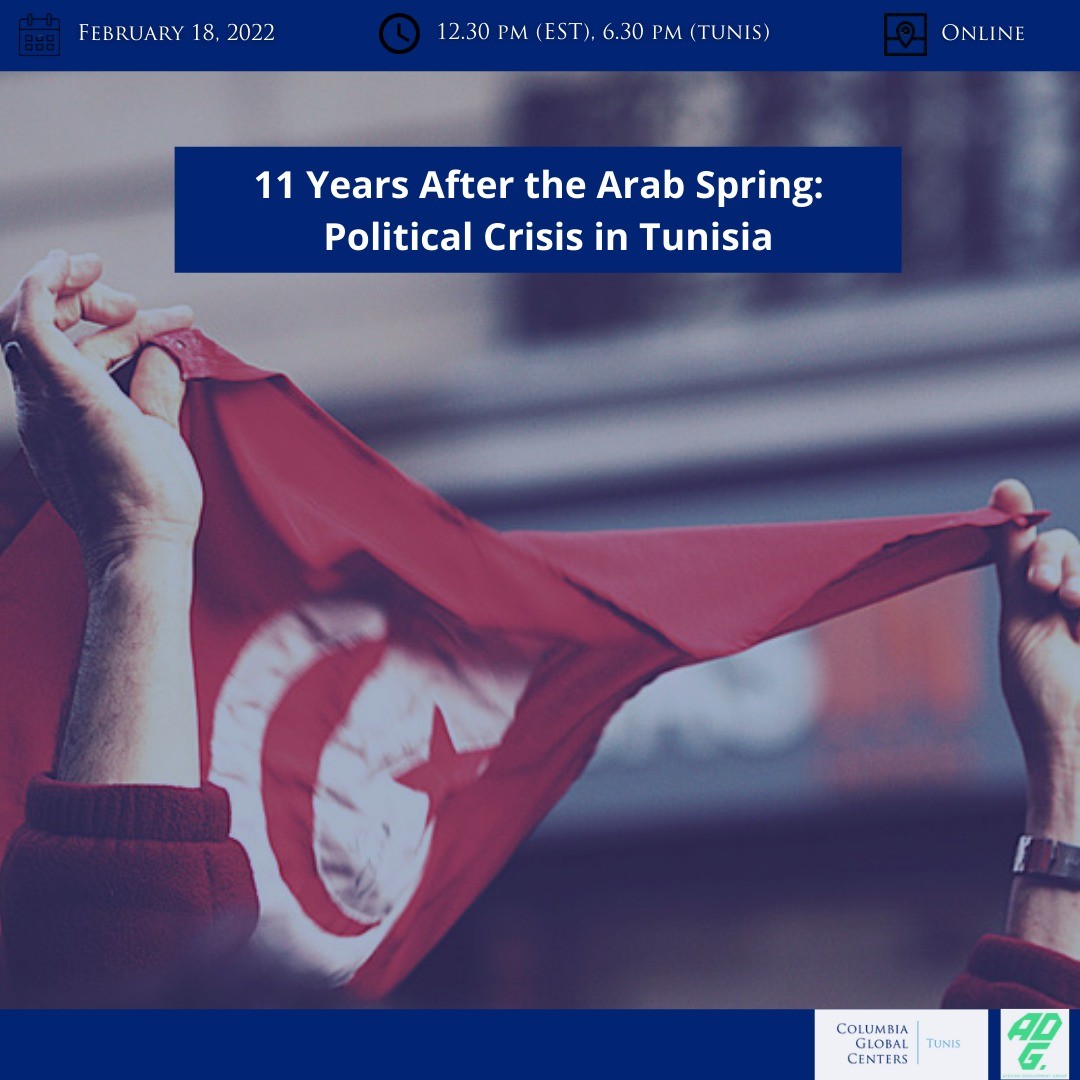 Organized in partnership with the African Development Group at Columbia University.
In the last decade, Tunisia was presented as a model country in the Arab Middle East and North Africa (MENA), a democratic "beacon of hope" for a region that seemed exceptional in its authoritarian resilience. For many foreign observers, the democratic transition was successful; other issues looked secondary. The Arab Uprisings died everywhere but in Tunisia, commentators assured.
Then, on July 25th, 2021, President Kais Saied deployed the army in the Parliament and decided to grab all powers in his hands. Thousands of Tunisians celebrated the event and only a few hundreds opposed it in the streets. There was a sense of relief among important segments of the population (Sigma, Emrhod polls). The international condemnations of the "coup" were not matched by scenes of bloodshed and mass arrests, a stark difference from classical putsches. More than six months after the event, the president remains extremely popular, whereas the opposition is weaker than ever (Sigma polls).
But the fact is, the country is slowly reverting to authoritarianism. The problems that Tunisians complained about continue to deepen. Tunisia's international isolation is growing. And whereas few people dare to praise the pre-July 25th era publicly, there is a growing concern that things have not improved.
What explains this discrepancy between the local and the international? Why did Tunisians seemingly accept to put their democracy on hold? What are the prospects of change in the country now that it left the Democracy track? What is the future of democracy in Tunisia and the Arab MENA region? And what about the future relationships with the European Union, the region's main partner?
These questions and more were discussed by our guest speakers, Dr. Richard Youngs and Khansa Ben Tarjem.
Dr. Richard Youngs is a senior fellow in the Democracy, Conflict, and Governance Program, based at Carnegie Europe. He works on EU foreign policy and on issues of international democracy. Youngs is also a professor of international relations at the University of Warwick. Prior to joining Carnegie in July 2013, he was the director of the European think tank FRIDE. He has held positions in the UK Foreign and Commonwealth Office and as an EU Marie Curie fellow. He was a senior fellow at the Transatlantic Academy in Washington, DC, from 2012 to 2013. Youngs has authored fifteen books. His most recent works are Rebuilding European Democracy: Resistance and Renewal in an Illiberal Age (Bloomsbury/Tauris, 2021), The European Union and Global Politics (Macmillan, 2021), Civic Activism Unleashed: New Hope or False Dawn for Democracy? (Oxford University Press, 2019) and Europe's Eastern Crisis: The Geopolitics of Asymmetry (Cambridge University Press, 2017).
Khansa Ben Tarjem is a doctoral student in political science at the University of Lausanne and a visiting fellow at the Center for Middle Eastern Studies (Harvard University) and at the Crown Center for Middle Eastern Studies (Brandeis University). Her thesis project concerns the "Security services formation in post-colonial Tunisia (1954 – 1963)". In December 2015, she co-founded a Tunisian media and think-tank called Barr al Aman for research and media, where she is now its incumbent president. She has also worked as a freelance journalist for Le Monde and Reuters TV.
Moderator:
Youssef Cherif is the Director of Columbia Global Centers | Tunis. He is a political analyst who specializes in North African affairs. He is a regular contributor to a number of think-tanks, such as Carnegie, ISPI, IEMed, etc. Youssef holds a Chevening Master of Arts in International Relations from King's College London, and a Fulbright Master of Arts in Classical Studies from Columbia University, where he first came as a Visiting Scholar. He is the editor of the book The Modern Arab State: A Decade of Uprisings in the Middle East and North Africa (KAS, 2021).
You can find the Recording HERE.