Chile's President Boric Addresses Students, Faculty at World Leaders Forum
Chile's President Gabriel Boric addressed students and faculty on his views of politics, particularly the ongoing constitutional debate in Chile.
September 23, 2022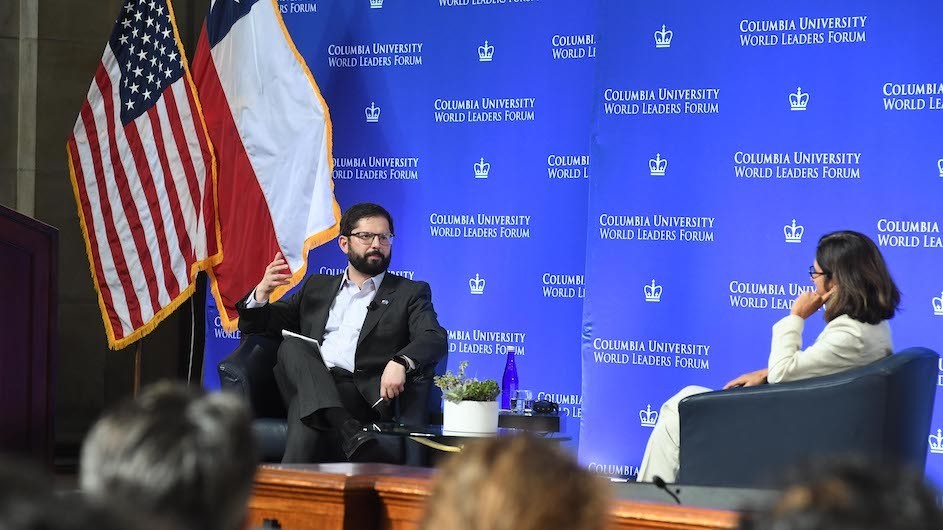 Chile's President Gabriel Boric participated in Columbia's World Leaders Forum on September 22, talking to over 360 students and faculty, who filled the rotunda of Low Memorial Library, about his beginnings in politics, his years as a student leader, how the experience shaped his worldview, Chilean and Latin American politics, as well as the ongoing constitutional debate in Chile.
The conference, entitled "The New Chilean Politics and its Regional Implications," was co-sponsored by the Center on Global Economic Governance and Institute of Latin American Studies (ILAS) and moderated by ILAS director Vicky Murillo.
The event was opened by Wafaa El-Sadr, Executive Vice President for Columbia Global. "World leaders come to Columbia because they appreciate the importance of engaging with the communities like the community of Columbia University… and our students come here to challenge and be challenged," she said. "At Columbia we take very seriously our mission to engage with the world, beyond the academy, and address the greatest challenges that face our society. Initiatives like the World Leaders Forum, Columbia World Projects and the Global Centers are evidence of our commitment to this promise in action."
To begin the conversation, Murillo asked Boric, a former student body leader at Universidad de Chile Law School, about how his student activism influenced his world view and the political goals set as president of Chile. In an intimate talk, he responded that at university, he realized it was possible to change things, but that radicality was not the same as screaming or hurling adjectives, but rather in bringing many people together and convincing them on certain approaches.
The 36-year-old leader of Chile also addressed the issue of the September 4 plebiscite on the proposed new constitution in Chile, where nearly 2/3 of voters rejected it. In favor of approving the proposed new charter, he recognized he was "surprised in its magnitude, so there is a lot to learn from it. A lesson in humility - it forced us to take another look at the things we were doing," he said. "The Chilean people voted for a new constitution in October 2020, they want changes but they want changes with certainty, progressivity. Big changes won't be done from night to day."
"We thought at a point that we could go faster without bringing everyone with us," the president added. "One of the big lessons we've learned through history in Chile, is that for big changes you need big majorities, and you need to build those majorities. We went faster than what the people wanted, and they said 'stop.' We have to respect and understand that, and to take a step back to advance two or three more. I'm sure we will get a new constitution during our government [administration]."
At the same time, Boric recognized that his government had to keep in mind the difficulties that the people are currently going through. "We on the left have to understand that promises of a better world way in the future won't bring safety, certainty and better standards of living if we don't work on management at the same time. So we have to find a balance between the big structural reforms and the day to day life," he said, mindful of issues including security, inflation and the significant increases in the cost of living, while at the same time committing to fiscal responsibility.
"We came to power with a mandate for change, structural things, not just administrate the things we have," Boric said. "I don't feel that we're going the wrong way if we are going slower. I like to say we're going slower because we're going further."
He then fielded questions from the students regarding issues such as how the left can build ideological majority in a region where people are highly concerned over issues such as corruption and security, the future of the "new left" in Latin America, recommendations for strategies in running for student government, community rights versus increasing pressure for mineral extraction; and how a new constitutional process will take place in Chile.
Use this link to see the entire video of the conference.
The World Leaders Forum is a year-round event series at Columbia University that has hosted over 300 heads of state and world leaders from over 85 countries since it was first established in 2003 by President Lee C. Bollinger.
"The Columbia World Leaders Forum was created to provide a place where our University community would be able to hear - in undiluted form - about the critical issues facing other nations, and the world at large, from those in positions of authority and responsibility," Bollinger has said.