Climate Fellows Training Program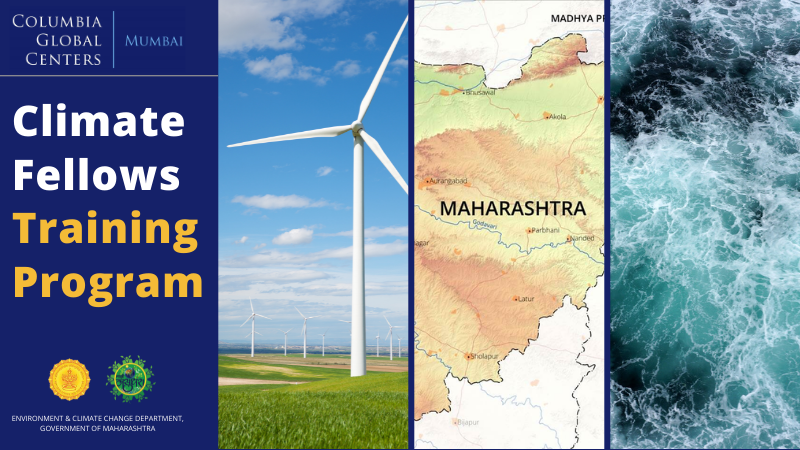 India is the world's third-largest energy consuming nation, and is facing serious climate-induced risks. Even as climate extremes continue to shock the economy, holistic education on the subject is lacking in India's education and policy systems.
To address this gap, Columbia Global Centers | Mumbai entered into a partnership with the Environment and Climate Change Department, Government of Maharashtra, to facilitate professional training for its Climate Fellows, a cadre of young professionals dedicated to building climate resilience in the state.
As part of this collaboration, CGC | Mumbai launched a seminar series that leverages the scientific expertise of researchers from Columbia University for building capacity among government stakeholders.
The seminar series was designed to cover various areas of climate sustainability and environmental resilience, with a special focus on actionable strategies that Climate Fellows can apply in real work scenarios to further climate innovation and adaptation in the Maharashtra region.
A total of five training sessions were conducted online and in-person over the course of April and May on key topics such as climate renewables, transport sector electrification, emissions in the building sector and municipal finance. These workshops were led by research scholars and associates from the Center on Center on Global Energy Policy (CGEP) at Columbia University's School of International and Public Affairs (SIPA), including Dr. Kaushik Deb, Senior Research Scholar;  Dr. Tom Moerenhout, Adjunct Assistant Professor, SIPA, and Resident Scholar; Ms. Mahak Agrawal, Research Associate, and Mr. Amit Khatri, Research Intern & Indian Administrative Services (IAS) Officer, Haryana cadre. 
Through these sessions, Climate Fellows had the opportunity to share specific concerns related to their research areas. Fellows expressed their keen interest in applying recommendations and learnings from the training into their daily work experiences.
Said Aditya Yejare, a seminar participant, "As an environmental student, emissions from the building sector as a topic was missing from our syllabus. After attending this session, I have discovered some new knowledge to further my academic career."
Prasanna Vispute, another Fellow remarked, "These trainings have helped me better understand the global energy scenario, and how we can help the government to frame better policies." 
The Center will continue to facilitate more such informative sessions to strengthen government engagement with academia and researchers.