Collaboratory | A Three Part Webinar Series on Afghanistan with Undergraduate Global Education
This series, with Undergraduate Global Education, addressed several of issues facing Afghanistan.
April 12, 2022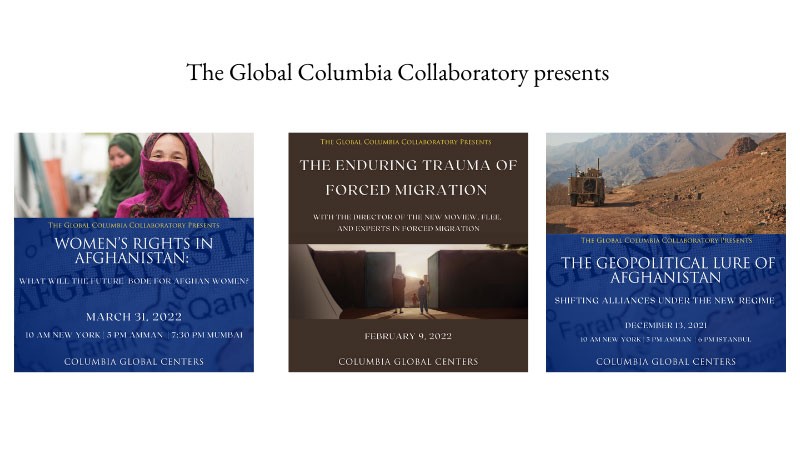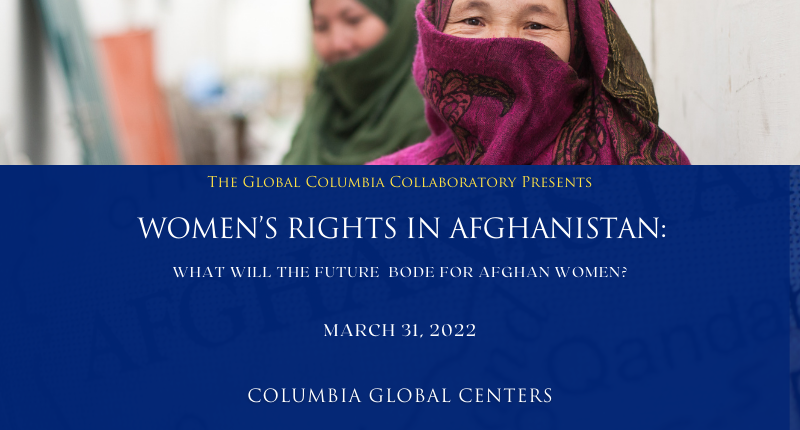 Twenty years after being ousted by US-led military intervention, the Taliban reclaimed power in Afghanistan. Immediately after seizing control of the country, and under immense pressure by the international community, the Taliban claimed that the new government would differ from the brutal regime of 1996-2001, with a more inclusive stance towards women, minorities, and dissenters. Despite these initial promises, however, the leaders of the Taliban have made systematic efforts to exclude women from social, economic, and political scene, and institutionalize gender-based discrimination and violence against women. 

This webinar explores the status of women's rights in Afghanistan with a particular emphasis on the restrictions imposed by the Taliban from 1996-2001, discuss what has changed during the two decades of US military intervention and whether women's decades-long struggle for rights is at a loss as Taliban regained the control of the country. 
Speakers:
-Yasmine Ergas, Senior Lecturer, School of International and Public Affairs, Columbia University
-Pashtana Durrani, Founder and Executive Director at LEARN
-Muska Dastageer, Lecturer, American University of Afghanistan in Kabul 

Introductions by Shannon Marquez, Dean, Undergraduate Global Engagement, Columbia University 

Chaired by Safwan Masri, Professor and EVP for Global Centers and Global Development,
Columbia University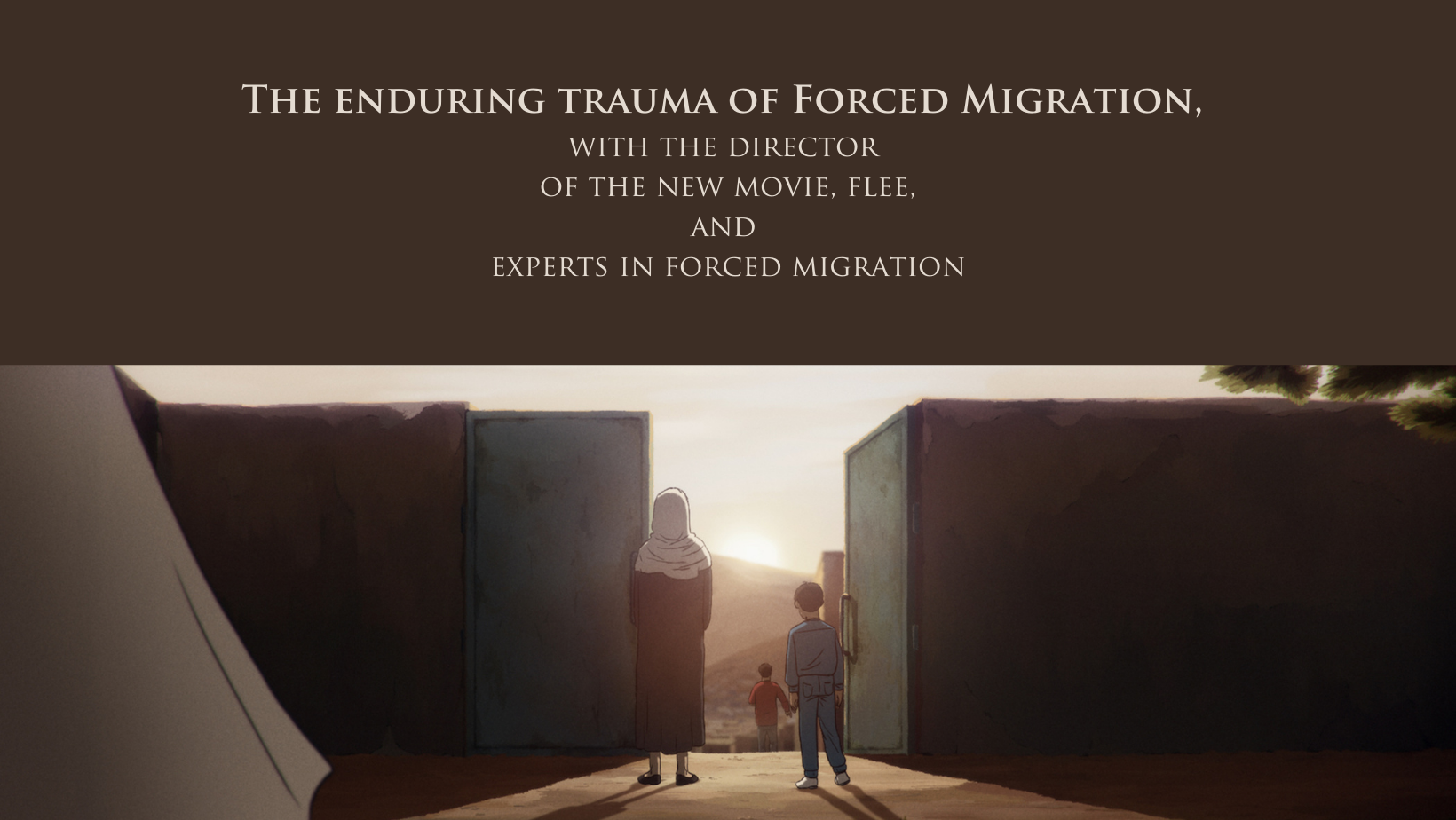 One of the most devastating facts about the current situation in Afghanistan is that it is not new. We know this story. If we are lucky, we do not know it in the manner of Amin Nawabi; Amin Nawabi is a pseudonym for a real person, who is also the protagonist in the new, award winning documentary animation called Flee. The filmmaker, Jonas Poher Rasmussen, prods and pokes his friend Amin within the framework of the film's story, and we are for a time inside the head of this young man who was forced as a child to flee everything he knew; to leave his home and his brother and his country; to put his life in the hands of human traffickers and end up in some foreign place, hoping to find safety.
Amin's story makes clear the toll of dispossession. There is a scene in the film in which the people fleeing are drawn as white outlines, a little blurry to show motion but also suggesting the fuzziness of boundaries. The figures are empty, ghostlike—and they could be any of us: torn from our place on the earth, we are torn from ourselves. While making evident the erosion of trust in humanity that Amin experienced, this also  universalizes the story—invites us to imagine ourselves in the position of the desperate refugee, stumbling through enemy territory in a place we thought was home. The journey to safety is not necessarily about finding a hospitable host country, or a place of safety and refuge. Of course, these are critical. But they are not enough. 
How do we find a way back to ourselves after having been reduced to an object in flight?
How do we transform these stories from ones of personal liberation and triumph into something broader, challenging the global culture?  
Speakers:
- Dr. Madeline Garlick, Chief of the Protection Policy and Legal Advice Section in the Division of International Protection of the Office of the United Nations High Commissioner for Refugees (UNHCR)
- M. Claire Greene, Psychiatric and substance use epidemiologist in the Program on Forced Migration and Health at the Columbia University Mailman School of Public Health
- Jonas Poher Rasmussen, A Danish/French film director 
- Mariam Ghani, the daughter of Afghanistan's now exiled President Ashraf Ghani
- Safwan M. Masri, Executive Vice President for Global Centers and Global Engagement
- Dr. Shannon Marquez, Dean of Global Engagement and Director of the Columbia University Center of Undergraduate Engagement (UGE)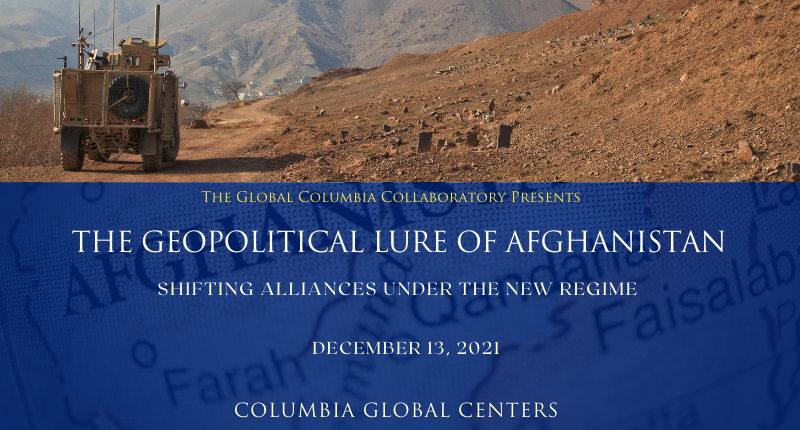 Twenty years after being ousted by US-led military intervention, the Taliban reclaimed power in Afghanistan in 2021. This webinar seeks to explore the developing situation in Afghanistan from a historical and political perspective. Our distinguished panelists will share their insights on the ramifications of the Taliban rule in Afghanistan, exploring it within the context of geopolitics, security and diplomacy. They will investigate the real issues that are driving the conflict in Afghanistan, the implications of the developing situation for neighboring and regional actors, and what would a durable and responsible foreign policy towards Afghanistan look like. 
Speakers: 
- H.E Adela Raz, Ambassador of Islamic Republic of Afghanistan to the United States of America
- Robert D. Crews, Professor of History, Stanford University
- Steve Coll, Dean and Henry R. Luce Professor of Journalism, Columbia Journalism School
- Dipali Mukhopadhyay, Associate Professor of Global Policy, University of Minesota (Moderator)
- Shannon Marquez, Dean, Undergraduate Global Engagement, Columbia University (Introductions)
- Safwan Masri, Professor and EVP for Global Centers and Global Development, Columbia University (Chair)