Cultural Encounters: Istanbul and the Refugees from the Russian Empire (1919-1923)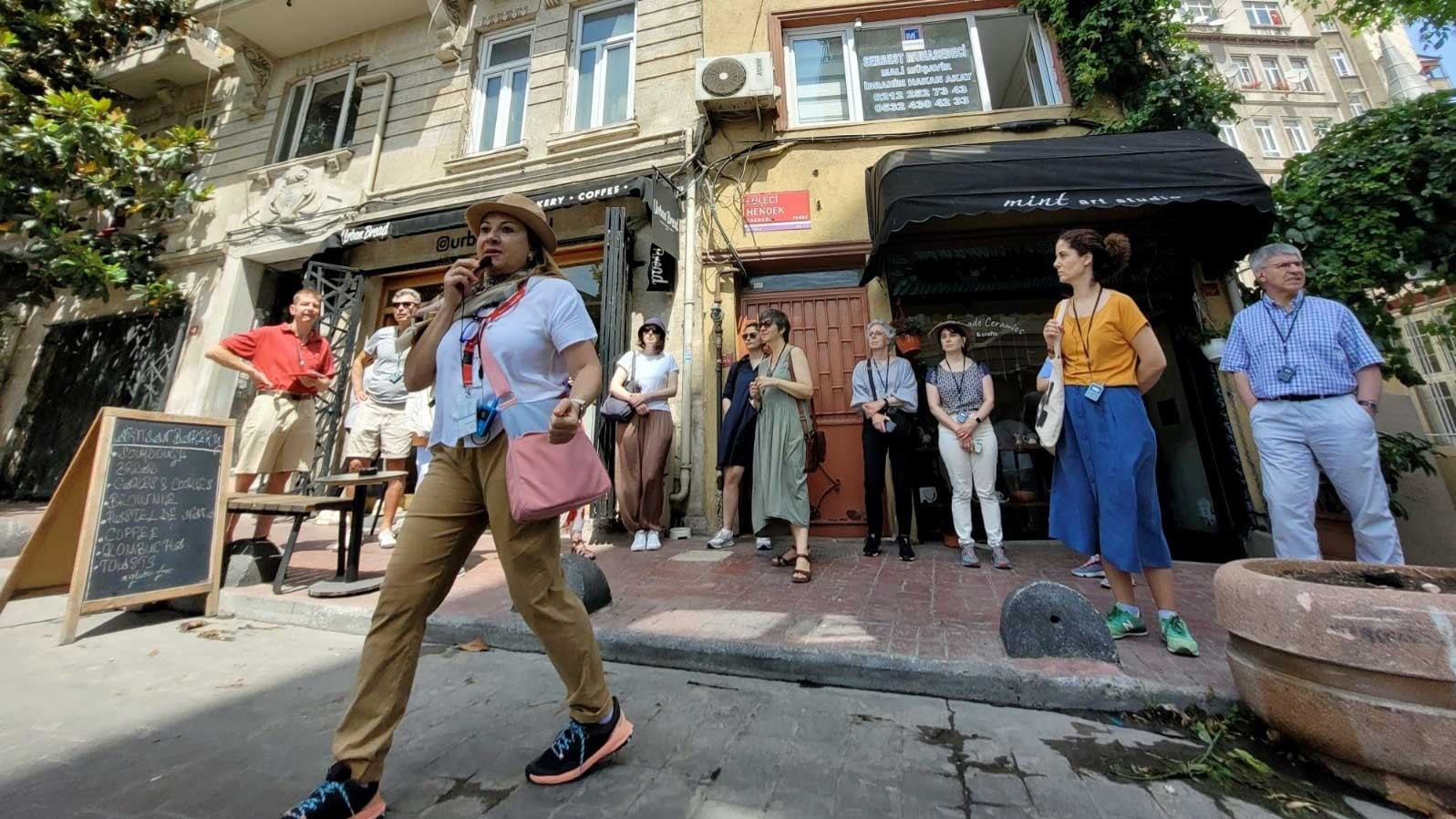 Columbia Global Centers | Istanbul, in collaboration with the Harriman Institute and the Pera Museum, organized a symposium and memory walk to explore the cultural life of the refugees who fled from the former Russian Empire during the Civil War and emigrated to Istanbul between 1919 and 1923.
Held as part of a long-term project on June 3, the symposium was led by Valentina Izmirlieva, Professor of Russian and Balkan cultures at Columbia University and Director of the Harriman Institute, and Holger Klein, the Lisa and Bernard Selz Professor of Medieval Art History and Archaeology at Columbia University. The symposium focused on various aspects and the long-lasting effects of the refugees' brief stay, which significantly affected the cultures, ideas, social lives and identities of both the guests and their hosts. The talks touched upon Istanbul's importance for the dispersion of Russophone communities, ideas and cultures in the 1920s, which, unlike other hubs of Russian migration, has been largely overlooked by Russian historiography. In a similar vein, the talks dealt with the role of Russian refugees in the history of modern Istanbul, which has only recently begun to receive the serious scholarly reflection it deserves. During the symposium, a particular spotlight was on Iraida Barry, the obscure Russian sculptor who emigrated to Istanbul in 1920 and went on to become an accomplished artist, while also gathering a comprehensive and lasting collection of documents and life stories from the Russian society at the time. These invaluable documents are now part of a collection at Columbia University's Rare Book & Manuscript Library.
Moreover, on June 4, the symposium was then supplemented by a memory walk, concentrating on and around Istanbul's Pera district, the area mostly settled by the refugees in the European part of the Ottoman capital. The memory walk took the participants of the symposium, accompanied by an expert guide, from the former site of the Novotny Hotel to Casa D'Italia, to the St. Pantaleon Russian Church, to the Russian Consulate, and ended at the historic Russian restaurant Ayaspaşa. The walk, throughout its various stops, was enriched by the lecturers' various insights on the lives of the Russian emigrants in many corners of Istanbul.
Participants: Valentina Izmirlieva (Columbia University), Holger A. Klein (Columbia University), Vladimir Alexandrov (Yale University), Edward Kasinec (Stanford University), Sergey A. Ivanov (Moscow Higher School of Economics), Ayşenur Güler (London), Ekaterina Aygün (Ludwig-Maximilians-Universität, Munich), Nadia Podzemskaia (ITEM, CNRS-ENS, Paris), Cengiz Kahraman (Istanbul Photography Museum)