GSAPP's Sebastián Salas Underlines Need for Urban Regeneration in Study, Seminar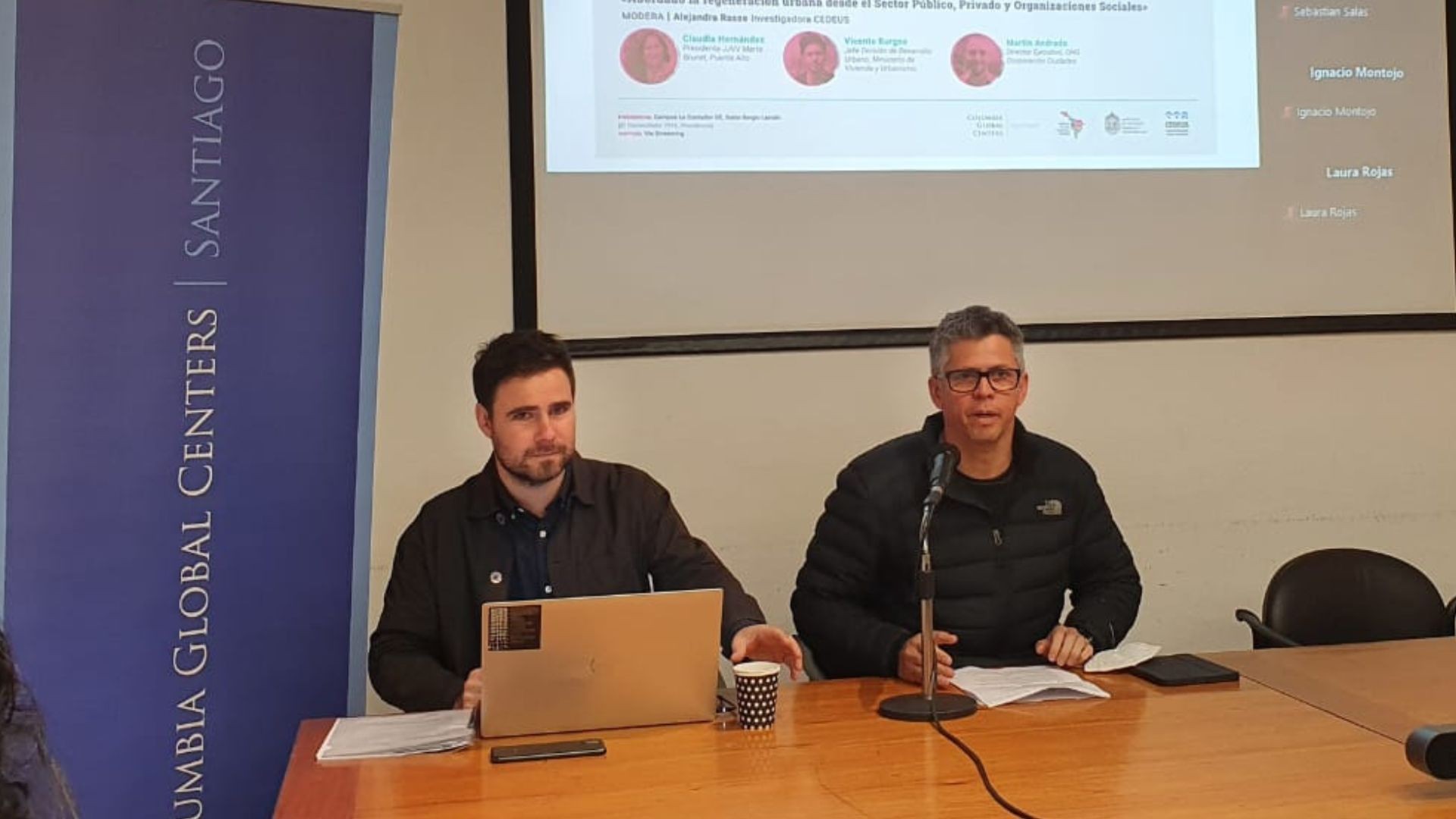 The hybrid seminar "Paths Towards Urban Regeneration in Chile" took place on September 7, with participants reviewing mechanisms and opportunities for the regeneration of urban areas in the country and analyzing experiences and best practices implemented in New York and Colombia.
The seminar was co-sponsored by the Santiago Center, Columbia's Institute for Latin American Studies (ILAS), Universidad Católica's (UC) Institute of Urban and Territorial Studies (IEUT) and UC's Center for Sustainable Urban Development (CEDEUS). Luis Fuentes, director of the IEUT, opened the event with the room packed with participants at UC's Lo Contador campus and broadcast live on the IEUT's YouTube channel.
"Urban regeneration is a tremendous instrument to rebuild our cities, but at the same time it is one of the most complex ways of intervening the city because it requires long-term investment commitments, coordination of management instruments from various institutions and urban regulations that we know are slow processes," he said, highlighting the case of thousands of Chileans who have been "abandoned in homes and neighborhoods that did not have the minimum conditions to lead a decent life."
"Thousands of families throughout the country continue to live in these homes and neighborhoods, living day by day in despair, cold, humidity, overcrowding, violence, long trips, without sidewalks, without facilities, lacking public lighting, without transportation and a long list of problems," Fuentes added. "We cannot fail them again; it is urgent to take charge of the situation."
He thanked Sebastián Salas (GSAPP'22), Research Fellow, Columbia ILAS, for organizing the conference and presenting the results of his research: "A study of urban regeneration experiences in central Santiago to propose a more nuanced framework for equitable, prosperous, and sustainable urban development," which was financed by the Santiago Center and ILAS.
"Addressing the increasing housing deficit, neighborhood deterioration, and social-spatial segregation in Chilean cities has become a national priority and an urgent need for equitable, prosperous, and sustainable development of cities," Salas said. "New and improved regeneration programs and policies are needed to transform deteriorated urban areas into neighborhoods with better transport housing, open spaces, public infrastructure, and opportunities for residents and local communities."
With the support of the Santiago Center, he studied urban regeneration experiences in Santiago through an in-depth case study, paired with interviews and quantitative and historical analysis. His findings detail how the regeneration initiatives overlooked critical social factors and infrastructure needs that enable equitable development and social mobility.
During his presentation at the event, Salas said that urban regeneration is an integrated intervention strategy that addresses physical, social and economic issues. It has two overall objectives: rehabilitating neighborhoods in marginalized or segregated sectors that lack housing, public services and facilities, while also reverting the deterioration of those areas of the city that are well located and integrated into the city. Chile currently suffers an unprecedented housing deficit of 640,000 units, he noted, due in no small part to a 62% increase in housing prices versus actual salaries in the last 10 years.
He highlighted that currently Chile has certain instruments in place for urban regeneration, with programs such as "Quiero mi Barrio" ("I Love my Neighborhood") on one end of the scale for recovering public space in city blocks, to territorial arrangement planning on the other end of the scale for a whole city or region. However, there are no adequate instruments for the middle of the scale, on the district or neighborhood level, and that represents an opportunity to establish a robust urban regeneration program.
There are three areas that need to come into play to for an urban regeneration program, he said: integrated, intersectoral governance; mechanisms and instruments for public and private financing; and robust citizen participation with binding commitments to drive collaboration and social cohesion.
Following Salas' presentation, Ignacio Montojo, Principal at HR&A Advisors in New York, reviewed the best practices and recommendations arising from the project in NY's West Chelsea neighborhood to preserve and transform the High Line elevated train line, which had fallen into disuse and was considered an eyesore, into a public park. The US$ 223 million project is considered a prime example of public-private participation that reaped a number of benefits for the neighborhood, including increased tourism, higher tax revenues, increased development and better opportunities for affordable housing, just to name a few.
In turn, Vanessa Velasco, Urban Development Specialist at the World Bank, reviewed the legal and market frameworks, as well as the institutional governance, that came into play for the urban regeneration project along the shoreline of the Magdalena River in Barranquilla, Colombia.
To close the event, there was a panel discussion entitled "Addressing urban regeneration from the public and private sectors and social organizations," moderated by Alejandra Rasse, CEDEUS Researcher. The panelists included Claudia Hernández, president of the Marta Brunet Neighborhood Association of Puente Alto, a borough in Santiago; Vicente Burgos, head of the urban development division at Chile's Ministry of Housing and Urban Development; and Martín Andrade, executive director of the NGO Corporación Ciudades.