Representing Rural Women Through Writing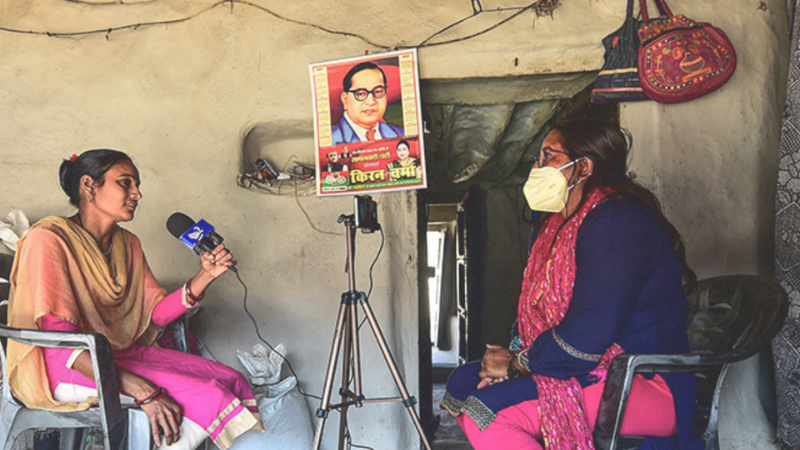 What happens when women from the heartlands of rural India set up a newspaper to tell stories through a feminist lens - stories that challenge mainstream representations of caste, class, gender and religion? Commemorating Dalit History Month, CGC | Mumbai organized an online panel discussion entitled, Writing from the Margins: The Journey of Khabar Lahariya on April 12, 2022.  Now in its twentieth year, Khabar Lahariya is an award-winning, women-led media organization and India's only rural digital media collective, which was also the subject of the recently Oscar-nominated documentary, Writing with Fire.  As part of the Center's Writing Indian Stories series, the panel featured Khabar Lahariya's Editor-in-Chief, Kavita Bundelkhandi and author, activist and Columbia University alumna, Farah Naqvi, and was moderated by the Center's Director, Dr. Ravina Aggarwal.  
Ms. Naqvi detailed the genesis of Khabar Lahariya and its broadsheet precursor, Mahila Dakia, which were set-up to strengthen education, enable grassroots citizenship, and highlight the everyday stories of marginalized communities from a critical, feminist perspective. She contextualized the journey of Khabar Lahariya amidst the harsh socio-economic realities, violence, and discrimination across gender, caste, and religion in the Bundelkhand region of rural Uttar Pradesh in the 1990s, highlighting how the literacy-building process had empowered girls and women from the community, and allowed them the power of self-representation for the first time. 
This view was corroborated by Ms. Bundelkhandi, who has been a vital part of Khabar Lahariya's progress, first as a reporter in its founding team and now as Editor-in-Chief of the collective. Having joined Khabar Lahariya after being part of the literacy program, she shared her personal journey, and talked about the dearth of rural representation in mainstream reading materials and news, especially local news, which was a core problem that Khabar Lahariya sought to solve. Ms. Bundelkhandi shared the platform's goal as bridging the gap between the rural interiors and the outside world, through the coverage of issues such as gender, local development, governance and health, as well as via national and international reports. Ensuring access to materials in local languages through easily accessible channels is also critical to Khabar Lahariya's work, and Ms. Bundelkhandi touched upon the importance of audience feedback as a guide, which shapes much of their coverage, reaching over 10 million digital views per month. 
In 2016, Khabar Lahariya made the switch to go completely digital.  Even as they faced a crowded online melee and competition for people's attention, Ms. Bundelkhandi was confident that the platform's mission to amplify voices and provide impactful information would ensure that they remained relevant.
Ms. Bundelkhandi pointed to the accomplishments of Khabar Lahariya but also outlined the many challenges and fears that fellow women journalists like herself have had to overcome over the years - right from battling resistance among their communities for undertaking atypical work to facing misogynistic and even hostile situations. Reflecting on what made Khabar Lahariya feminist, she emphasized the platform's appraoch - they not only reported on neglected women and gender issues, but also worked to represent women's rights and their voices on an equal footing in all editorial areas.  Ms. Naqvi too spoke of the Khabar Lahariya model as a corrective to the lacuna in mainstream media while confronting structural asymmetries of power and breaking the silence around women's sufferings.  Emphasis on representation and intersectionality is also reflected in the team itself that comprised of women from Dalit, Muslim, tribal and other disadvantaged communities, as well as women from upper castes.  Since its inception, the organization has maintained its objective of running an all-women team, providing them with support and training, and giving them the opportunity to claim their place in the public sphere to gain mobility beyond restrictive rural social structures, Ms. Naqvi noted.  
Ms. Naqvi shared the process of writing her book that featured Khabar Lahariya, Waves in the Hinterland: The Journey of a Newspaper, published in 2008, and lauded the collective efforts that made the researching and recording of information possible.  In her advice to students and aspiring writers and journalists, she urged them to find issues that they were passionate about and those that challenged the status quo.  Ms. Bundelkhandi added that it was critical for journalists and writers to always remember who they are writing for and rigorously research and fact-check information before publishing.  She urged them to write with integrity, give voice to the unrepresented, and keep alive the hope of a better society for future generations. 
The program commemorated the birth anniversary on April 14 of Dr. Bhimrao Ramji Ambedkar, a global icon of human rights and social reformer who led the struggle against caste inequality and who was also the Chair of the Drafting Committee of the Indian Constitution.  Dr. Ambedkar went to Columbia University for his postgraduate studies in 1913 where he earned two M.A. degrees by 1916, a PhD in Economics in 1927 and an honorary LLD in 1952.  The Center is proud to celebrate his legacy.