Orientation Program for Nursing Students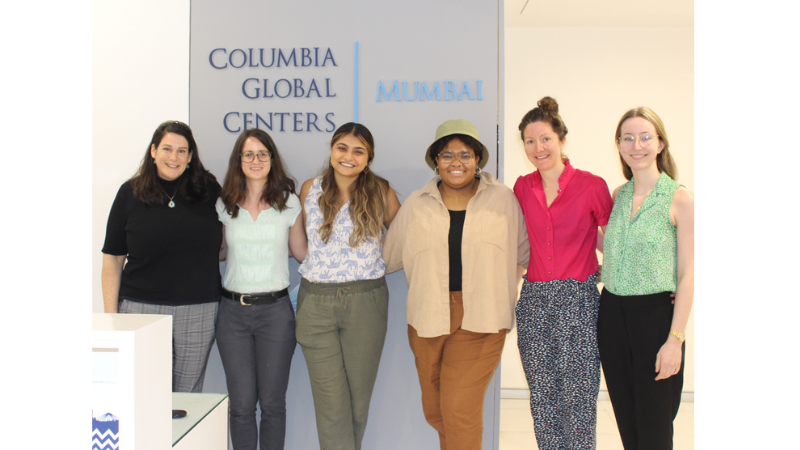 Infectious diseases continue to remain a global threat to population health. In low and middle income countries, where public health has limited resources and accessing healthcare is a challenge, how can nurses make a difference to patient care and treatment outcomes? Columbia Global Centers | Mumbai partnered with the Columbia University School of Nursing (CUSON) to support a six-week global clinical practicum for nursing students who were visiting India to care for patients with infectious diseases at the Bel-Air Hospital in Panchgani. This internship program is part of an annual program by CUSON where students are provided with global opportunities to experience challenging health systems and gain a broader understanding of innovative patient care models for treatment of infectious diseases. 
On April 5th 2022, the Mumbai Center organized an orientation program in which  students were familiarized with the public health and nursing ecosystem in India. An overview of the diverse public health challenges and the double disease burden of infectious and non-communicable diseases present in India was provided by Dr. Nerges Mistry, Director of The Foundation for Medical Research. Dr. Mistry discussed challenges posed by low public health expenditures, lack of surveillance systems, poor access to cost effective screening and diagnostic tools, dearth of qualified medical professionals, and discrepancies in data collection and management. 
A second lecture on nursing in India was delivered by Professor Jaya Kuruvilla, Principal of P.D. Hinduja National Hospital and College of Nursing. While highlighting the common infectious diseases (COVID 19, TB, HIV/AIDS, vector borne diseases, enteric fever, and zoonotic diseases) prevalent in India, Dr. Kuruvilla identified solutions implemented in the public health system to improve patient's access to treatment, including the use of technology for disease notification and screening, robust immunization programs, availability of government healthcare schemes, and adoption of public-private-partnership models of healthcare.
The six-week clinical practicum ended with a virtual presentation on June 10th 2022 by the nursing interns on their experience at Bel-Air. Sharing how their internship in India has added value to their clinical journey as global nurses, students spoke highly of the involvement of the hospital staff, caregivers, and the community in patient care. A holistic approach to patient care that satisfies basic health necessities of nutrition and mental health, and fosters supportive environments for patients, was a key learning from the program. Nursing student Margaret Duggan said, "The exposure to a different health system has changed my perspective about the way I practice. I have realized that there is more than one approach to patient care which can be adapted to different health settings".