Practical solutions ranging from climate change to inequalities caused by the pandemic: the CWLN's third cohort final projects are now published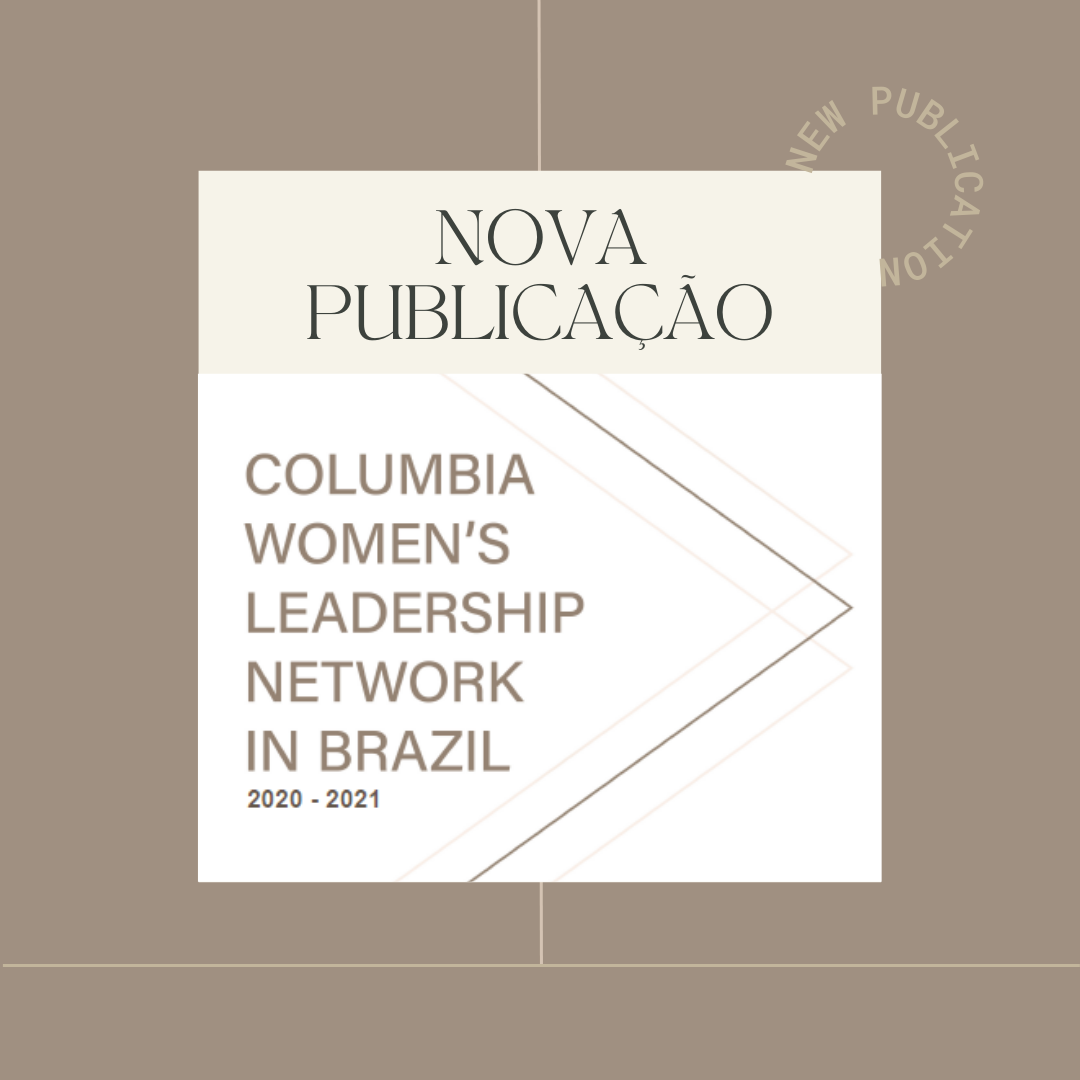 It is with great pleasure that we announce the publication of the Columbia Women's Leadership Network Program's third cohort final projects.
In this edition, the projects address a variety of topics, ranging from climate change to inequalities caused by the pandemic, and present practical solutions to these challenging issues taking into account issues of governance, innovation, optimization of resources, and the intersection of gender and race.
You can read the publication here. The projects are in Portuguese. However, there is an Abstract in English at the beginning of each project. 
PROJECTS
PROGRAMA VAI MULHER CARIOCA: DESENVOLVIMENTO COMUNITÁRIO PARA MITIGAR AS DESIGUALDADES CAUSADAS PELA PANDEMIA
Charlotte Jonqua, Debora Pio, Fernanda Caloi, Mônica Sodré, Perla Ribeiro
ABSTRACT
The 2030  Agenda is the set of goals and targets for the next decade, which must be pursued by all member countries of the United Nations (UN), including Brazil. These goals aim to eradicate poverty in all its forms and dimensions, including extreme poverty. The Brazilian government was already far from being able to prioritize these goals in its development plans - and the pandemic aggravated the situation even more. With a government based on the conservative and neoliberal agenda, the historically vulnerable minorities were even more neglected by social policies. The biggest victims of this project were women, who have been suffering from unemployment and gender-based inequalities. The program Vai Mulher Carioca aims to promote community development in favelas and poor areas of Rio de Janeiro, through income distribution, citizenship education and professions training for the current market of women in vulnerable situations. The pilot takes place in the district of Santa Cruz, on the west side of Rio, which has one of the worst HDIs in the city, materialized in a large index of social vulnerability and urban violence caused by the actions of the militias. The program, which will take place in three stages, will serve, in its pilot, 1,000 women living in Santa Cruz, who will receive a contribution of R$500 for one year, in addition to education and training.
ESTUDANTES GESTANTES: DESAFIOS E PROPOSTAS PARA PROTEÇÃO DE TRAJETÓRIAS EDUCACIONAIS NA EDUCAÇÃO BÁSICA
Gabriela Gambi, Isabel Aché, Mariana Gomes, Mariela Figueiredo, Suzana Barbosa, Tuany Nakama
ABSTRACT
Pregnancy among school-age children and adolescents is a reality in Brazil. According to IBGE 2019 data, 59 births out of 1,000 are of mothers between 15 and 19 years old. In addition to being an event with profound psychosocial impacts on the lives of these young people, it is also recognized as one of the main predictors of school dropout. There is a considerable number of research and best practices in the field of teenage pregnancy prevention, however little is discussed in Brazil about the protection of the educational trajectory of pregnant students. How may public education innovate in models of governance, management, processes, political-pedagogical projects and approaches to ensure the right to education of these pregnant students? What are the existing challenges, opportunities, and best practices? Considering the specific situation of these pregnant students, how to ensure a better integration between education and other social protection systems (such as health and social assistance)? The project seeks to address these matters from an intersectional approach and using innovative methodologies in research and public policy design. Therefore, the first part presents the main data on school dropout related with this specific public in Brazil. Then a critical analysis of international educational policies and/or programs aimed at ensuring access to education for pregnant students is presented. The third part discusses the challenges and opportunities experienced by various actors (Departments of Education, school administrators, teachers, students) in the educational journey of young pregnant students. Finally, we propose the development of a Best Practices Booklet for the implementation of actions that help to protect the educational trajectory of pregnant students, to be use by teachers, school administrators and Education Departments, based on the developed reference content.
MENTORIA PARA MULHERES E ENTRE MULHERES: PROPOSTA PARA FOMENTO DA EQUIDADE DE GÊNERO NO CAMPO PROFISSIONAL
Cintia Lima, Grazielle Gomes, Isabela Meirelles, Letícia Artuso, Mariana Fiúza, Veronica Tomsic 
ABSTRACT
Historically, the labor market creates obstacles for the entry and performance of women. Labor force participation rates point to strong gender inequality, and when the lens of intersectionality with race is added, the contrast is even greater. Even though, in recent decades, women have gained significant participation in the labor market, they continue to occupy less valued sectors and positions, as well as lower wages. Researches show that one of the obstacles to women's ascension in their careers is that they apply less to job openings because they do not believe they have the necessary qualifications and that they will not be hired, Besides to being more afraid of failing than men. One of the ways to deal with this issue is to invest in the qualification of women, more specifically in a process in which women can help each other in this scenario. With that  being said, this work delved into the universe of mentoring among women, as a strategy to support women in their careers. The interviews applied showed that this strategy would also have potential synergy with the training program of the Columbia Women's Leadership Network (CWLN). We then present a proposal to include the theme of mentoring in the training of women in the CWLN cohorts, presented as an incremental innovation component of the project, in addition to the creation of a mentoring network based on women trained in the CWLN to collaborate in voluntary mentoring with partner social organizations, based on a voluntary and rotational governance proposal among these women. Furthermore, as a result of this project, we present a Guide to Best Practices in Mentoring Among Women, which raises reflections on the topic and can be used in the proposal for the formation and implementation of a mentoring network from the CWLN.
MUDANÇAS CLIMÁTICAS: ESTRATÉGIAS DE ADAPTAÇÃO E EMPODERAMENTO DAS MULHERES YAWANAWA
Débora de Barros Augusto, Ilana Nina de Oliveira, Laura Soriano Yawanawa, Marília Carvalho de Melo, Thais Ferraz Soares, Thaís Pacheco Kasecker
ABSTRACT
Due to their close relationship with the environment, indigenous peoples are one of the groups suffering the most from the effects of climate change. Indigenous women, who play a significant role in activities such as agriculture and care work, are doubly vulnerable as women and indigenous people. Considering recent scientific projections, adaptation planning for reducing impacts and increasing the resilience of indigenous peoples is critical. Although guides and methodologies for developing adaptation plans exist, none of them are explicitly oriented to indigenous populations. In this sense, this work sought to incorporate the methodological foundations of the Indigenous Knowledge Based Action (ABCI - from portuguese) and the fundamental steps for the construction of an adaptation plan, highlighting the empowerment of indigenous women as leaders and in the activities in which they are protagonists. The present work had as a starting point, a case study with the Yawanawa People, and presents recommendations for the construction of a plan of adaptation to climate change, through a participatory process that leads to the empowerment of the community and, mainly, the indigenous women, focusing on the following strategic pillars: training and capacity building; engagement and participation of communities; identification of adaptation alternatives; funding possibilities; articulation with local governments and networking.
Keywords: climate change, adaptation strategies, indigenous women, women empowerment
ENFRENTANDO A SINDEMIA:  HORTAS COMUNITÁRIAS COMO RESPOSTA À INSEGURANÇA ALIMENTAR  PARA MULHERES RECICLADORAS NO MUNICÍPIO DE CAMPINAS
Ana Maria Albuquerque, Débora Silva Teixeira, Heloísa Fava Fagundes, Ionata Souza e Kamyla Borges
ABSTRACT
COVID-19 exposed the scenario of a syndemics we have been going through - the  conjunction of social, economic and environmental crises caused by the overlapping of the  pandemics, malnutrition and global climate change. Given this context, this project aims  to develop a long-term response to this issue, focusing on food insecurity among working women. In order to comply with it, the project focused on developing an intersectoral  public policy within the Municipality of Campinas structuring the implementation of  community gardens among recycling cooperatives registered and supported by the City  Hall, mostly composed and led by black women. The objective of these gardens is to  promote reinforcement of the food demands of the cooperative members, as well as to  create opportunities and to improve the interaction between the cooperatives and their  surroundings. The project is already in the planning stage and the main results are  expected to be the publication of the Municipal Law that will create the "Program for  Urban and Periurban Agriculture - Campinas, Solidary and Sustainable City", as well as  the creation of the Food Security Axis in the Municipal Committee for Confronting the  Human Infection Covid-19's Pandemic (Covid-19).