Workshop with Prof. Richard Peña: Hidden from History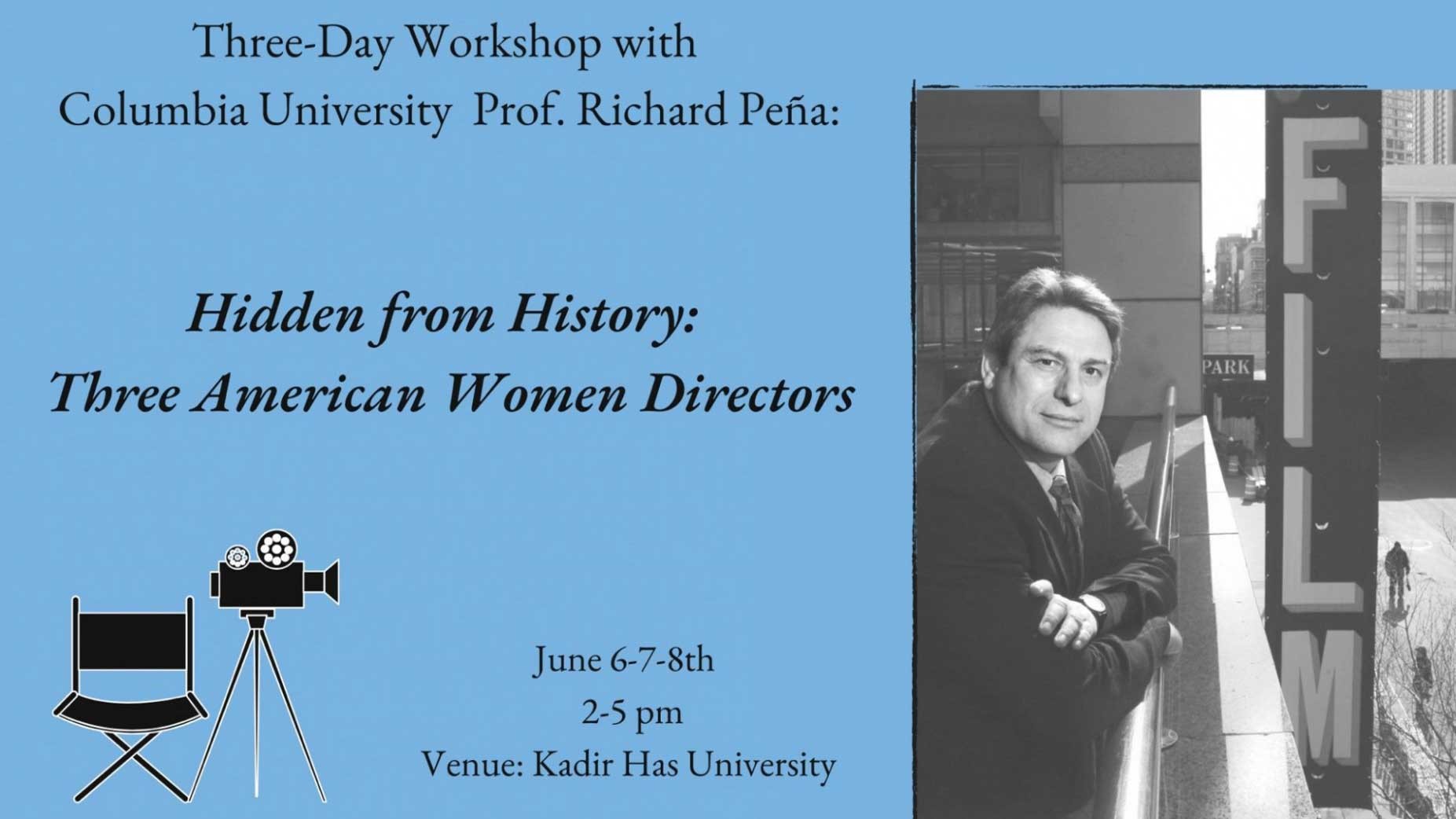 Columbia Global Centers | Istanbul, in collaboration with Kadir Has University, organized an in-person event from June 6 through June 8 with the legendary Prof. Richard Peña from the Columbia Film School. In close cooperation with Assoc. Prof. Melis Behlil, a Columbia University graduate and the head of Kadir Has University's Radio, Television & Cinema Department, Prof. Peña gave lectures on three women directors who were hidden from history despite their impressive filmmaking. Overall, 32 students from various universities participated in the lectures.
Prof. Peña focused on Lois Webber, an influential director in the silent movie era; Ida Lupino, a popular actress who later started directing in the late 1940s; and Barbara Loden, another actress who became a director and a key figure in the New American Cinema in the 1970s.  Emphasizing how the US film industry tended to ignore women in key administrative and artistic positions, Prof. Peña highlighted the achievements of these women who, despite the difficulties, managed to create their own films and share their thoughts and visions of the world. As Prof. Peña explored the evolution of the role of women as filmmakers in American cinema in a series of three illustrated lectures, he also established and traced parallels and connections with Turkish cinema as well.
The workshop included screenings and discussions on the following films.
The Silent Era: Where Are My Children?, 1917 Lois Weber
The Studio Era: Outrage, 1950, Ida Lupino
The New American Cinema: Wanda, 1970, Barbara Loden 
In Spring 2022, Prof. Peña, in collaboration with the Sabancı Center for Turkish Studies, organized  "Turkey through its Cinema" program, which brought eminent film critics, writers, scholars, and filmmakers together and enabled conversations on critically acclaimed films to highlight their global significance. To read more about the "Turkey through its Cinema" program and watch the recordings, you can visit our website here.
Richard Peña received his degree in film studies at Harvard University. Professor Peña has had a long-lasting career as the Professor of Film Studies at Columbia University, where he specializes in international cinema and film theory. From 1988 until 2012, he was Program Director of the Film Society of Lincoln Center. Professor Peña is the Director Emeritus of New York Film Festival, which he chaired for 25 years. He is currently a member of the selection committee at Rome International Film Festival as well as the guest curator at Doha Film Institute. For more information, click here.