Yusuf Hamied Fellowships 2022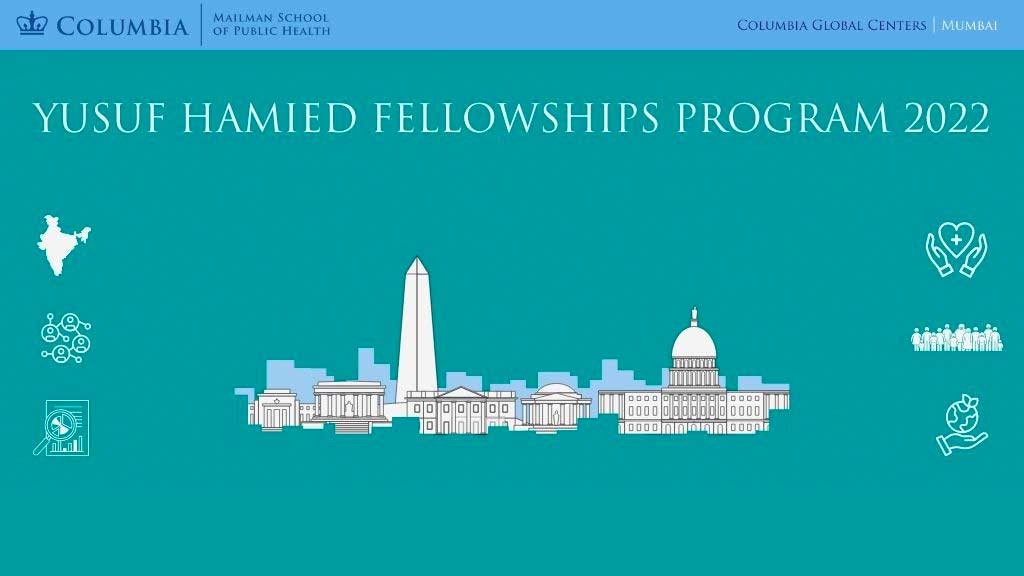 Columbia University's Mailman School of Public Health, in partnership with Columbia Global Centers | Mumbai, is pleased to announce the call for applications for the 2022 cohort of the illustrious Yusuf Hamied Fellowship.  This fellowship is an initiative to advance science and improve public health outcomes in India, enabled by a generous gift from the philanthropist, Dr. Yusuf Hamied.  It aims to build strong institutional links between Columbia University and Indian public health schools and programs by promoting faculty exchange, mutual learning and collaboration on public health research focusing on India. 
The principal goal of the program is to develop a robust public health research network, stimulate new collaborations, especially in areas that have critical gaps in health research, and produce scientific publications in public health that will shape future research and policy priorities.
Applications are encouraged from faculty working on public health issues under the thematic areas of health and environment, access to treatment, and population and family health. 
Application guidelines and additional information regarding the fellowship can be found here. 
---
Previous Yusuf Hamied Fellows from Indian Institutions:
2018-2019
Aditi Roy
Research Scientist, Public Health Foundation of India
Childhood Development and the Health Impact of Air Pollution in India
Habib H. Farooqui
Associate Professor, Public Health Foundation of India
Impact of National Pharmaceutical Pricing Policy on Utilization and Affordability of Essential Medicines 
Surinder K. P. Jaiswal
Deputy Director (Research), Professor, Tata Institute of Social Sciences
Climate Change and Health and Health Hazards Related to Urban, Low-Income Settlements
2019-2020 
Rama V. Baru
Professor, Centre of Social Medicine and Community Health, School of Social Sciences, Jawaharlal Nehru University
Continuum of Care for Dementia in Older Persons: Family, Community and Health Services 
Rajan Patil
Senior Epidemiologist, Associate Professor and Founding Faculty, School of Public Health, SRM University
Assessment of Occupational Lead Exposure and Health Hazards among Bronze Sculptors and their Families in Southern India
Krithiga Shridhar
Epidemiologist, Fellow, Centre for Environmental Health, Public Health Foundation of India
Investigating Environmental Factors for Breast and Gall Bladder Cancer Risk in India
2020-2021
Aparajita Chattopadhyay
Professor, International Institute for Population Sciences
Air Pollution and Health of Population in India
Hari Sagiraju
Assistant Professor, Preventive Oncology, National Cancer Institute, All India Institute of Medical Sciences
Evaluating the Mutation Detection Performance of Various BRCA Testing Eligibility Criteria Tools among Indian Females with Breast Cancer and in their Immediate Family Members
---
Past Yusuf Hamied Fellows on their Experience with the Program: 
"Yusuf Hamied Fellowship helped me connect with an excellent pool of faculty at Mailman School of Public Health. The interactions during the visit and the opportunity for collaborations that the fellowship provided played a pivotal role in my successful grant application for a prestigious Early Career Fellowship in clinical and public health funded jointly by Indian Department of Biotechnology and Wellcome Trust. What's more exciting to me is that through the Yusuf Hamied Fellowship program I am now a part of a network that will continue to nurture and provide opportunities for collaboration in the future."
~ Aditi Roy, Yusuf Hamied Fellow 2018-2019
"Being one of the first recipients of this prestigious Fellowship from India, I am very pleased to recommend Yusuf Hamied Fellowship to anyone who wants to develop a global perspective on issues of public health importance such as equity in access to care or the relationships between environment and health equity. The program is extremely well designed; it provides great flexibility in terms of opportunities for academic immersion, research engagements, networking, and skill building depending upon individuals' research interests. I have had a truly amazing time at the Department of Health Policy and Management at the Mailman School of Public Health both academically as well as in terms of cultural immersion and exposure to social life at the university."
~ Habib H. Farooqui, Yusuf Hamied Fellow 2018-2019
"The Yusuf Hamied Fellowship has enabled me to further my research interest in the care of elderly persons. The fellowship has provided opportunities to attend seminars and engage with experts in the field from Columbia University."
~ Rama V. Baru, Yusuf Hamied Fellow 2019-2020
"Yusuf  Hamied Fellowship has given me a great opportunity to conceptualize and develop a very novel research idea. The fellowship facilitated in identifying collaborators from Columbia university to make my research a broad, multi-disciplinary study. The highlight of this fellowship is that it provides a fantastic collaborative ecosystem for individual research." 
~ Rajan Patil, Yusuf Hamied Fellow 2019-2020
"This fellowship is one of its kind that helps faculty members across institutions in India to strengthen research networks and gain new cutting-edge knowledge in their field of work and interest. Through this program, I have cultivated long-term research partnerships in Columbia Mailman School of Public Health and participating Indian institutions, in emerging and ever evolving fields of environmental health and human microbiome." 
~ Krithiga Shridhar, Yusuf Hamied Fellow 2019-2020