For Dani, With Love
by Rosi Braidotti, Philosopher and Distinguished University Professor at Utrecht University
For English-speaking graduate students in the humanities, living in Paris at the end of the 1970s – early 1980's, all roads led to Dani's Reid Hall.  It was not just the smartest year-abroad programme among the many American colleges operating in Paris. Much more than that, it was an institution in its own terms, that attracted talents across the cultural and linguistic divides and set an agenda that would impact strongly upon its time across the Trans-Atlantic axis.  Entire generations of French, as well as American and other international intellectuals made their start in, or went through, that hub avant la lettre that was Reid Hall in the time of Danielle Haase-Dubosc's directorship. 
Dani's commitment to Franco-American relations was political as well as professional – in a country prone to great ambivalence towards the States, she stood for the kind of America French people love to dream of: libertarian, fair, adventurous and brave. In Dani's life and practice, a passionate engagement with feminism also acted as a great connector.
I have first-hand experience of this, as I crossed paths with Dani in many feminist activities in those days. Take for instance this photo taken on June 30, 1982, at the demonstration in solidarity with American women, after the election of Ronald Reagan. I am standing in the front row, holding a drum with Oristelle Bonis; Dani is just a few rows behind us, smiling, because there is joy in resistance.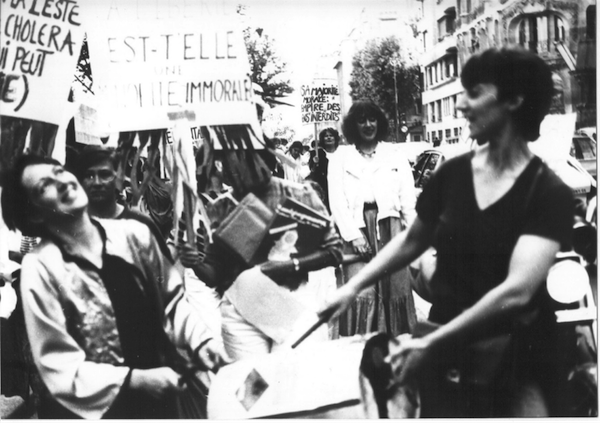 Dani participated in so many of the feminist collectives active in Paris at the time.
I was with her at Histoires d'Elles, where Dominique Doan took this picture of her alongside, from left to right: Dominique Pujebet, Ruth Stegassy, Dani, and Nancy Huston.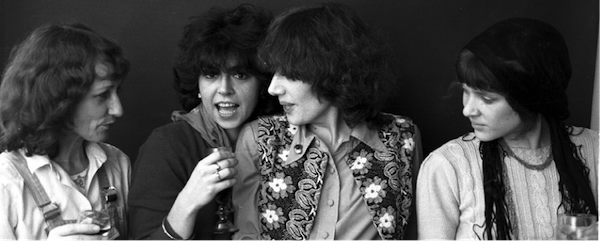 But Dani was also active in Sorcières, Pénélope, and other pioneering publications of the French women's movement of the 1980's. Reid Hall served also as a relay point that transferred knowledge and experience across the Atlantic, playing a leading role in establishing French women's studies. Dani knew how to connect the margins to the centre and vice versa, in an international frame, with enormous generosity and insight.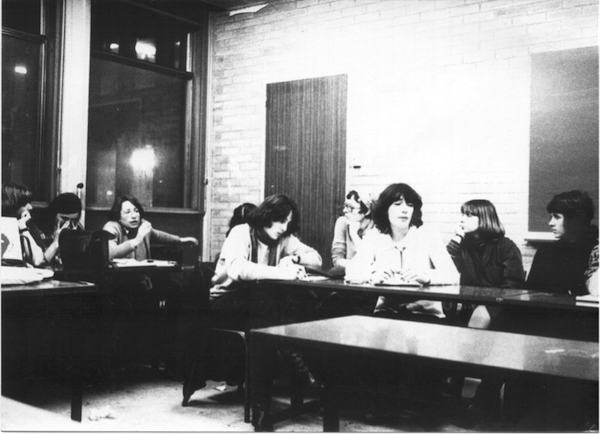 Take for instance this photo of one of the many preparatory meetings we held at the University of Censier, to prepare the historic first national conference on women's studies, which took place in Toulouse in 1980.  Dani is in the front row.
For me, an Italian-Australian studying in Paris, Reid Hall was a home away from home in so many other ways. This is the place where I got my first job, teaching introduction to French philosophy. It provided a steady point of reference emotionally as well as intellectually, in the years prior to the start of my academic career.  The foreign intellectuals gravitated around the place.
Dani's generosity also extended my family. My younger sister Giovanna was for a while the live-in au pair girl in the Haase-Dubosc household, where she looked after young Vanessa and Olivier, Anna and Sophie, while studying French in her gap year in Paris. And my brother Augusto often dropped in to see us at Reid Hall, as shown in this picture taken in 1983.  Dani gathered people – alumni, staff, colleagues and others – in networks that lasted a life-time: she had a unique gift for  friendship. We were family.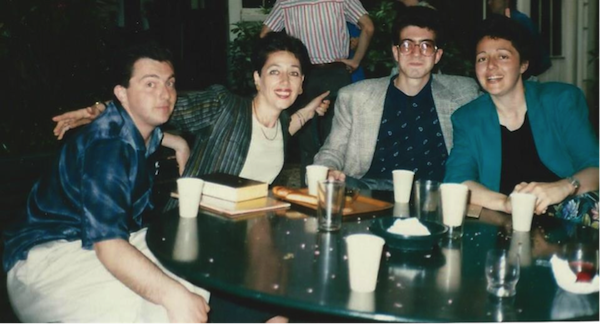 Those of us who started their academic career around Danielle Haase-Dubosc will always celebrate not only her critical intelligence and activism, but also the great elegance of her mode of relation to everyone she encountered. A grand lady, Dani was endowed with irony, as well as deep capacity for love. She was a shining light - "resplendissante" – as in this photo I took of her in 1984. Her luminosity burns the screen – she shines forth, projected into life and action, receptive and happy. This is how I will remember her, forever more.
With immense gratitude and eternal affection.