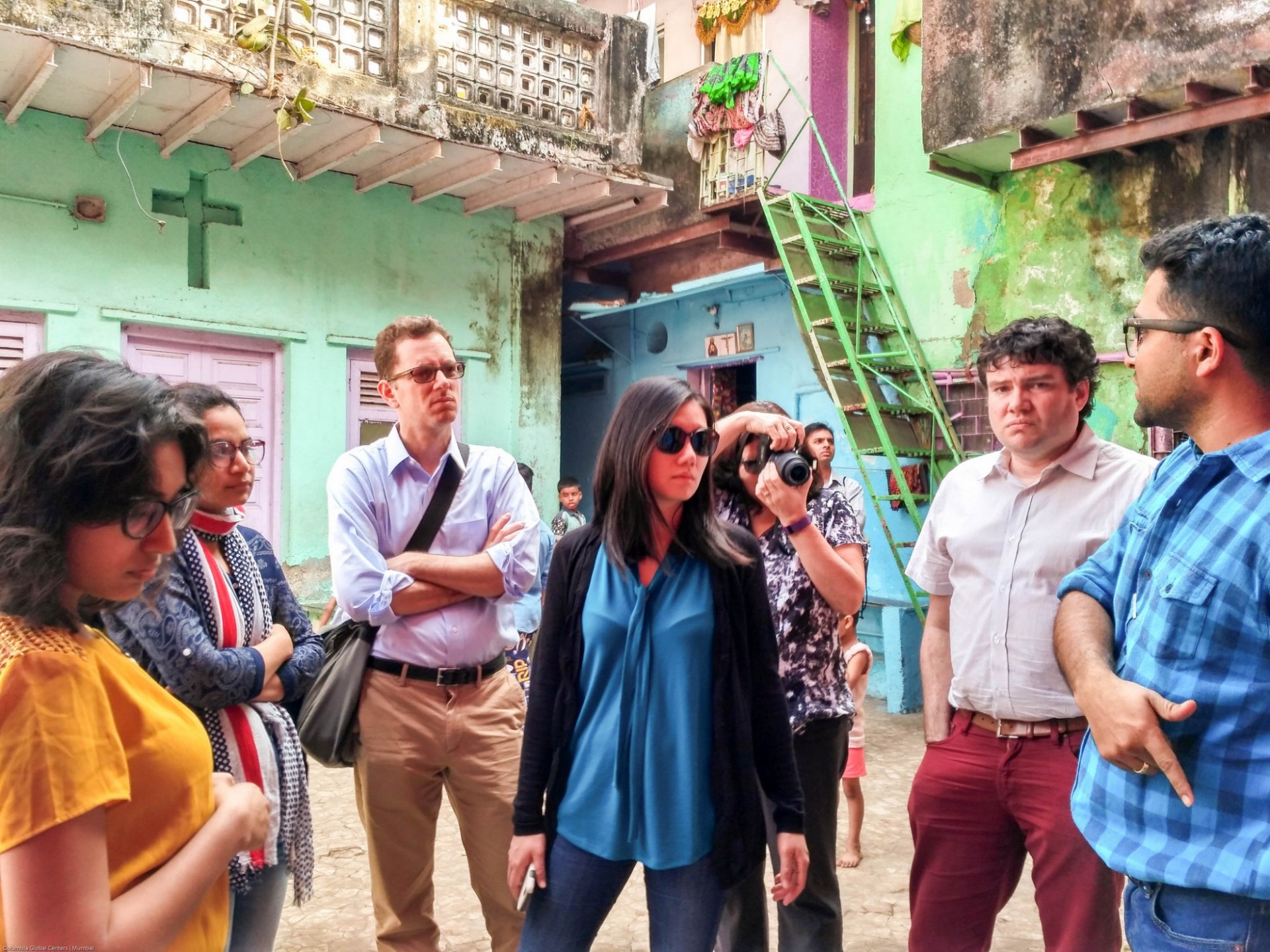 Launched in March 2013 by President Lee C. Bollinger, the President's Global Innovation Fund (PGIF) offers support for faculty to develop projects and research collaborations within and across the University's nine Columbia Global Centers, to increase global opportunities for research, teaching, and service.  Current projects at the Mumbai Center include:
Political Economy of Water and Environmental Sustainability in India
Inadequate water supply ranks among the most pressing challenges facing poor citizens in developing countries. States across the globe are moving to expand environmentally sustainable water networks for drinking and sanitation. Yet uptake of formalized, municipally provided water services is often meager, with citizens instead opting to rely on private, informal, or illegal water-service provisioning that burdens local ecosystems. The Center supports this PGIF project led by Nikhar Gaikwad, Assistant Professor of Political Science, Graduate School of Arts and Sciences, Columbia University, aims to study the determinants of citizen preferences and constraints regarding access to water and public services through a series of surveys and field experiments in India.
Hypoxic events, Harmful Algal Bloom Outbreaks, and Fish Mortality
Of the many oceanic ecosystems experiencing anthropogenic and climate-driven changes worldwide, the Arabian Sea stands out as one of the most extreme. Within a decade and a half, the base of the food chain has transitioned from one dominated by photosynthetic phytoplankton to widespread blooms of the mixotroph Noctiluca scintillans (Noctiluca). The rise of Noctiluca has been tied to the expansion of the Arabian Sea's permanent Oxygen Minimum Zone and the spread of hypoxia. Along the coasts of Oman, Iran and Pakistan widespread and intense Noctiluca blooms have become the new norm, disrupting the entire region's rich coastal fisheries. This project, supported by PGIF funds, and led by Professor Joaquim Goes, Department of Earth and Environmental Sciences and the Lamont Doherty Earth Observatory, and Helga do Rosario Gomes, aims to develop early detection and forecasting solutions for mitigating the harmful effects of hypoxic events, harmful algal bloom, and fish mortality on the West Coast of India. 
Air Quality Improvement
Air quality in major Indian cities is amongst the worst in the world. Sources of emissions include coal-fired power plants, industry, vehicles, and agricultural and biomass burning, which contribute to harmful air pollutants and greenhouse gases. Under a President's Global Innovation Fund grant awarded to Professor Ruth DeFries, Professor of Ecology and Sustainable Development, Columbia University, the Center facilitated a workshop in February, 2016, as a planning activity to initiate long-term collaborations, joint projects, and student exchanges, bringing together an interdisciplinary group of scientists from public health, atmospheric chemistry, and atmospheric transport modeling. A network of faculty from various disciplines is now engaged in research on air pollution in India.  
Cyclone and Storm Surge Risk to Mumbai
Mumbai has been cited as one of the top 5 megacities to be affected by sea surge due to global warming. The city is also a signatory to the C40 Cities forum for reducing greenhouse gas emissions globally. The Center supported a research project funded by PGIF and led by Adam H. Sobel, Professor, Department of Applied Physics and Applied Mathematics and Department of Earth and Environmental Sciences, to assess the risks of storm surge to Mumbai.