MFA Graduates Impart Works, Translations in International Literary Exchange Program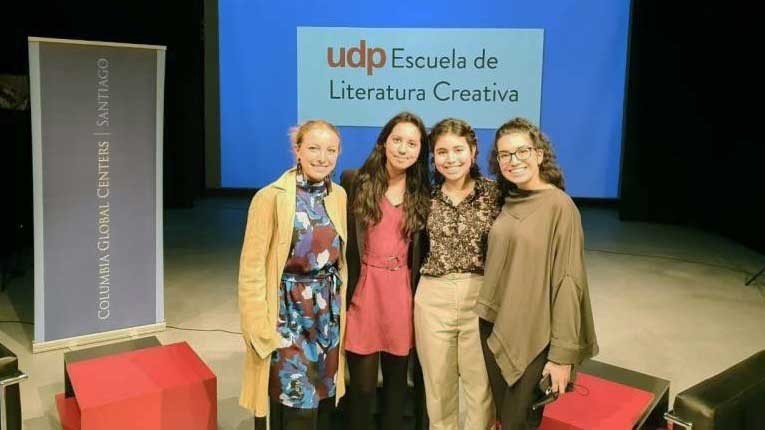 In a flourish of literary expression, Columbia Master of Fine Arts (MFA) in Creative Writing graduates Kai-Lilly Karpman and Zoe Engels presented their works, as well as their fellow translators and writers from Chile's Universidad Diego Portales (UDP) who participated in the Word for Word workshop in 2020-2022:
The graduate students from Columbia's School of the Arts and literary students from UDP met in Santiago to present their own works in their native languages, after which the translated version was read by their partners. Karpman and UDP student Ana Mora mutually translated and read each other's works, while Engels did the same with her literary translation partner, Esperanza Díaz. Other UDP students who presented their works included: Catalina Vergara, Matthias Molina, Valeria Araya, Richard Ossandón, Mariana (Mayi) Martínez, Martin Núñez, Sebastián Duarte and Tamara Maldonado. The in-person event was broadcast from UDP's television studio, located in downtown Santiago.
Under the Word for Word literary translation workshop, which in the US is coordinated by Susan Bernofsky, a leading translator of the German language at Columbia's MFA Writing Program, US students are paired with writers from different countries for their works to be mutually translated. In Chile, the program is led by professor Rodrigo Rojas, a Chilean poet, journalist and translator at the UDP's School of Creative Literature.
"The literary work in the Word for Word workshop is highly demanding and carries a high amount of responsibility, but that weight is carried entirely by the authors, who are the most attentive critics and readers of the work they have to translate," says Rojas. "This year the variety of themes and styles was surprising, forcing each participant away from the tone and the tools that are most comfortable for them. I am amazed at the level of learning that can be achieved in just one semester. The friendships forged in this activity constitute a network of literary collaboration that can last for decades. I wouldn't be surprised to see Word for Word participants involved in [collaborating on] future books with those they met in the program."
The two Columbia graduates were extremely grateful for the Word for Word experience and the opportunity to travel to Chile to get to know their local partners. "One of the greatest benefits of being in Santiago was seeing the landscape and the city that inspired Ana Mora in her poems. Ana is a poet who employs the tension between natural landscapes and man-made societies as an entry point into understanding the greater human condition," notes Karpman. "As Ana and I continue to work together towards a chapbook, knowing these landscapes and cities personally will add new depth to my translations of her work. Furthermore, it was an absolute pleasure to explore Universidad Diego Portales and be exposed to the other brilliant student poets who are a part of the Word for Word program." Use this link to see one of Karpman's poems which was translated in the program, entitled "The Life Cycle of Cruelty."
According to Engels, "collaborating with Esperanza Díaz through Word for Word has been one of the most rewarding experiences of my life. I've learned so much from her about Chile, Chile-specific terms (that I'm now hearing first-hand through conversations with Chileans!), and translation, and I'm so grateful that we've developed a friendship in the process. Also, now being in Chile and finally meeting Esperanza and all the amazing students at the Universidad Diego Portales has enhanced our collaboration and given me a new understanding of her work and the places she mentions, and I'm excited to translate her writing from this new perspective as we work on a bilingual, multi-genre chapbook with Kai-Lilly Karpman and Ana Mora." Use this link for an excerpt of the story that Engles wrote and which was translated in the program, entitled "The Man in the Mirror."
This global course was launched in 2011 and is currently conducted between Columbia students and their counterparts at five universities in Europe and Latin America: Deutsches Literaturinstitut Leipzig in Germany, Scuola Holden in Italy, Instituto Vera Cruz in Brazil, the Université Paris 8 in France, and UDP. The latter has participated in the program since 2018.
Columbia has compiled the past Word for Word Anthologies into an archive and has put together the 2021 Word for Word ebook.
A video of the event can be seen on the YouTube channel of UDP's School of Communications and Letters.