Santiago Center, Columbia Alumni Peru Host Successful Networking Event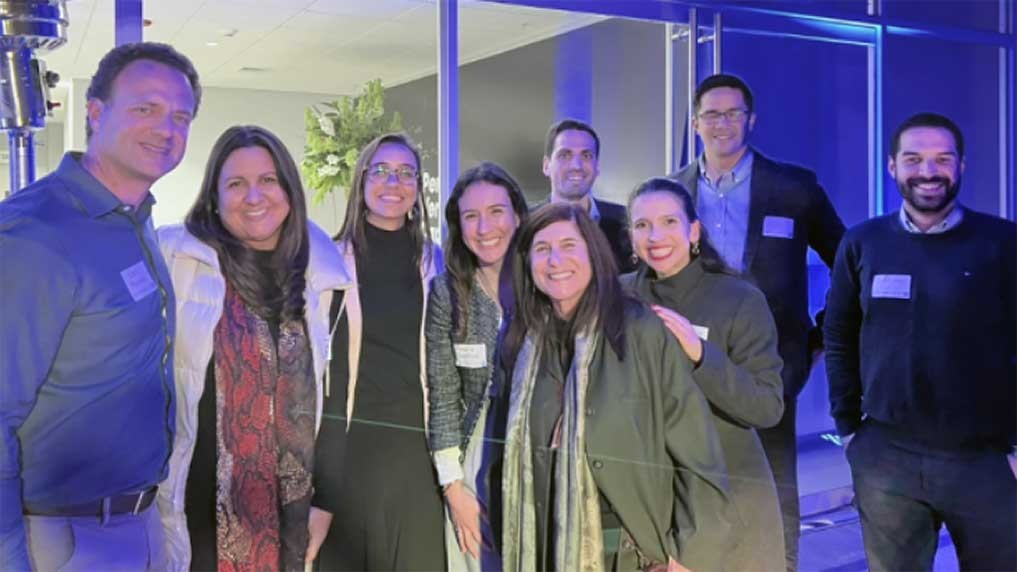 In conjunction with the Columbia Alumni Association in Peru, the Santiago Center hosted an Alumni Networking Event on October 26 at the NOS PUCP cultural center in the San Isidro district of Lima.
Alumni participating in the event were excited to be able to come together once again and share common experiences, including Columbia Alumni Club Peru's president Carol Updegrave (GSAPP'87). "Oh, what a night! Violin vibes infused the excitement in the air with impeccable organization and exquisite execution for the all-Columbia networking cocktail in Peru," she said. "The terrace of the NOS PUCP was graced with gorgeous bouquets and an abundant banquet leading to a hugely successful evening that brought together a rich blend of Columbia alum in Peru. Uniting alumni and building connections between GSAPP, Law, GSAS, CBS, SPS, SIPA, SEAS, and Journalism, we had our largest turn out yet. Exciting conversations and discoveries of friends who didn't know that they shared Columbia as their alma mater led to enhanced connections and bonding together under the Columbia experience. In addition to the Columbia Alum in Peru, we had special guests from Mexico, Colombia, and the US, adding to the international flavor which is so quintessential Columbia."
More than 40 alumni in Peru attended the wine and cheese event at the cultural center, which was also the venue for the Peruvian Association of Seed Capital and Entrepreneurship's (Pecap) Peru Venture Capital Conference (PVCC), of which the Santiago Center was a sponsor. As part of that agreement, the Center invited Cristóbal Perdomo (CBS'02), co-founder and general partner of the Mexican venture capital firm Wollef, as a main panelist at the conference and as a special guest for the Columbia alumni networking event.
"I've been a constant visitor to Peru for more than a decade, and having had the chance of participating at this year's PVCC, I'm thrilled to see how much the Peruvian ecosystem has evolved, and am excited about all the potential it still has to offer," Perdomo noted. "This year I also was very fortunate to meet with Columbia alumni in Peru, some of whom have I've known since our time at Columbia, while others I met for the first time. The Columbia experience has been life changing, and having the chance to reminisce about it at the networking event was great. Regardless of what country one may come from, the Columbia experience is a strong bond that we all share."
For PVCC, Perdomo presented in the panel "Drop it Like it's (still) Hot: LatAm Fintech Trends" as well as in the fundraising workshop "Investment Readiness and Instruments."
Perdomo was not the only Columbia alumnus who presented at the conference. Jaime Sotomayor (SPS'21), producer of the "Innovación Sin Barreras" ("Innovation without Barriers") podcast series, moderated the panel "Storytellers: Content Creators in Latam," as well as the workshop "Open Innovation: Corporates and Startups Collaborating," while two others – Columbia adjunct professor of Impact Investing, Ana María Aristizabal (SIPA'11), and senior partner at global investment firm Capria Ventures, Susana García-Robles (SIPA'99) – participated in the panel discussion "Challenging Times: Is There a VC Winter in LatAm?" García Robles also presented in the workshop "What LPs are Looking for in LatAm VC Funds."
For the Columbia cheese and wine networking experience, Chris Molinari, the programming officer for the Santiago Center, opened the event with a warm welcome to all alumni. After paying homage to the memory of the Center's recently deceased director, Karen Poniachik, he named the three Peruvian noteworthy Columbia alumnae who had been recognized earlier in March by the Santiago Center in the context of International Women's Day, for their professional development and contribution to society: Paola Solidoro (SIPA'04), Sonia Goldenberg, (JRN'80) and Marlene Savaraín (CBS'04).
Savaraín, as co-president of the Columbia Business School Alumni Club in Peru, then welcomed those at the event and introduced Perdomo, who provided personal reflections on his time at Columbia and how that experience influenced who he is today.
"Cristobal is an innate entrepreneur, having created value and given life to a number of companies even since before his time at CBS," Savaraín said. "He commented on how important the relationships and networks were that he developed during his MBA. But more than that, dedicating himself to his passion, his story was inspiring for us all, and his very human account of his experiences at Columbia in New York was something that all of us at the event could relate to, regardless of whether we studied at CBS or another school." She thanked Columbia Global Centers | Santiago for the organization and the opportunity meet up once again in this first post-pandemic in-person meeting.
Use this link to see the photo album of the event.