Columbia Remembers Karen Poniachik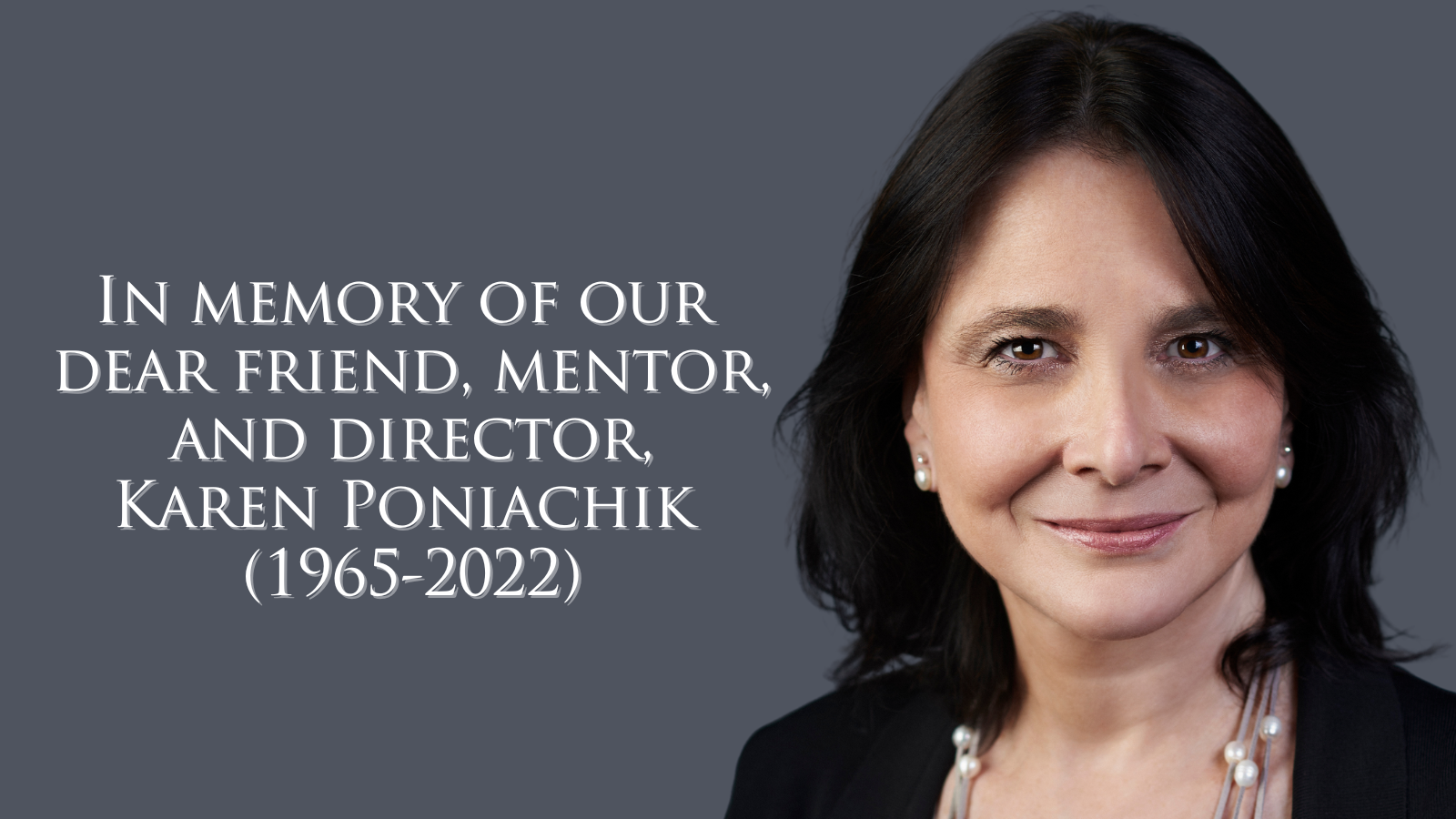 It is with great sadness we share the news of the death of Karen Poniachik, our beloved Columbia Global Centers | Santiago Center director. 
Karen leaves behind a remarkable legacy, one that encompasses the highest echelons of Chile's political, corporate, and academic landscape. She was also a trailblazer and champion of women's empowerment, which she embodied perfectly as Chile's minister of mining while serving under Chile's first female president, Michelle Bachelet. 
Columbia President Lee C. Bollinger reflected on Karen's achievements. 
"This is a profound loss. Karen was a distinguished journalist and a dedicated public servant," he said. "As Director of Columbia's Global Center in Santiago, she championed innovative public programming initiatives, led thoughtful public policy research projects, and fostered deep connections between Columbia and the people and institutions of Chile and the region. On behalf of the entire University, I extend my deepest sympathies to her family, her friends, and her loved ones." 
Karen touched the lives of many people. Upon the news of her death, tributes poured in from Chile and the Columbia community. Read more of them in the sidebar at right.
Ricardo Lagos, former president of Chile, described Karen as a pioneer.
"From early on, she promoted the role of women in the public space, from the state as Minister of Mining and in the private world on company boards," Lagos said. "Consistent with her democratic ideals, her life example will be her great legacy."
Wafaa El-Sadr, who oversees the Global Centers as executive vice president of Columbia Global, called Karen a force to be reckoned with.
"We are devastated," El-Sadr said. "Karen was known for her deep dedication and passion for the work she led at the Santiago Center. She embodied the principles and values of  Columbia University's purpose and she will be missed dearly. She was able to position the University's issues with the top echelon of Chilean society, while at the same time she drove outreach to address non-traditional sectors and stakeholders."
A Vital Link Between Chile and the Columbia Community
Karen studied journalism at Universidad Católica and earned her Master of International Affairs at Columbia University in New York, a decision that launched her professional relationship with the University.
In 2011, Columbia University asked her to be the Santiago Center's founding director, and she agreed. Since that moment, she has worked tirelessly to bring Columbia to Chile while ensuring that Chile's boundless opportunities and expertise brought richness to the work by Columbia faculty and students.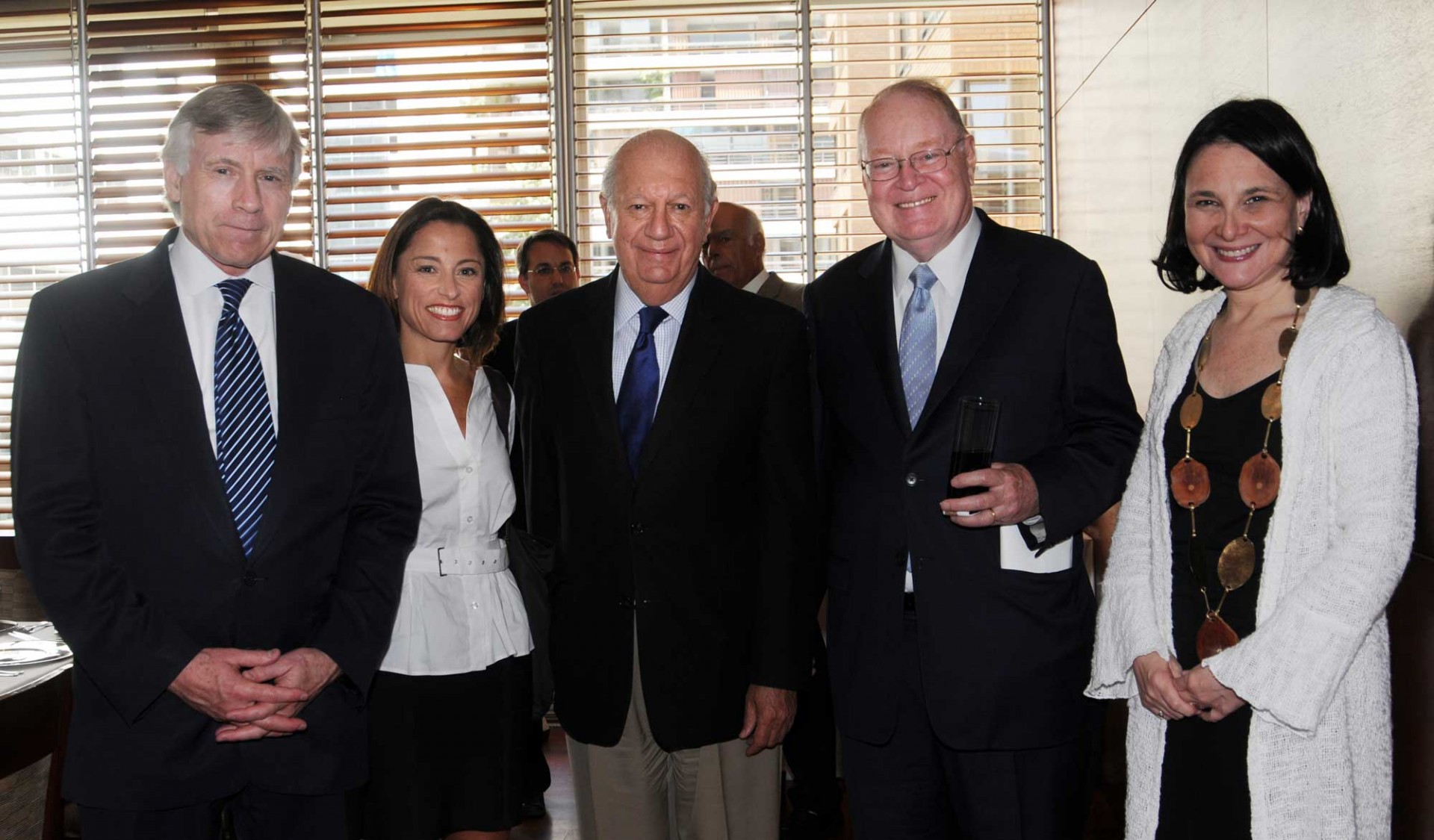 Soulaymane Kachani, Columbia University's Senior Vice Provost, recalled meeting Karen on his first visit to the Santiago Center 11 years ago with a delegation from the engineering school. "She accompanied us to every meeting and introduced us to university presidents, deans, and numerous faculty, as well as to business and government leaders. She loved her country and Columbia and dedicated an important part of life to building connections between the two. Karen was an amazing human being."
Her staff and Global Center colleagues knew her as a consummate professional, holding herself and those around her to high standards of excellence, always pushing to improve and facilitate meaningful impact. She collaborated with many of the Global Centers to bring a multinational focus on issues of import. Just recently, she had reached out to the Mumbai Center to see how she could leverage their programming on cancer in order to bring it to the Latin American context. 
In addition to leading the Santiago Center, she was recently named by President Gabriel Boric as a representative of Chile in the APEC Business Advisory Council (ABAC), a body that provides APEC leaders with the perspectives, recommendations, and action plans of the private sector. She was a member of the Chilean Chapter of Women Corporate Directors, the International Women's Forum, and of the Instituto de Directores de Chile, while also serving on the advisory boards of Chilemujeres and Global Americans.
 
Her Career Before Columbia
For Karen, it was never a question of whether she would experience a successful career. In a 2014 interview with Paula, a Chilean magazine for women, Karen offered a glimpse of the trajectory she envisioned as a young woman.
"I always wanted to study abroad, work, and have a career," she said. Even if that career meant sacrificing a traditional personal life, (despite, she liked to add, being affianced twice). "My Argentinian fiancé wanted to settle in another country. (To follow him) meant that I would no longer be able to pursue career opportunities in the United States and I'd have to sacrifice my professional career - two things that were important to me."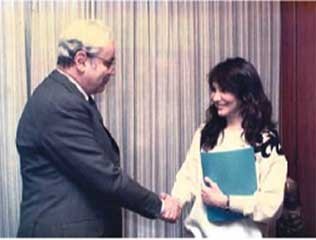 With her goals clear, she never wavered from the path she set for herself. From 1990 to 1995, she worked as an international political analyst for the ECO/Televisa network, as well as a correspondent for Canal 13 and Cosas magazine in New York. Later, she became director of Business Programs at the Council of the Americas in New York. It was there that she was contacted by Ricardo Lagos. 
At the time, Lagos was an aspiring presidential candidate in Chile. In his outreach to Karen, he asked if she would help introduce him to key business leaders who resided in New York. Those meetings, and the photo opportunities with them, would prove influential in securing Lagos' win of the 2000 Chilean presidential election. 
With Lagos' backing, she was appointed Executive Vice President for InvestChile, the government agency responsible for global promotion of Chile as a destination for foreign direct investment. In 2006, Karen became Chile's first female Minister of Mining until 2008. As bi-minister in 2006-2007 she was also in charge of the Ministry of Energy. Later, she became Chile's Special Envoy to the Organization for Economic Co-operation and Development (OECD), where she successfully guided Chile 2010 accession process to the organization. 
Marcela Hernando, Chile's current Minister of Mining, shared a memory of Karen: "She was a strong woman and tackled many challenges….I was working with her from the Antofagasta Region during a period in which she was also Minister of Energy and Mining….When she was faced with the cessation of the Argentinian gas supply, she started a tremendously bold and proactive approach with non-conventional renewable energies."
It was during this extraordinary time, at the peak of her career, that Karen set her sights on another dream, one that was profoundly personal. "It is not that I decided to be a single mother. I decided to be a mother and I was single," Poniachik told Paula magazine in the feature article,  "A proud single mother." In 2009 she gave birth to the love of her life, Ana Victoria Pollak Poniachik.
Karen left this world better than she found it, and her absence will deplete us all. Let us find strength and comfort in the legacy of her life, and endeavor to carry it forward in our connections with one another and in the spirit of our work.
Columbia Global and the Santiago Center express our deepest condolences to Karen's family and friends and to those in the larger community of Columbia University and Chile, of which she was a proud champion.