Alumni Spotlight: Journalism Alumnus Daniel Matamala Receives Cabot Prize 2022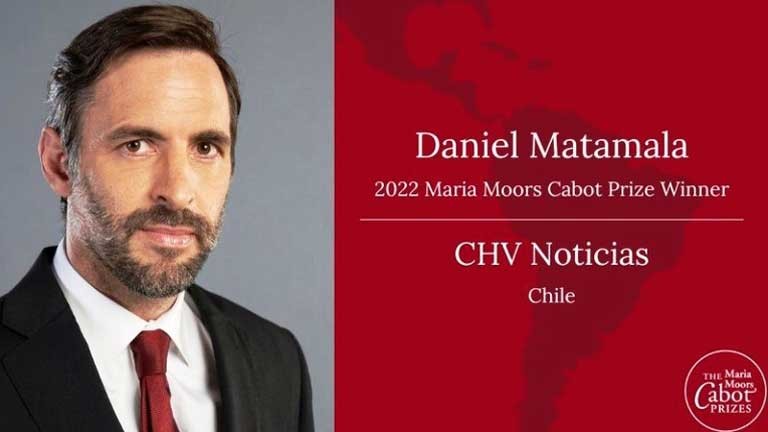 Daniel Matamala (JN'12) has been recognized as one of the four recipients of the 2022 Maria Moors Cabot Prize, the oldest international award in the field of journalism. Presented yearly by the Trustees of Columbia University on recommendation of Columbia Journalism School and the Maria Moors Cabot Jury, the recognition acknowledges journalists and news organizations who contribute to inter-American understanding as well as to uphold freedom of the press across the continent.
Matamala, senior anchor at Chilevisión and weekly columnist for La Tercera, is regarded as a rigorous and innovative investigative journalist, who through the prism of economics "takes on business and political elites from Chile to Venezuela to the U.S.-Mexico border. But he also shows a compassionate reportorial eye for those at the bottom of the economic ladder who suffer most at the hands of the powerful," according to the prize citation. He is also highly regarded for his ability to report on the relationship between money, politics, war, and even sports, creating meaningful stories that, with an impressive command of economics, go to the root of injustice.
"The 2022 Cabot honorees have devoted their lives to covering complex and enormously consequential stories," said Columbia President Lee C. Bollinger. "They, like so many journalists in the Americas, continue to face growing threats of violence, censorship, and harassment for doing their jobs. On behalf of the entire University, I offer my sincere congratulations and my thanks for their tireless and invaluable work."
"This year, the jury is spotlighting the importance of investigative journalists and innovative storytellers in the Americas," said Cabot Board Chair Rosental Alves. "These four winners and the citation recipient all have talent and courage. They inspire us with their accomplishments."
Other recipients of the Cabot Prize 2022 are: Daniel Alarcón, Radio Ambulante, United States; Laura Castellanos, independent journalist and co-founder of Reporteras en Guardia, Mexico; and Ioan Grillo, independent journalist, United Kingdom and Mexico. Additionally, the jury selected Javier Garza Ramos, an independent journalist from Mexico, as the recipient of a Special Citation, in honor of his efforts to promote journalist safety.