Santiago Center Honors Karen Poniachik, Launches Columbia-Chile History Book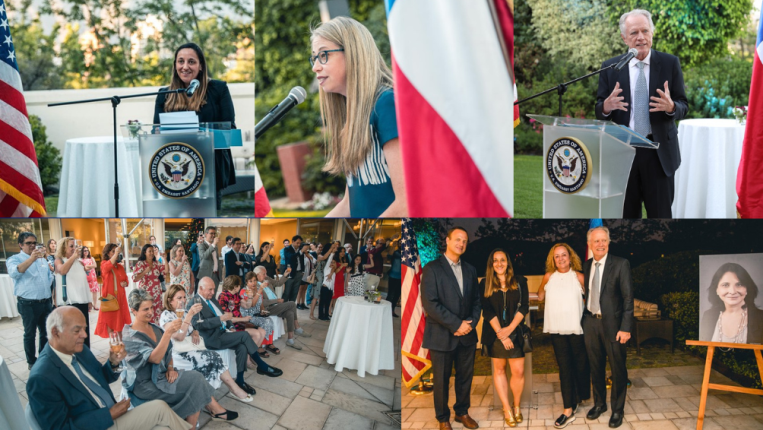 Dignitaries, government officials, academics, Columbia alumni and other friends of the Columbia Global Centers | Santiago gathered mid-December at the US Ambassador's residence for a special occasion: the local launch of its book "Columbia University and Chile: Over 100 Years of History" and to pay tribute to the Santiago Center's Director, Karen Poniachik, who passed away in October.
The event was opened by US Ambassador to Chile, Bernadette Meehan. During her speech, she recognized the nearly 200 years in official relations between the United States and Chile, dating back to 1823, which have led to multiple agreements and collaborations in various fields, including education. That has given rise to a robust relationship between Chile and Columbia University, as covered in the Santiago Center's book.
Meehan pointed out a number of discoveries addressed in the book: Amanda Labarca, who in 1910 went to Teachers College to study Educational Psychology to then become a pioneering feminist and fight for women's rights in Chile; the preponderant role that Columbia played in the initial launch of Gabriela Mistral's international career as a poet, and the importance that the University later came to play in her personal life; and the Chilean "antipoet," Nicanor Parra, teaching a creative writing workshop in Spanish at Columbia, the first of its kind to be offered at a US university.
"Along with all these achievements, the fruitful relationship between Chile and Columbia University resulted in the establishment of a Global Center in Santiago in 2012, the first in Latin America, in order to advance knowledge and public debate on the region, promote collaboration between Columbia researchers and their local counterparts, and interact with Chilean students and alumni of the University and the region," she said.
However, "we are here today not only for the launch of this book, but also to commemorate one person who made much of this possible: Karen Poniachik, who was the founding director of the Santiago Global Center and a driving force behind many initiatives, including the publication of this book, in addition to being a close friend of the Embassy," added the ambassador, who arrived to her assignment in Chile in September. "During my first few weeks in Santiago, almost everyone I met shared a story about Karen, and how extraordinary she was. As a newcomer to Chile, it was very evident to see how admired and loved she was by everyone."
She then offered a toast in Karen's honor.
Next, Tom Trebat, Director of the Columbia Global Centers | Rio de Janeiro, spoke a few words about his colleague and friend. "Karen's passing was a huge loss for all of us at Columbia," he said. "She was a great friend of mine since the 1990s in New York, and had been my colleague for the past 11 years. I feel her absence and miss her every day… We take solace in her having lived her life so fully." He offered his condolences to Karen's family present at the event: Karen's mother, Clara, her brother David and her daughter, Ana.
Trebat then proceeded to read a letter sent from Columbia University President Lee C. Bollinger, in which he extolled Karen as "a talented politician, a dedicated public servant, a fierce advocate for women, and a devoted mother."
"The idea behind the Global Centers was to strengthen and expand the university's physical and intellectual footprint around the world. It was also to build ties with local partners and engage with the great challenges they face," Bollinger wrote. "Karen embodied this mission better than anyone."
Use this link to read Bollinger's letter.
That was followed by a video address from Wafaa El-Sadr, Executive Vice President of Columbia Global, who praised the Santiago Center's book as "a remarkable publication."
"While we come together today to celebrate this important work, we simply must acknowledge and pay tribute to the person who made this publication happen. Karen Poniachik, a truly remarkable woman and the founding director of the Santiago Center, was the inspiration behind this project," she said, highlighting Karen's intelligence, devotion and resilience.
"We can take comfort in knowing that her impact and her legacy will endure," the Columbia Global official noted.
A video paying tribute to Karen's life and achievements was then shown to the event invitees. Use this link to see the full video.
Finally, Carla Magri, the Santiago Center's Development and Communications Officer and chief editor of the book, addressed the event attendees. "On the verge of the 200-year anniversary of diplomatic relations between Chile and the US, we could not think of a better place to present this book that, through its eight chapters, illustrates the impact and positive consequences that bilateral relations can have on the development and in the history of countries," she said.
Magri spoke about how the publication came to fruition. When the project started, "we had some names and dates, but we began to realize that there was a much longer and deeper story to tell and that apart from the students [interns who had written some chapters], we needed the help of academics and researchers to shape this project that increasingly grew until it turned into this nearly 300-page book."
She thanked all those involved in the book publication, from the writers, to those who were interviewed as they were covered in the book or were closely related to those covered, to librarians who provided access to rare documents and old photographs, to the book's designers. She thanked Karen in particular, "because this was her last big project and like everything she undertook, she wanted it to be perfect, so not only did Karen not stop me, but she empowered me and the book kept growing," she noted. "Karen was very happy and proud of the result and she wanted the whole world to see it."
"Although we know that this book does not cover nor does it pretend to cover the complete history of Columbia University with Chile, we are sure that it is a contribution to understanding more than a century of collaboration between Chile and one of the most renowned academic institutions in the world and how this relationship has benefited both our country and the University," Magri concluded.
The speeches were followed by a reception in the garden of the US Ambassador's residence.
Pictures of the event are available here.