Columbia Global Centers | Nairobi (CGC | Nairobi)
CGC | Nairobi is part of Columbia University's global network of centers, which together aim to create opportunities in research, scholarship and teaching around the world. They also aim to expand Columbia's mission as a global University. Our Center serves as a regional hub for research and collaboration as part of Columbia University's strategy to achieve a global presence and links the continent to Columbia's scientific rigor, technological innovation, and academic leadership. The Center provides Columbia students and academics with a base from which to conduct research in and for Africa.
Image Carousel with 6 slides
A carousel is a rotating set of images. Use the previous and next buttons to change the displayed slide
Slide 1: Columbia Global Centers| Nairobi is situated in the Westlands District of Nairobi

Slide 2: CGC | Nairobi engaging our stakeholders-Media

Slide 3: CGC| Nairobi, engaging our stakeholders, local partners

Slide 4: CGC| Nairobi engaging our partners, Columbia Universities Communities

Slide 5: CGC|Nairobi, engaging the future

Slide 6: Columbia Global Centers| Nairobi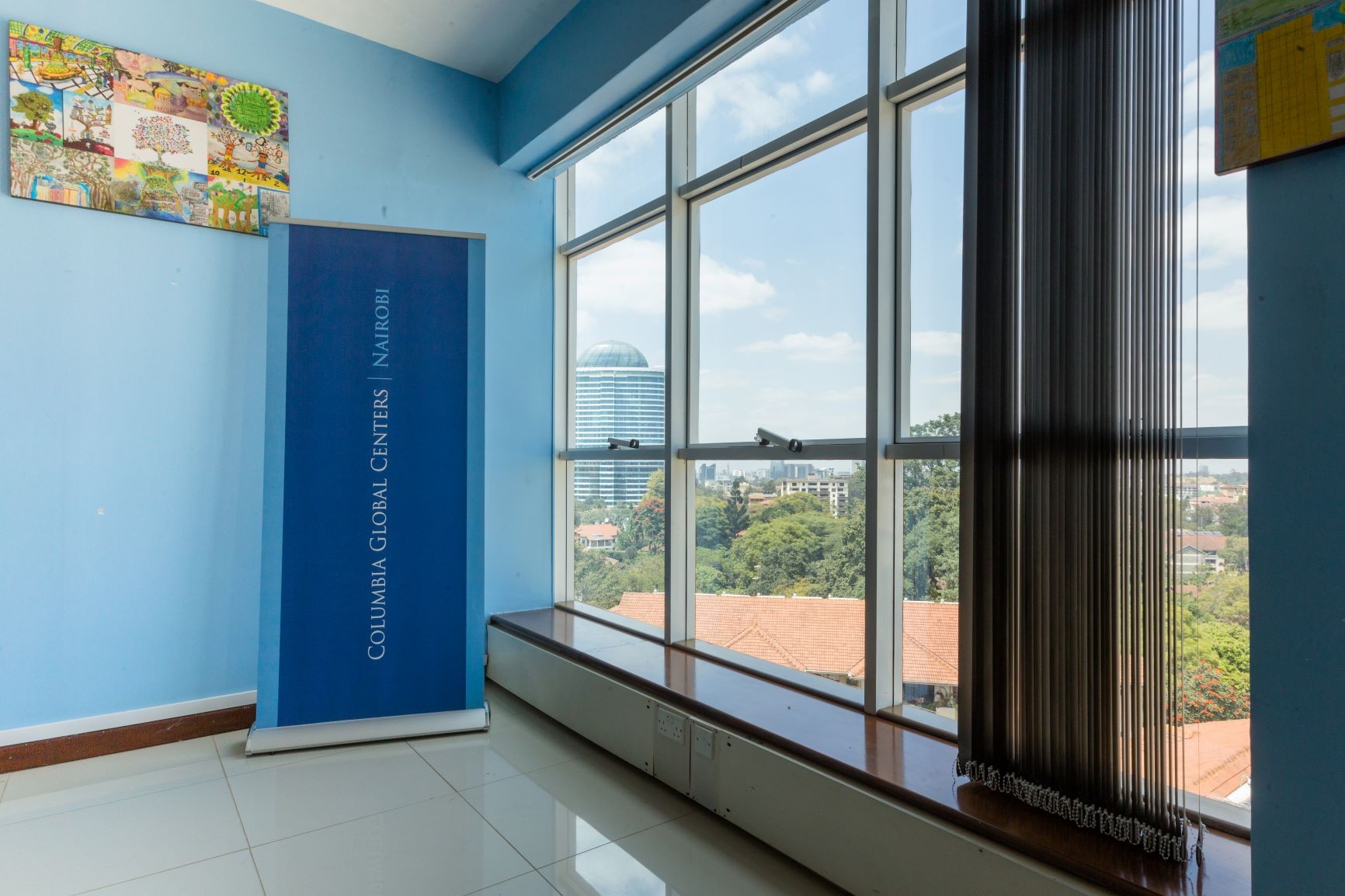 Previous
Next
CGC Nairobi, formerly known as Columbia Global Center in Eastern and Southern Africa (or CGC Africa), was established in Kenya on 12th May 2011. CGC Africa was officially launched in 2012 by the then President of the Republic of Kenya, H.E Hon. Mwai Kibaki. During its first five years of operation, the Global Center collaborated closely with Columbia's Earth Institute in fostering relationships with policymakers, governments, and regional institutions to provide them with objective, science-based evidence for their pursuit of the United Nations Millennium Development Goals. The culmination of the Millennium Development Goals in 2015 provided an opportunity to review the programmatic direction of the Center.
At the Center, we aim to: 
Enable the highest levels of knowledge and learning in and for Africa
Create a hub for global curriculum and scholarly outreach in the region
Link the academic pursuits of the Global Center to Columbia's main campus and around the world
Advance Columbia's vision of producing 21st century global citizens, equipped to meet today's greatest challenges
The establishment of the Center ushered in an exciting new era in objective, unbiased scholarship in and for Africa. The Nairobi Center aims to become the preeminent research and development institute providing thought leadership, cutting edge research, and expansion of scientific knowledge in the region. As an essential hub in the global centers network, and the only one to be based in Africa, the Center links Kenya and the continent to a vast body of knowledge, scholarship and enquiry, and provides an avenue for Africa to influence debates at the highest level.
The Center works closely with policy makers, governments, and regional and African institutions, providing them with objective, science-based advice free of bias or self-interest. The Center creates a platform for high-level policy dialogue, and a forum that celebrates free speech, good governance and basic human rights.
The Nairobi Center facilitates academic institutions, governments, private sector, NGOs, multinational and others in the Eastern and Southern African region to work collaboratively with Columbia University students and faculty, to address critical global issues as equal partners. Through these efforts, we aim to enhance understanding and to participate in the advancing and exchange of knowledge. The Center's office is gradually being filled with Columbia University programs, schools, students, and academics, who are working closely with Kenyan Government Ministries, and Kenya-based NGOs and universities to conduct a host of research and development initiatives.
Currently, the Center hosts the Africa Nutritional Sciences Research Consortium, which brings together academic and research institutions across East Africa to build a PhD training program in basic laboratory research in nutritional sciences. The Center hosts diverse projects under the President's Global Innovation Fund as well, often in collaboration with different departments of the Columbia University Medical Center. The Nairobi Center continues to be an essential and dynamic hub in Columbia's global center network.
The Columbia Global Centers Network
There are currently eight Columbia Global Centers operating in Amman, Beijing, Mumbai, Paris, Istanbul, Nairobi, Santiago, and Rio de Janeiro. The centers encourage new relationships across schools, institutes, and academic departments at Columbia. Attuned to the priorities and unique circumstances of its host region, each center leverages the University's diverse intellectual capacities from across the undergraduate, graduate and professional schools, and pursues a set of university-wide core activities that evolves over time based on the active engagement of faculty and students. The centers help increase international content in the classroom; supplement the curriculum with international study abroad, internship opportunities, and course offerings; provide resources needed to attract students from abroad; facilitate research opportunities for Columbia students and faculty on globally relevant, interdisciplinary topics; and provide a point of ongoing engagement for international alumni.
Functioning as a network, the global centers encourage teaching and research that require working across disciplinary boundaries, having a presence in multiple regions, and engaging non-Columbia experts and scholars from those regions. Some of the centers' programs and research initiatives are country-specific, some regional, and an increasing number are multi-regional, even global. The network is in its infancy, and each center has started by building strong links with universities and institutions in its respective region. The long-term ambition is that many programs will have a global reach and involve multiple centers in the network engaged in truly global conversations.