Four writers and artists from Ukraine awarded residencies 
Thanks to the generosity of the Harriman Institute, the Institute for Ideas & Imagination, Columbia Global Centers | Paris, and a gift from the Ukrainian Studies Fund, four 12-month residencies for Ukrainian writers and creative artists have been established for the year 2022 – 2023.
Based at the Institute for Ideas & Imagination, recipients are invited to participate fully in the life of the Institute and the Center.
Pictured at right, clockwise from upper left:
Natalka Bilotserkivets, author
Nikita Grigorov, journalist
Anna Stavychenko, musicologist, writer and manager
Zoya Laktionova, filmmaker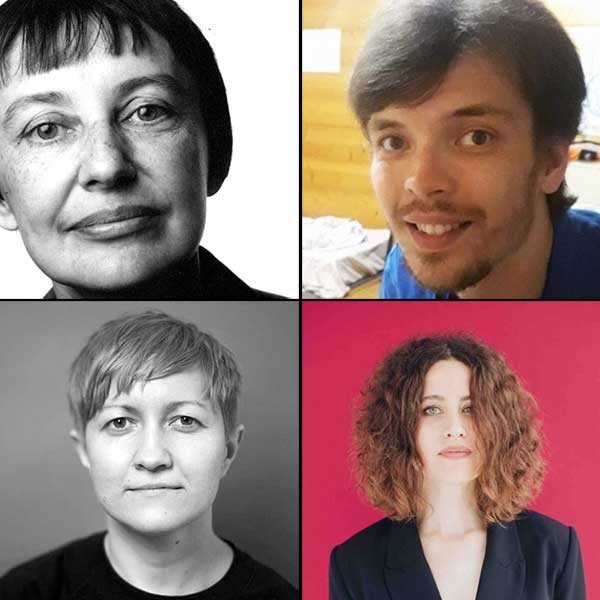 Our top priorities are protecting people, collecting and preserving data, and fighting disinformation
Collecting and Preserving Data and Fighting Disinformation
Cultural Programming
Looking toward fall and next spring, we hope to create programming that will help reframe the conversation about Ukraine and Ukrainians not merely as victims of Russian aggression but also as cultural agents with a lasting contribution to global society. 
How we can help displaced scholars and students
Scholars
What can a school or institute do to help?
For the purposes of this initiative, scholars are broadly defined as those from traditional academic disciplines–as well as practitioners, such as journalists, artists, and librarians–and include those who are at risk in their home country and those who have fled to neighboring countries.
Schools may host and provide an affiliation for at-risk or displaced scholars via short-term visiting appointments, fellowships, assistantships, and residencies. Academic units, including clinics and institutes, may be able to reallocate or accelerate the number of visiting positions to accommodate visitors from the affected country.
Schools and institutes are encouraged to be flexible with their criteria for "scholar" and "practitioner," and the eligibility criteria for opportunities, in order to assist as many at-risk individuals as possible. 
 
Who is identifying, vetting, and matching scholars with universities?
Columbia is working with a number of organizations to identify scholars, vet them, and match them with opportunities at academic institutions. Professor Safwan Masri, Executive Vice President for Global Centers and Global Development, is Columbia's point of contact for these organizations:

Scholars at Risk (SAR) is an international network of institutions and individuals whose mission it is to protect scholars and promote academic freedom. Professor Lisa Anderson, former Dean of Columbia's School of International and Public Affairs, is SAR's current board chair.
The Institute of International Education's Scholar Rescue Fund (SRF)  selects outstanding professors, researchers, and public intellectuals for fellowship support, and arranges visiting academic positions with partnering institutions.
The New University in Exile Consortium (NUIEC) is a group of universities and colleges committed to nurturing academics who have been persecuted and uprooted by creating a sense of intellectual community among exiled scholars. NUIEC will be a critical partner in helping to integrate and support scholars once placed. Columbia and Barnard are founding members of the Consortium.
Students
How can schools support prospective students?
The process to bring displaced students to Columbia is complicated, due to admissions timelines and processes. Schools are encouraged to review whether they can admit new displaced students or extend application deadlines. Schools are also urged to keep displaced applicants such as from Ukraine or Afghanistan in mind for admission to upcoming cohorts.
Financial support for newly admitted students may be provided through the Columbia University Scholarship for Displaced Students, which is managed by the Global Centers. Eligibility for the scholarship has been expanded to include displaced Ukrainian students on Humanitarian Parole or with Special Immigrant Visas. Inquiries regarding the program should be directed to [email protected].